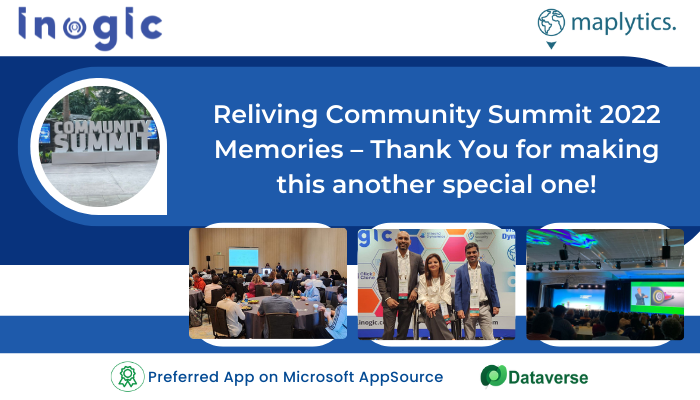 It still seems surreal that the fun, knowledge-filled, and enlightening time we had at the Community Summit NA from Oct 10-13, 2022, has come to an end and we are back home. Team Inogic was present at booth #1334 as a proud Platinum Sponsor and it was a thrilling experience.
What was special about Community Summit NA 2022?
In-person meetings
#MySummitNA was extra special this year. It was rejuvenating to meet the community members in person after two years of unavoidable house arrest.
1:1 interactions build a sense of community and belonging and made introducing, reconnecting, and partnering smooth, once again. We have already shared eliminating a few more Myths about Microsoft Dynamics Users not attending Community Summit, NA 2022!
Partner Solution Showcase
With over 550 sessions and 300+ speakers, this was one of the biggest learning events and by far the biggest serving this ecosystem.
The commitment, intelligence, and care that each of the speakers put into their sessions was beyond the books of appreciation.
The entire event truly was for the Users & by the Users. The inspiring topics of the Partner Solution Showcase included Microsoft SQL Query Fundamentals, Ways to Automate Business Central Manufacturing to improve Efficiency, SaaS Implementations, Optimizing Microsoft Dynamics GP, and many more.
"Maps for Dynamics 365 CRM & Dataverse" – an educative session by Team Inogic received an amazing response & was a full house.
The topics discussed in the session included the unique features of Maplytics, those aid organizations in generating leads on the go, strategizing targeted marketing plans, planning and forecasting sales updates, visualizing CRM data on maps, reducing mileage costs, having a work-life balance, and so much more.
We stressed the growing significance and the necessity of Location Intelligence, geo-analytics, etc. for Businesses across industries and walked through our amazing 15 Microsoft Preferred Productivity Apps of Inogic.
Women In Tech
A powerful session on "Women in Tech" was a highlight among the sessions.
Inspiring working women to successfully "fail forward" without the crash & burn while navigating the landscape of gender equality within business and technology was the topic of discussion.
Real-world, practical, and inspiring topics were discussed along with the importance of "Sustainable Empowerment: Taking Calculated Risks in Your Career"
Catch up at Booth #1334
We had quite a busy 2 days of networking with new Partners, Clients and reconnecting with our old ones. Our visitors were overwhelmed with the variety and uniqueness of our Dynamics 365 CRM / Dataverse and how each app helps the CRM user to get more productive. Here is a quick summary if you have not been able to catch up on them all during the Summit.
Maplytics™, Maps for Microsoft CRM, and Maplytics are like synonyms for each other. The flagship product is the most popular geo-mapping app which is renowned for Map Visualization, Routing & Scheduling, Geo-analytics, and more!
Gamifics365– the latest Gamification app for Microsoft Dynamics 365 CRM motivates, engages, and increases user adoption
Click2Clone, Alerts4Dynamics, Click2Export, Click2Undo, Lead Assignment & Distribution Automation, and User Adoption Monitor help in overall productivity enhancement
Attach2Dynamics and SharePoint Security Sync help in streamlining Document Management
Dynamics 365 Professional Services helps clients with their Techno-Functional Consultation, Outsourced Development Services, Power Platform Professional Services, etc. It is a technical extension that elevates Business productivity.
Business Process Checklist, the newly introduced product of Inogic is taking the Community by storm. BPC is a Microsoft Dynamics 365 CRM productivity app that helps users to simplify their internal processes by enforcing the best plan of action for daily operations. Once the sales manager or administrator creates a checklist/plan/to-do list, it will automatically get linked to the records or Business Process Flows when set conditions are triggered.
We were joined by a lot of members across industries who expressed interest in knowing our product, working with us, or simply liking our business plan.
Awards & Recognition
Like every year, the star contributors of the community were felicitated for their unimaginable contribution. Awards were handed for categories such as Legends, All-Star, Granite, etc.
It is always a joy to witness hard work and innovative thinking being appreciated and how.
New Community Website
Every year, once the Community Summit is over, the members disperse off to their destinations and often lose contact. To avoid this, and so that the community can stay in touch all-yearlong Community Summit will soon be launching a new community site "DynamicsCommunities.com" where over 250 sessions from this year's event, and more than 300 from the 2021 event, will be available on demand!
The site will feature discussion threads, forums and more per UG as the website will be launched by mid-November, and one can sign up for alerts right on the site! In this way, the community shall keep evolving all year round.
A note of Thanks!
A special thanks & a huge round of applause to the Community Summit team for delivering an exceptional experience, like always. Take a Bow, Team! Our teamwork shined and reflected through the visitors' interest in our innovative apps and globally acclaimed professional services for Microsoft Dynamics 365 and Power Platform.
To sum up, Community Summit 2022, Orlando, Florida was a fulfilling experience for us, and we would highly recommend everyone to attend it in the future as it only enriches our business outlook! We are looking pumped about the next adventure in the CRMUG Summit 2023, Oct 15-19| Charlotte, NC!
Meanwhile, you can reach us at crm@inogic.com to discuss and understand how our solutions and Dynamics CRM development services can help you to get the most out of your Dynamics 365 implementation!
Download and try our Apps for Dynamics 365 from our Website or Microsoft AppSource!
Looking forward to connecting back at Community Summit 2023!