Dynamics 365 CRM is an extremely powerful Customer Relationship Management tool from Microsoft suite of Products that provides 360 degree view of customer information. It unleashes doors for the Microsoft users to handle their customer information in an organized manner in a single place. However, there are some of the functionalities that are not supported by Dynamics CRM innately but, the best part is you can develop your own solutions and integrate or import them in the Dynamics 365 environment to bridge this gap.
Thus, we at Inogic came up with our pack of tools that strengthen the working abilities of Dynamics CRM even further. This makes Dynamics 365 even more powerful and perform actions that empower the users in multifold.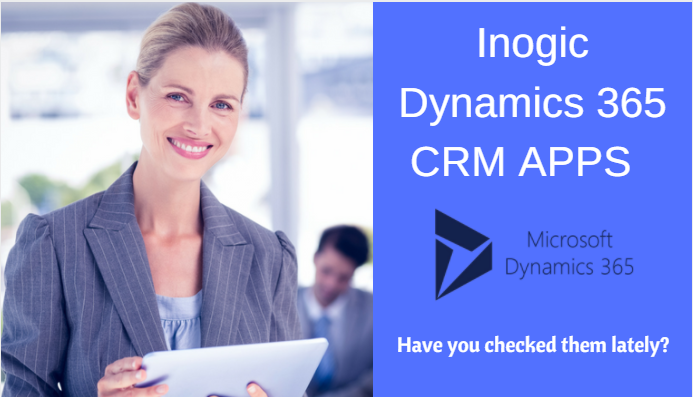 Here is the list of products we have:
Maplytics™ is one of the first geo-analytical mapping solutions to be Certified for Microsoft Dynamics (CfMD) by meeting Microsoft's highest standard for partner-developed software.
It is a robust map visualization integration tool for Dynamics 365 CRM that extracts the geographical insights hidden in the Dynamics CRM data. Few ways in which the Maplytics users are empowered are by enhancing their Routing abilities, allowing Heat Map visualization, Territory Management, planning an automated schedule for field reps using Auto Scheduling amongst others from a huge range of features. It has an advanced UI and is supported by Mobiles and Tablets.
Geo-locational intelligence is an aspect of Maps that enables the users to have better insight in their data on global level. This empowers them to analyze their data and make actionable decisions. It puts manager in a powerful position thus managing their territories and regions and take empowering actions that boosts the entire business process. One tool that makes your locational intelligence even stronger using maps is developed by our extremely talented Solution Architects. Read more about Maplytics here.
Accounts branch is a crucial segment of any organization that maintains financial details. It is necessary to have a secure channel through which all the transactions take place between accounting software and  other systems to reduce cost to company. Our product InoLink does just the same. It is a cloud based integration tool that provides a secure integration between accounting software Intuit QuickBooks and Dynamics 365 CRM. You can sync one or more QuickBooks company with single instance of Dynamics 365 CRM and also perform real-time synchronization of data from Dynamics 365 CRM to QuickBooks. Currently it supports US, UK, Canada and Australia version of QuickBooks. Read more about InoLink here.
If you are processing Reports/Word/Excel templates and want to export them outside Dynamics 365 CRM environment in just one click then Click2Export is the right solution for you. It belongs to our suite of productivity tools that provides easy user experience. Dynamics CRM Reports can be exported in Excel, Word, PDF, CSV or TIFF format. Word Templates can be exported in PDF or MS Word format while Excel Templates can be exported in Excel format using Click2Export. You can execute actions such as attach to Email or Note, upload to SharePoint and download on exported Reports. Another plus point of Click2Export is creating workflow to automate export of Reports/Word Templates and execute similar actions. Moreover, you can set schedule to export and email Reports/Word/Excel Templates at regular intervals. Read more about Click2Export here.
In emerging trends of today's market there is a stiff competition between businesses. Each organization is striving to surpass the other in terms of performance. This in turn, floods the market with new software/systems every hour. The ability to adapt to these new software by users is called 'User Adoption.' User adoption needs monitoring by managers in order to measure their efficiency and understanding. Here our productivity tool, User Adoption Monitor comes in picture. It is one from our suite of products and is designed specifically for tracking and monitoring the actions performed by users on OOB and Custom Entities in Dynamics 365 CRM. The frequency of monitoring can be daily/weekly/monthly. This is done without disrupting the system's process. It is an extraordinary method to know the user's performance without interference. Read more about User Adoption Monitor here.
In Dynamics 365 CRM, there are scenarios where while doing data entry you will need to reuse the existing data repeatedly. If you keep entering this data repetitively, it will be a huge overhead. Thus to overcome this problem our team of skilled professionals came up with a productivity tool Click2Clone. Click2Clone is a Dynamics 365 CRM add-on, which helps to create a new record quickly by copying data from an existing record.  Using Click2Clone you can clone Dynamics 365 record with over 100 line items in a single click. You can also auto-update the cloned Dynamics 365 records with Click2Clone Workflow feature. Read more about Click2Clone here.
It is an ISV add-on for Microsoft Dynamics 365 CRM that enables you to use document management systems like SharePoint and Dropbox within Dynamics CRM. Using Attach2Dynamics you can perform certain actions on files/folders whether they are natively supported or not. This tool allows you to upload/download, rename, delete, preview,drag and drop or perform global search (deep search) on files/folders. It also allows you to create folders, send email with files as attachments, copy link of files/folders, and decide location of SharePoint where to upload documents. Attach2Dynamics gives you the ability to move Note/Email/Sales Literature attachments to SharePoint, Dropbox or Azure Blob Storage and leave back a path in the Note body after migration. Read more about Attach2Dyanmics here.
For an organization to function successfully, team communication is extremely crucial. Managers must be able to pass on information to their teams clearly and make the maximum of their productivity. Since it is not possible to hold meetings for every update, or send emails every time, a quick way around is to notify the team with updates right within the CRM. This is what Alerts4Dynamics does, it is a versatile productivity app for Dynamics 365 to Alert the team with any kind of information that could be significant to their business right within their CRM. Alerts can be created for any record(s) and sent to target users as notifications which can be accessed from anywhere in the CRM. Read more about Alerts4Dynamics here.
This was our suite of productivity tools that have been enhancing the functionality of Dynamics CRM profoundly. We know you will love them and would be ecstatic to Partner with us and contribute in our journey of Dynamics 365 CRM. Our solutions lie in high demand zone and have been extremely popular. So, join us and take your Dynamics 365 CRM experience to the crest.
Write to us at crm@inogic.com for further queries and we would love to demonstrate our products to you. Also, keep visiting this space for Dynamics 365 tips and tricks.
Thank You!