We use Maps day in and day out for our Personal use so why not for business? These are some of the questions we discuss when we start developing any solution for Dynamics 365. We have you "User" in our mind as to what is needed for you to convert your business into a big brand.
Today, I am introducing Inogic 'innovations' as we call them, for Dynamics 365 which should be a part of almost every Dynamics CRM implementations.  All of our solutions support all Dynamics 365 deployment models (On-Premise, Online, and Partner-Hosted) starting CRM 2013.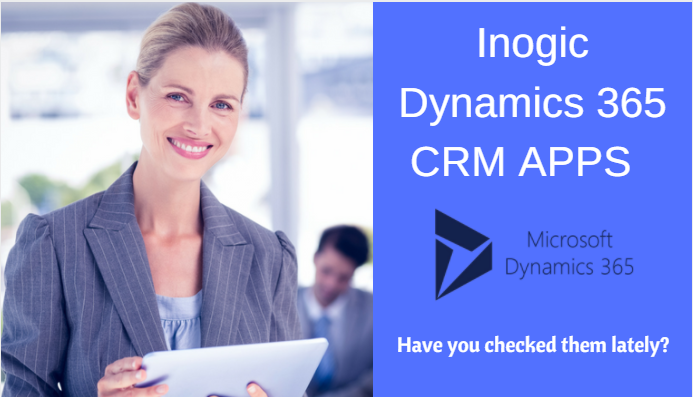 1. MAPLYTICS – A comprehensive MAPS integration solution for Dynamics 365 | Try from AppSource.
We are often asked this question why is maps integration needed for every business and one of our replies would be why would you prefer charts over a table of data. It's the visual presentation of Maps that helps you PLAN, DECIDE and ANALYZE your business altogether in a new way. It will change the pace of your business discussions and decisions.
Maplytics is a robust map visualization app for Dynamics 365 that extracts the geographical insights hidden in the CRM data empowering the Management to understand the location aspect of the business with Analytical Dashboards & Heat Maps. Routing, territory management & appointment planning capabilities of Maplytics enables Sales & Service Team to improve process efficiency & productivity significantly. In addition, Maplytics allow Marketers to create Localized Marketing Campaigns that drive better customer engagement.
Maplytics™ is one of the first geo-analytical mapping solutions to be Certified for Microsoft Dynamics (CfMD) by meeting Microsoft Corp.'s highest standard for partner-developed software. Read more about Maplytics here.
2. INOLINK – Dynamics 365 & QuickBooks integration

In this fast-paced world, you can't make your customer wait to collect information from your back office. With InoLink, integrating your Dynamics 365 CRM with Quickbooks, you have your customer's information right there within your CRM. Not just this you can promote quotes/orders/invoices from within your CRM with price list from Quickbooks and sales tax calculation.
InoLink supports QuickBooks Desktop & QuickBooks Online and all deployment models of Dynamics CRM / Dynamics 365 Customer Engagement beginning CRM 2013. For more information, you can visit here.
3. CLICK2EXPORT – Export and attach reports in just 1 Click | Try from AppSource
I am sure many times you have had the need to expedite the process of exporting reports out of Dynamics CRM and reducing the number of clicks required to get an email out with the report attached. Click2Export fills in this gap and allows for configuring any report of Dynamics CRM to be exported out to any of the following file formats, Word, Excel or PDF in a single click and have it attached as a note or an email attachment with the email ready to be sent. Learn more about this here.
4. USER ADOPTION MONITOR – Make the best of your CRM implementation! | Try from AppSource
User Adoption is key to any successful implementation and that is true for Dynamics CRM too. User Adoption Monitor lets you monitor user actions without being too intrusive. It isn't an Audit Tool but a tool to monitor user actions and there by encouraging user adoption through leader Dashboards. You can check out additional details on this from our website.
5. CLICK2CLONE – Clone Records in Dynamics CRM with 1 Click | Try from AppSource
While working with Dynamics CRM many times we feel how great it will be if we can clone records in Dynamics CRM. To overcome this and make our Dynamics CRM life more easier, Inogic has developed this productivity add on called Click2Clone which allows you to clone your Dynamics CRM records along with their child records in CRM with just single click. For more information visit our website.
If you are a Microsoft Partner and are interested in reselling our solutions. We would be glad to Partner with you. We do not have lengthy procedures or forms for enrollment, as an existing Microsoft Partner you are ready to start recommending our solutions and avail partner benefits.
Let's not hold up this pace, see them live in action today. Please email on crm@inogic.com and we would be happy to walk you through any of these or if you like to have a trial to review in your own environment.
Thank You!