Dynamics 365 CRM is an extremely powerful Customer Relationship Management tool from Microsoft suite of Products that provides 360 degree view of customer information. It unleashes doors for the Microsoft users to handle their customer information in an organized manner in a single place. However, there are some of the functionalities that are not supported by Dynamics CRM innately but, the best part is you can develop your own solutions and integrate or import them in the Dynamics 365 environment to bridge this gap.
Thus, we at Inogic came up with our pack of apps that strengthen the working abilities of Dynamics CRM even further. This makes Dynamics 365 even more powerful and perform actions that empower the users in multifold.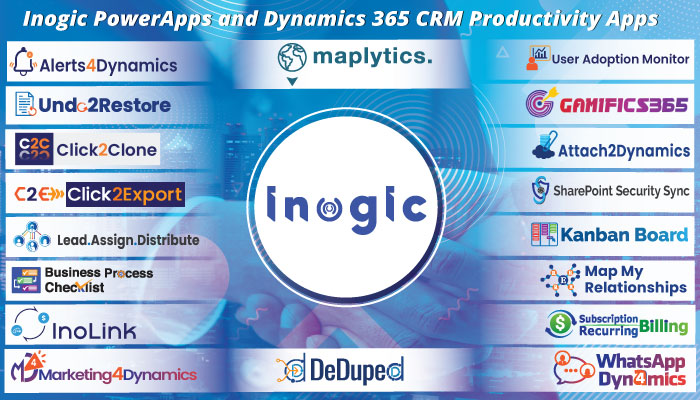 Here is the list of products we have:
Maplytics™ is one of the first geo-analytical mapping solutions to be Certified for Microsoft Dynamics (CfMD) by meeting Microsoft's highest standard for partner-developed software.
It is a robust map visualization integration app for Dynamics 365 CRM that extracts the geographical insights hidden in the Dynamics CRM data and makes visualization powerful by adding PCF Controls on entity form, dashboard or views. Maplytics empowers its users by enhancing their Routing abilities with turn-by-turn navigation to Google Maps and Waze App, Territory Management to improve geographical performance, Planning Automated Schedule for field professionals using Auto-Scheduling with the ability to Check-In, and giving them the opportunity to search for locations in proximities with Radius Search among other wide range of features.
This geo-locational intelligence of Maplytics enables the users to have in-depth insight in their CRM data. It makes it easy for them to analyze their data and take actionable decisions. With Maplytics, the manager is in a better position from where they can seamlessly manage their territories, regions and launch campaigns and assign tasks that make their employees perform to best of their capacity and therefore, boost the entire business process.
One app that makes your locational intelligence even stronger with an advanced UI supported by Mobiles and Tablets. Read more about Maplytics here.
Accounts branch is a crucial segment of any organization that maintains financial details. It is necessary to have a secure channel through which all the transactions take place between accounting software and other systems to reduce the cost to the company. Our product InoLink does just the same. It is a cloud-based integration app that provides a secure integration between accounting software Intuit QuickBooks and Dynamics 365 CRM. Therefore, with InoLink, appropriate data is synced between the two systems and you have a 360-degree view of customer accounting information right within your CRM. You can sync one or more QuickBooks company with a single instance of Dynamics 365 CRM and also perform real-time synchronization of data from Dynamics 365 CRM to QuickBooks. Currently, it supports US, UK, Canada and Australia version of QuickBooks. Read more about InoLink here.
If you are processing Reports, CRM Views & Document templates and want to export them outside Dynamics 365 CRM environment in just 1-click, then Click2Export is the right solution for you. It belongs to our suite of productivity apps that provide an easy user experience. With Click2Export, Reports can be exported in Excel, Word, PDF, CSV or TIFF format, Word Templates can be exported in PDF or MS Word format and Excel Templates can be exported in Excel format. After exporting, you can execute actions such as, Attach to Email and Auto-Send Email, Attach to Note, Upload to SharePoint and Download. Another advantage of Click2Export is that you can set schedule to export and email Reports & Document Templates at regular intervals. Read more about Click2Export here.
In emerging trends of today's market, there is stiff competition between businesses. Each organization is striving to surpass the other in terms of performance. This in turn, floods the market with new software/systems every hour. The ability to adapt to these new systems by users is called 'User Adoption.' User adoption needs monitoring by managers in order to measure their efficiency and understanding. Here our productivity app, User Adoption Monitor comes in picture. It is one from our suite of products and is designed specifically for tracking and monitoring the actions performed by users on OOB and Custom Entities in Dynamics 365 CRM. The frequency of monitoring can be daily/weekly/monthly. This is done without disrupting the system's process. It is an extraordinary method to know the user's performance without interference. Read more about User Adoption Monitor here.
In Dynamics 365 CRM, a lot of times while entering data you need to re-enter duplicate data. Manual data entry of duplicate data as it is has statistically proven to be an overhead for any organization. Thus to overcome this, we developed a productivity app for Dynamics 365 viz. Click2Clone that reduces the task of data entry wherever possible. Click2Clone helps in creating new records quickly by cloning existing records in just 1-Click. This cloning can be done for records from one entity to another entity, within the same entity, for related records like products, emails, etc. and the cloned records can be also auto-updated with Click2Clone Workflow. With Click2Clone, you can perform cloning of large data at once like cloning Dynamics 365 records with over 100 line items, in just 1-click. At the same time you can also create multiple copies of one record at single go. Isn't that amazing! Read more about Click2Clone here.
Attach2Dynamics enables you to integrate document management systems like SharePoint, Dropbox and Azure Blob Storage with your Dynamics 365. With Attach2Dynamics you can perform actions on attachments like Drag and Drop, Upload/Download, Rename, Delete, Preview, Perform Global Search (Deep Search), etc. It also allows you to create folders, send an email with files as attachments, copy sharable anonymous link of attachments, and decide the location of SharePoint where to upload documents. Attach2Dynamics gives you the ability to bulk migrate Note/Email/Sales Literature attachments to SharePoint, Dropbox or Azure Blob Storage. You can also granularly control which user can use what all actions of Attach2Dynamics with the help of Security Template. Read more about Attach2Dyanmics here.
For an organization to function successfully, team communication is extremely crucial. Managers must be able to pass on information to their teams clearly and make the maximum of their productivity. Since it is not possible to hold meetings for every update or send emails every time, a quick way around is to notify the team with updates right within the CRM. This is what Alerts4Dynamics does, it is a versatile productivity app for Dynamics 365 to Alert the team with any kind of information that could be significant to their business right within their CRM. Alerts can be created for any record(s) and sent to target users as notifications which can be accessed from anywhere in the CRM. Read more about Alerts4Dynamics here.
SharePoint Security Sync can be rightly said as the advanced version of our existing app Attach2Dynamics. While Attach2Dynamics enables document/attachment management in cloud storage systems like SharePoint, Dropbox & Azure Blob Storage, SharePoint Security Sync focuses on syncing Dynamics 365 CRM security privileges with SharePoint. It will set the security levels for each folder based on the security roles defined in CRM and only users that have access to records in CRM could access the SharePoint folders of those records in SharePoint. Further, just like Attach2Dynamics, you can perform actions on attachments like upload/download, drag & drop, email, delete, preview, copy link, create, rename, etc. in SharePoint. Read more about SharePoint Security Sync here.
A booming business has to manage incoming leads and provide services to existing customers at the same time. In such cases, auto assigning of leads or records to users improves productivity and efficiency. This led to development of Lead Assignment and Distribution Automation. While the product was conceptualized for the common request of Lead Distribution, the framework is generic and supports auto assigning and distribution of any entity records. Lead Assignment and Distribution Automation enables systematic allotment/assignment of leads to respective Dynamics 365 CRM users. It helps managers to allocate and distribute incoming leads and customer queries in an organized way. This ensures fair distribution of workload within each team and improves overall productivity of team leading to higher sales and higher ROI. Read more about Lead Assignment and Distribution Automation here.
The term 'Kanban' means 'visual signal'. This product has been designed as a control that you can configure against any view in CRM and visualize the data in the view as a Kanban Board. Here, records are systematically arranged in movable cards in multiple lists based on different criteria. This helps to search and filter records quickly as per business requirement and to move the records from one stage to another in the Kanban view through easy drag n drop. Read more about Kanban Board here.
Any record in Dynamics 365 CRM is usually connected to multiple other important related records either in the form of lookup fields or multiple related data. Map My Relationships provides mind map visualization of that data on a form. As a PCF control it can be placed on the form and configured to show important information spread across the form in a single view with the ability to drill down further to access individual records. It also allows users to easily navigate to related records and create activity records like Email, Phone Call or Appointment. You can thus, get information at a glance leading to quick decisions and swift execution of tasks. Read more about Map My Relationships here.
Since Dynamics 365 is a vast customer relation management system, it deals with bulk of data and at several instances its users make changes that are not desired. In case there is an unwanted change, it becomes nearly impossible for the users to restore the previous state and therefore, it can cause a chaos in the business. Altering data, that is not as per business requirement can lead to an overall havoc and the business may come up with many problems. It is always desirable to find a solution that addresses this issue. In order to retain the original state of altered data we have developed the robust app Undo2Restore. Undo2Restore takes care of any changes done in a record or in case a record is deleted. With the help of this app users can restore deleted data and be in control of their business. Read more about Undo2Restore here.(Formerly known as Click2Undo)
This app is specifically designed to save the time of all subscription-based businesses. Subscription and Recurring Billing Management provides a robust platform to seamlessly manage, streamline subscription and recurring billing process within Dynamics 365 CRM. It is designed to remove manual intervention while generating Invoices / Sales Orders, sending payment reminders, calculating penalties & taxes, and make the process more accurate by automating them. Read more about Subscription and Recurring Billing Management here.
Marketing4Dynamics is a productivity app providing integration between Dynamics 365 CRM and Mailchimp. It syncs Mailchimp and Dynamics 365 CRM customers along with their marketing statistics data ensuring easy and quick access to information without navigating from one application to another. Complete details of campaigns and other member activities executed through Mailchimp is made available within Dynamics 365 CRM. This gives an advantage while planning and executing marketing activities and increases the productivity of Dynamics 365 CRM users.
An enriching environment always boosts the morale and productivity of employees. Implementing game mechanics into the daily routine work is one way of providing an energetic and livelier work environment for employees. Gamifics365 is a gamification app that aims to enhance Dynamics 365 CRM productivity and adoption by creating an enriching and motivating environment for CRM users through engaging games and activities. The employees/players will be encouraged and motivated to achieve organization's crucial and important metrics through these engaging games. It also encourages team building, collaboration between other teams, enhances overall productivity resulting in higher sales and profit. All in all, a total win-win situation for both the employer and employees.
Business Process Checklist is a Dynamics 365 CRM productivity app that helps users to simplify their internal processes by enforcing the best plan of action for day-to-day activities. Once the sales manager or administrator creates a checklist/plan/to-do list, it will automatically get connected against records or Business Process Flows when set conditions are met. Be it custom, OOB entities or custom flows, users will have a predefined set of actions reflecting the organization's best practices to perform. With Business Process Checklist, set a plan of action for your salespeople/customer executives to follow and in the order, they want them to follow. Increase user productivity by better aligning your business processes with Business Process Checklist within your Dynamics 365 CRM.
WhatsApp4Dynamics is a productivity app available for Microsoft Dynamics 365 CRM/Microsoft Dataverse (Power Apps) that helps easily send and receive WhatsApp messages. A third-party integration allows users to integrate Dynamics 365 with WhatsApp. This integration enables businesses to communicate with their clients via WhatsApp directly from within Dynamics 365, streamlining communication processes and improving engagement. WhatsApp4Dynamics users send and receive messages, view message histories and access customer information. This integration also allows automated messaging and response capabilities, further enhancing customer engagement and support. Overall, WhatsApp4Dynamics is a powerful tool for businesses looking to improve customer communication and engagement, particularly in the realm of mobile messaging.
DeDupeD

– Seamlessly detect and manage Duplicate Records in Dynamics 365 CRM | Coming Soon
DeDupeD is a productivity app designed to manage and detect duplicate records in Microsoft Dynamics 365 CRM. Whether it's data imported in bulk, manual entries, or integration with other platforms, duplicate entries can cause confusion and hinder decision-making. However, DeDupeD automates duplicate detection using predefined rules across all selected CRM entities, allowing users to effortlessly merge duplicates into a single record. This app ensures data accuracy and consistency, as it can not only detect duplicates in entities like Lead, Contact, Account, or Case but also in any other Dynamics 365 CRM entities, be they out-of-the-box or custom. With DeDupeD, users can define rules to prevent and minimize record duplication and identify duplicates when fields or columns are changed. Streamlining the identification and merging processes, DeDupeD optimizes time efficiency and helps users clean up existing duplicates effectively.
In any organization that sells products often taxes are applied on them. Since many organizations embrace Dynamics 365 for their Sales, with the help of the Auto Tax Calculator now tax can be calculated directly within the CRM. With this automated tax calculation, there is increased accuracy by eliminating manual calculations and time and cost-effective performance. The Auto Tax Calculator app can also be used with the integration of the Avalara AvaTax app for calculating more complex tax structures. Read more about Auto Tax Calculator here.
This was our suite of productivity apps that have been enhancing the functionality of Dynamics CRM profoundly. We know you will love them and would be ecstatic to Partner with us and contribute in our journey of Dynamics 365 CRM. Our solutions lie in high demand zone and have been extremely popular. So, join us and take your Dynamics 365 CRM experience to the crest.
Write to us at crm@inogic.com for further queries and we would love to demonstrate our products to you. Also, keep visiting this space for Dynamics 365 tips and tricks.
Thank You!