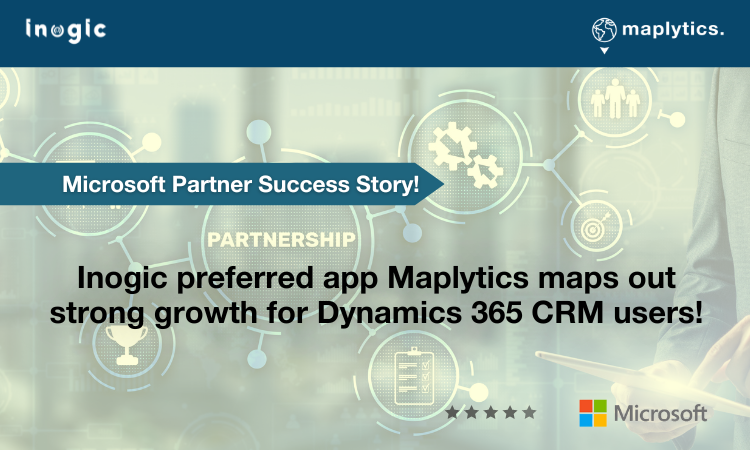 With a goal to elevate its application business, engage clients and partners with renewed capabilities, and explore new markets, Inogic joined Microsoft Business Applications ISV Connect program as one of its earliest members.
What is Microsoft Business Application ISV Connect Program?
The Business Applications ISV Connect Program offers platforms, resources, and support designed to help a business develop, publish, and market its business apps. The program can help a business thrive in The Business Applications ISV Connect Guide or get guidance on how to navigate the ISV Connect experience.
By joining the ISV Connect program businesses can expand their global customer base and implement and deploy more effective safety management practices. An organization that has developed and published its solution is ready to join the program.
Benefits of ISV Connect-
Build a fast and secure Line of Business apps with a development platform complementing the process
Make LOB apps stand out for customers with artificial intelligence and mixed reality from the cloud
Grow business with access to Microsoft channels, go-to-market resources, and co-sell opportunities
Microsoft Partner Success Stories-
This speaks about partners and their growing businesses with solutions built on Microsoft Dynamics 365 and Power Platform. The global success stories within Microsoft are inspiring and a lot to learn from.
Inogic too has a featured Partner Success Story on how ReEmployAbility sees an immediate business impact with its flagship product Maplytics by integrating Maps with Microsoft Dynamics 365 CRM
Business Innovation within Microsoft Dynamics 365 CRM –
Inogic has been a part of the Microsoft Dynamics 365 customer engagement community since 2006 and has helped several clients get the most out of their Dynamics 365 applications through apps and development services that improve productivity, increase user adoption through visualization and automation, and accelerate business operations.
A key part of Inogic's business is developing applications that extend the functionality of Dynamics 365 Sales, Marketing, Customer Service, and Field Service. The company's 15+ Preferred Apps consist of apps catering to different business needs such as geo-spatial, productivity, storage and document management, user adoption, visualization, customer relationship management (CRM) administration, and automation.
With an exclusive focus on Dynamics 365 CRM and Power Platform for more than a decade now, Inogic delivers best-in-class cost-effective, experienced professional services & innovative solutions for Dynamics 365 CRM and Power Platform. With a well-equipped Team of certified, refined experience and fresh, and experimental minds in place, Inogic promises to serve its clients with well-rounded, progressive, and thoughtful technical and process consultations.
We have established ourselves as an experienced and reliable Outsourcing and Off-shore Development Partner with unrivaled practical knowledge and experience in development, integration, and implementation of Dynamics 365 CRM and Power Platform. We have an excellent record of timely project delivery, futuristic workaround solutions, successful long-term projects, noteworthy recommendations, and happy, returning clients!
Integrating maps with CRM –
Maplytics the flagship product of Inogic is one of the most popular, 5-star rated geo-mapping app of the Microsoft AppSource. It seamlessly integrates CRM Records with Maps and helps users in visualizing records at their locations while aiding in taking location-based smart decisions for business growth! The popular features have been shown to result in a 3x increase in productivity for sales representatives, while also helping leadership teams.
How does Inogic, map out strong growth for Microsoft Dynamics 365 CRM users?
ReEmployAbility, a B2B Service Industry company downloaded the trial from Microsoft AppSource, tested it, and moved to full production. Smart features of Maplytics enable easy client location mapping and plotting end-to-end driving directions saving an average of 12 minutes per meeting travel, or approximately 12 hours per day, resulting in an operational savings of $5,000 per month.
What's more-
Inogic is engaging with Microsoft to continue expanding the reach of its products and professional services. Within ISV Connect, Inogic is acting on increasing market awareness about its Product Suite, sandbox Test Trials, SEO Ranking, and a lot more.
By capturing the Dynamics 365 and Power Platform expertise and innovation of Inogic in their applications, the Team has in a repeatable way delivered incredible value to customers very quickly. With ISV Connect, Team visualizes its expansion further.
Inogic is also looking to leverage its ISV Connect benefits for go-to-market support, AppSource presence, and preferred app status to increase awareness within Microsoft seller and Microsoft partner ecosystem audiences to further accelerate the expansion of its broad spectrum of solutions.
Inogic Professional Services Division studies the application of CRM for clients suggesting customized techno-functional improvements, as a trusted vendor for development we extend CRM functionalities with plug-ins, custom business apps, Power Automate, Power BI, Power Apps, Power Pages, etc., we act as an ODC or a virtual IT/development workforce, offering development services as dedicated outsourced developers, build productivity apps using a rich set of tools, existing templates, etc., automate scheduled manual operations, create intelligent automation and find insights by building tailored AI models, and a lot more. We manifest to flourish these services ahead and enrich our customer base.
Inogic wishes to take its agile business process management, CRM storage optimization, and document management, relationship and connection management, CRM user adoption and gamification, MailChimp integration, subscription and recurring billing automation, and other exquisite solutions, places.
With solutions that offer more comprehensive experiences to customers, so it is a win-win for everyone in the process, Inogic is looking forward to working closely with Microsoft to create awareness about productivity-enhancing products within the Microsoft ecosystem, including Microsoft sellers and partners alike.
The possible applications and expansion are immense and can be stretched beyond imagination. You can write to us at crm@inogic.com  for your mapping queries, to explore our products and professional services further, a free trial of 15 days, or a personalized demo within Microsoft Dynamics 365 CRM / Dataverse.