Here are some reasons why we should forgo manual data entry and switch to Automation:
Manual data entry often results in –
Errors leading to inaccuracies
High cost and wastage of time
Disengagement among employees
Potential financial issues
Potential compliance issues
But according to some surveys, even today nearly 40% of employees using Dynamics 365 CRM spend a quarter of the week on manual, repetitive tasks!
Quite astonishing, isn't it?
So what can be done to improve this situation?
The simple solution is – AUTOMATION!
By investing in robust and feasible automation apps, organizations can easily improve team productivity and reduce its operation costs. And for Dynamics 365 CRM users, there are a variety of solutions available which highly reduces the daily manual data entry workload and improves productivity.
And one such solution is – Click2Clone!
A Microsoft Preferred App, Click2Clone provides support to copy/clone Dynamics 365 CRM records along with related child records with just a single click.
Intriguing, isn't it? Then check out the infographic and find out what more this amazing automation app can do for you.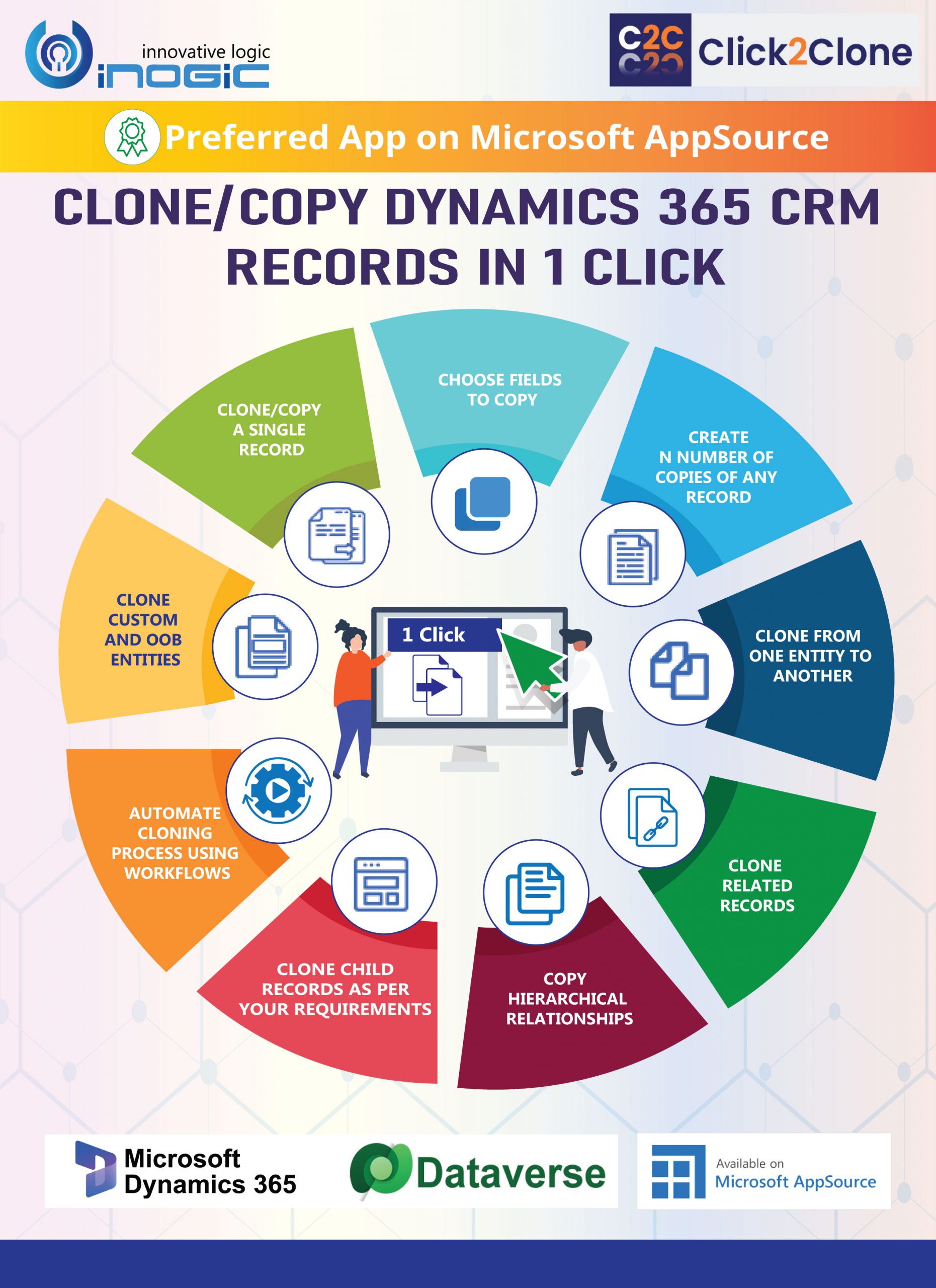 To be precise, with Click2Clone Dynamics 365 CRM users can –
Clone Custom and OOB Entities
Whether it is OOB entities or custom entities, like Quote, Order or Invoice; with Click2Clone users can effortlessly clone/copy these records in Dynamics 365 CRM.
Clone Single or Multiple Records
Making an exact copy of a Dynamics 365 CRM record (even with more than 100 line items) has become easier with Click2Clone. Not only this, users can select multiple records and clone them at once with just a single click.
Sometimes, users don't require all fields of a record while creating a copy of that record. In such cases, Click2Clone also provides the ability to select the fields to be copied.
Create n number of copies
In some cases users may need to copy a particular record multiple times. For such situations, Click2Clone provides provision to create multiple copies of any OOB or Custom entity record in Dynamics 365 CRM. Users now no longer have to repeat the process of cloning a record again and again.
Clone from one entity to another
With Click2Clone, users can clone/copy records from one entity to another. This proves useful when they want to copy some attributes from let's say Opportunity entity record to Order entity record quickly and effortlessly.
Another factor is that with Click2Clone, users can copy/clone the related/associated child records from one record to another within the same entity. This is handy when users want add the same line items from one record to another existing record without creating a duplicate copy of the record.
Copy Hierarchical Relationships
Cloning hierarchical relationships is a quite tedious task. With Click2Clone, users can clone these relationships with ease.
With Click2Clone, users can also copy/clone child records based on the rule specified in Child Templates of the respective entity. In short, it ensures that each and every detail in a record is cloned.
Automate Cloning process using Workflows
There might be situations when users are not available or overloaded with work. In such cases, users can also automate cloning of records and create multiple copies of any given record with workflows.
This is just a brief summary of what Click2Clone can do.
To know more about this wonderful time saving app, just go to our website or Microsoft AppSource and download the 15 days free trial. Have a look at our video library for a quick review of these amazing features.
Feel free to contact us at crm@inogic.com for any cloning or automation requirements.
In the meanwhile, do check out our other two popular 1 Click productivity apps for Dynamics 365 CRM – Click2Export & Click2Undo. Now exporting CRM data and restoring deleted records in CRM is just a click away!
Until then – Stay Safe, Stay Healthy!