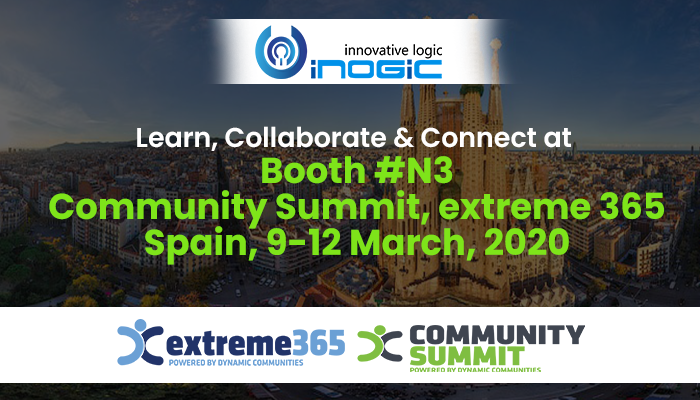 The annual Community Summit/extreme 365, for Year 2020 is just two weeks away. Hosted by Dynamics Communities this event will be held at Fira Gran Via in Barcelona, Spain from 9 -12 March.  We are excited to be part of this upcoming event which provides an unique opportunity for both partners and end-users of the Microsoft Business Applications platform to come together to learn, collaborate and connect about how to further enhance their knowledge of Power Platform and Dynamics 365 CRM.
Why attend this Summit?
User-produced education
This event brings together the largest community of product users and is the only in-person event featuring user-produced education on how to maximize the performance of your Microsoft Business Applications software.
Learn from Experts
With 300+ sessions, you get to learn from Dynamics experts including; MVPs, Microsoft Executives and Microsoft engineers.
Create Network
You get the opportunity to build and renew relationships with experts, partners and Microsoft Business Applications peers
But this is not all.
We will be right there at Booth # N3 exhibiting our wide range of innovative, Microsoft Preferred Solutions for Dynamics 365 CRM and PowerApps – Maplytics™, InoLink, Click2Clone, Click2Export, Attach2Dynamics, SharePoint Security Sync, Alerts4Dynamics, Lead Assignment Distribution & Automation and User Adoption Monitor.
In addition to this, we will be introducing 6 new amazing apps – Kanban Board, Map My Relationships, Click2Undo, Recurring Billing, Software Management and Tax Processing.
So, we gladly invite you to our booth to get yourself acquainted with our distinct innovative solutions and high quality, offshore development services on the Power Platform – Power BI, PowerApps, Power Automate and Portals.
You can also schedule a one-on-one session with us for exclusive personal demos and to discuss all the possibilities where our apps and services will benefit you and your organization.
Please mail us at crm@inogic.com to schedule a meeting and we will be happy to meet you.
Looking forward to a thrilling and eventful experience.
Meet you soon at #CommunitySummit, Booth #N3.
Until then, Adios!