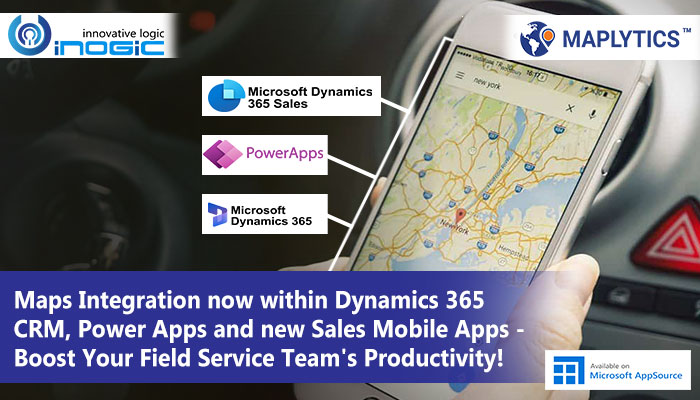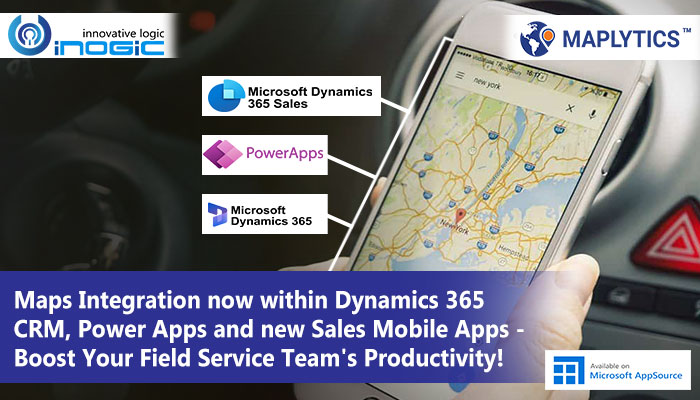 One thing that sales team all across the world has in common is the need and use of a powerful customer relationship management software. Tracking relationships, follow-ups and reminders, mapping sales pipeline, etc., were done in a traditional way using desktops. But the sales team once in the field, gets disconnected from their Dynamics 365 CRM database. They need to gain immediate access to CRM data when interacting with their clients and prospects when on field. Then came mobile CRMs which not only paved way for flexibility and autonomy, but also helped sales reps and service reps when out on field using different CRM add-ons and integration apps. One such app is maps integration with Dynamics 365 CRM called Maplytics.
Maplytics is a leading geo-analytical tool for Microsoft Dynamics 365 CRM providing advanced mapping features like Territory Management, Auto-Scheduling, Route Optimization, Heat Maps, Land Area Mapping, Proximity Search and much more. With the help of new flexible and responsive UCI framework introduced with Dynamics 365 v9, Maplytics has made itself available in different Dynamics 365 CRM mobile apps like Dynamics 365 Sales mobile app, Dynamics 365 Field Service mobile App, Power Apps mobile app, etc. thereby providing enhanced sales experience.
Let us find out how Maplytics when used with Dynamics 365 Sales Mobile App or Microsoft Dynamics 365 CRM / Power App mobile app can maximize your sales team's productivity.
1. Increased Sales
Sales Reps and Field Agents need to reach prospects on time and they know that even a delay of two minutes can easily make or break a sale. With the help of Maplytics, they can reach the clients without any delay using Route Optimization and Turn-by-turn navigation features of Maplytics.
2. On-demand Insights
With the help Analytical Dashboards, visualize and analyze Dynamics 365 CRM / Dataverse (Power Apps) data in real time on a map through the geospatial rendering of data from within the Microsoft Dynamics CRM. Maplytics ships with 6 pre-defined Dashboards for various Sales and Service Modules for different user roles.
3. Increased Productivity
Growth in business also increases the travel expenses and time. To increase the productivity of a salesperson, Maplytics optimizes travel time, mileage and saves overall cost and time thereby meeting more clients and closing more deals. When they have extra hour or two with them while on field, they can use Along the Route Search feature and add more clients to their route.
Apart from these features, Maplytics on Mobile App allows users to plot multiple entities, use the category filter to further perform drill-down analysis, find nearby CRM records using Proximity/Radius Search based on time or distance, perform multiple proximity searches with Concentric Proximity Search, create insightful Heat Map visualizations, and much more.
Recently, we also released a new feature called Real Time Tracking in Maplytics Dynamics 365 Field Service where you can track your field agents in real time.
To find out more about Maplytics Desktop features, hop on to our Maplytics Features Video. Find out how Maplytics helps Sales managers, Sales Reps, Marketing Managers, and more by increasing overall productivity.
Our team is ever ready to help you grow your business by adapting Microsoft AppSource Preferred Maplytics App in your Dynamics 365 CRM / Dataverse (Power Apps). Contact us at crm@inogic.com to get demo based on your business use case.
Map the gaps between sales team and clients using your favorite locational intelligence app Maplytics. Get it today.