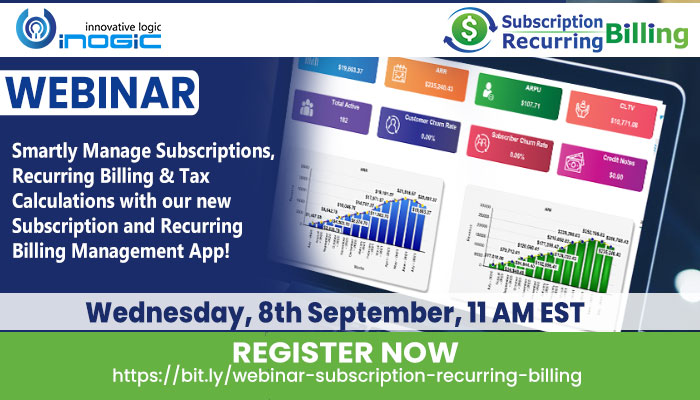 Facing difficulties in managing huge number of subscriptions in your CRM?
Then get ready for an exciting session on our new billing app for Dynamics 365 CRM – Subscription and Recurring Billing Management which will help you manage subscriptions, streamline billing processes and automate tax calculations within Dynamics 365 CRM.
Want to know how it works?
Join us for our upcoming webinar where we will reacquaint you with this latest subscription and billing app.

Wednesday, 8th September 2021 | 11 AM EST
In this webinar, you will be given an in-depth demonstration of the following prominent features of Subscription and Recurring Billing Management:
Plans & Add-Ons: Define and introduce multiple pricing plans and add-ons for the customers to choose from.
Multiple Pricing Models: Supports a variety of pricing models to ensure a smooth billing process for all subscription-based businesses.
Subscription Schedules: Create detailed framework of what, when & how much should be billed to customers.
Proration: Calculate subscription charges for products on pro-rata basis.
Revenue Analysis: Indicate business health through detailed reporting of important metrics – MRR, ARR, ARPU, Churn Rate, CLTV, etc.
Tax Calculations: Calculate tax for Opportunity, Quote, Order, and Invoices based on Tax Schedules.
Avalara AvaTax Integration: Integrate with AvaTax from Avalara for automatic tax calculations.
Just click the Register button now!
In the meanwhile, download and learn more about this wonderful app from our website or Microsoft AppSource for a trial period of 15 days.
Have no time to attend the webinar? No problem! Just register for the webinar and we will send out the webinar recording to you!
See you at the webinar!