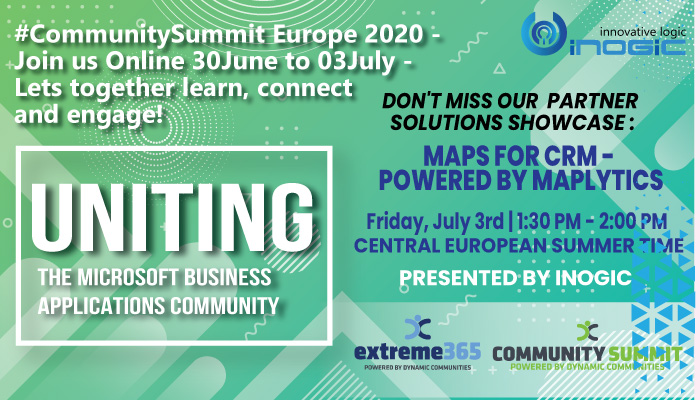 Well, we had been waiting to meet our Dynamics CRM and PowerApps friends in person at Barcelona but probably we have a way now to connect but just virtually this time.
Community Summit and extreme365 brings Microsoft Business Applications community together to learn, collaborate, and connect about Dynamics 365 and Power Platform Applications (Power BI, Power Apps, Power Automate, Virtual Agent). And for the very first time we will do all this virtually without stepping out of our home!
So, join us online from 30 June – 3 July, 2020 for our first virtual event of the year with 300+ sessions, inspiring key notes, access to experts and much more!
The Virtual Expo is the place where you can discover the latest Microsoft Business Applications and related 3rd party solutions while speaking with the brains behind them, find your technology partner and enhance your Microsoft technology stack. And like every year, Inogic has not just 1,2 but 6 new productivity app releases and is now a one stop hub that can assist you with your Dynamics CRM, Power Platform (PowerApps, Power BI, Power Automate), Field Service, Microsoft Portals Development/Integrations requirements, which you always wanted to develop at a reasonable cost!
(Our Team will be online on Chat during the Event hours or please contact us anytime on crm@inogic.com)
Your kind feedback has always helped us to build the most innovative and popular productivity apps, most of which are already preferred apps on Microsoft AppSource namely Maplytics – our flagship product which is a native Map Visualization, Routing & Geo-analytics app for Dynamics 365 and our plethora of  other productivity apps for Power Platform – InoLink (Quickbooks Integration), Click2Clone -1 Click Clone, Click2Export – 1 Click Export, Attach2Dynamics, SharePoint Security Sync, Alerts4Dynamics, Lead Assignment & Distribution Automation and User Adoption Monitor.
So what's special at Inogic Booth this year?
It's our 6 new app releases! Just click on the chat option or email crm@inogic.com and our team will be available to give you a demonstration on Kanban Board, Map My Relationships, Click2Undo – 1 Click Undo, Recurring Billing Manager, Subscription Management and Auto Tax Calculator.
That's not all! We have a session too!
Like every year, we will be presenting a Partner Solutions Showcase on how businesses can benefit from the power of map visualization, routing and geo-analytics within Microsoft Dynamics 365 / PowerApps!
July 3  | 1:30 PM – 2:00 PM Central European Summer Time
Join the session to get an in-depth knowledge on how to get the power of Maps Analytics within your Dynamics 365 CRM / PowerApps. To join this insightful session, you should be logged in and registered to the event.
So, don't wait! Please register here and take away all the benefits of our valuable apps and implement them to boost your productivity and achieve higher ROI.
Mail us at crm@inogic.com to schedule an appointment and we will book your spot at once!
Looking forward to a thrilling and eventful experience at the biggest virtual platform!
See you soon at #CommunitySummit and extreme365 Europe 2020.. virtually J
Until then – Stay Safe, Stay Healthy and do join us!