Well, you don't need any reasons to not be there at Microsoft Business Applications Summit 2019 to be held on June 10 – 11 in Atlanta, Georgia. Our team is all geared up and thrilled to be a part of this event for the first time and as a Sponsor.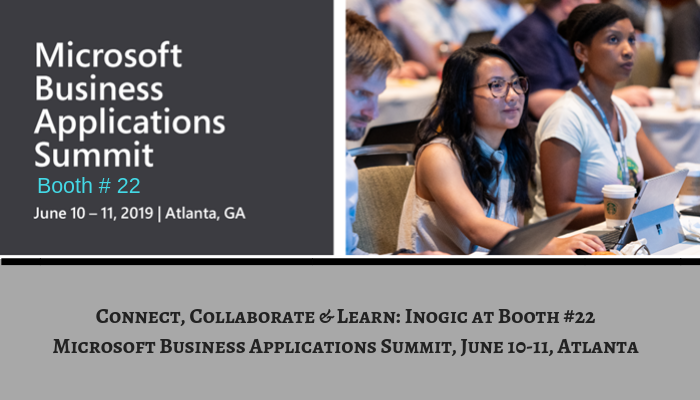 There will be 200+ demo-rich sessions held in this event by 300+ experts covering multiple dimensions of Dynamics 365, Power BI, Excel, PowerApps, Microsoft Flow and mixed reality under a roof. We have already been exploring all these Power BI, PowerApps, Microsoft Flow and sharing through our blogs.
It's always a different experience to be there and connect with the experts, collaborate with community, learn new skills and as it says, Unlock better solutions.
Register today & use our exclusive coupon code: INO741100DC to get additional $100 USD. This is a limited-time offer, so be sure to register by May 31, 2019, at 11:59 p.m. PDT. Register today
Check out the full session catalog
Explore every session, workshop, and pre-day coming to the conference filled with demos, hints, and hacks to help you ramp up your skills and transform your business. There will be plenty of learning opportunities featuring a range of tools and topics, for all levels of expertise. Plus, you'll get a sneak peek into what's new and coming next.
We are equally excited to be exhibiting as a Silver Sponsor at Booth #22 in MBA Summit and will demonstrate our Dynamics 365 Compatible Apps and services exclusively.
For instance, get a free exploration and know more about Maplytics, our geo-analytical flagship product Certified for Microsoft Dynamics (CfMD), and how it amplifies the usability of Route Optimization, Territory Management, Appointment Planning and Radius Search in Dynamics 365 CRM. We will also give an overview of our Dynamics 365 CRM productivity apps:
InoLink – Bi-directional integration between QuickBooks Online and Dynamics 365 CE.
Click2Clone – 1-Click app to clone Dynamics 365 records along with related records.
Click2Export – 1-Click app to Export and Email Dynamics 365 Reports and Word Templates.
UAM – Track and administer your CRM usage.
Attach2Dynamics – Seamlessly store and manage Notes and Email attachments on Cloud Storage.
Alerts4Dynamics – Schedule and Manage alerts in Dynamics 365 CRM.
Explore Key Driving Factors of This Summit:
Make profound decisions with the crucial information gain: Learn how to leverage the services of apps you use and make informed decisions to expedite your development and business process.
Learn from pioneers of their field. Get to meet leading CEOs and stakeholders who can impart their valuable knowledge over the subject to give you a deeper insight and broaden your vision.
Build your knowledge base by interacting with like-minded professionals. Meet like-minded professionals who have been in the industry for a long time and have made their way through compelling strategy.
Clear your doubts with Microsoft Experts. Get in-depth solutions to your queries by Microsoft's subject-matter experts.
View the latest trends in technology and plan your roadmap: An exquisite chance to enrich your vision and be in-tune with the latest trends presented by the gen-next professionals.
And yes, we will be happy to set up a meeting with you for a dedicated time at Booth #22 to discuss our innovative solutions and services for Dynamics 365 CRM, Flow, PowerApps or Portal. To schedule a meeting mail at crm@inogic.com
See you in Atlanta, soon, very soon!