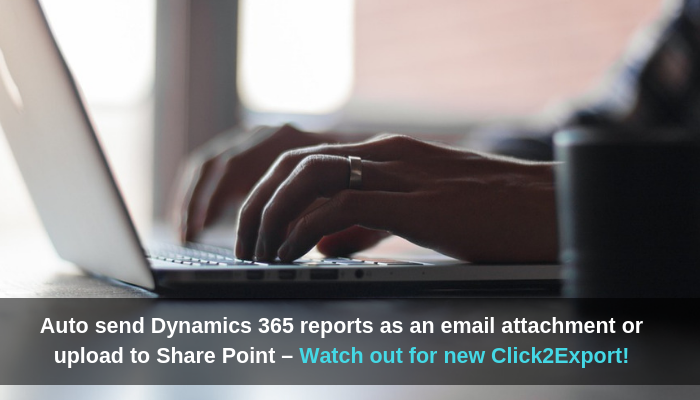 We always wish we could expedite the process of exporting reports out of Dynamics 365 and reduce the number of clicks required to get an email out with the report automatically attached. Click2Export upcoming new release fills in this gap and you can now configure any Dynamics 365 CRM report to be exported and downloaded to any of the following file formats, Word, Excel or PDF in a single click and have it attached as a note or an email attachment with the email ready to be sent./p>
And what if you can also automatically send the email with the report attached to it? Something you have been waiting for? Yes, with the upcoming new Click2Export users cannot just export and attach the exported Dynamics CRM reports to Email, note or download but also automatically send the email with the report attached to the mail.

Let's have a quick look at the new features that will be added in the upcoming release:
Auto Send Email:
Using this feature user can now export and automatically send an email by attaching the exported report as an attachment. This will not only save the time and clicks of the user but also cut down the process of separately mailing the exported report.
Export Dynamics CRM Reports in CSV and TIFF format:
Users can now export the Dynamics 365 CRM reports and download it to CSV and TIFF format along with Word, Excel, and PDF in just a single click. Thus, user gets more flexibility of opting for the needful formats as per the different type of business requirements.
Export Dynamics CRM reports and uploads to SharePoint:
As you know Microsoft SharePoint is a browser-based collaboration and document management system that allows groups to set up a centralized, secured space for document sharing. With the help of this feature, users can now export and share the exported reports on SharePoint site (common platform).
Default Email Template:
The user can now pre-define the required email template for selected CRM Report template. This will help the user to set the most commonly used Email and save the time by attaching the exported CRM report as an Email attachment.
Get ready for a whole new experience of exporting your Dynamics CRM reports in various unique formats. So, why just to take the benefit of exporting the CRM reports from your environment but also have the access to use them in various formats for further applications.
Keep watching this space for the new release. In the meantime to get hands on our current release get a trial from our Website or Microsoft AppSource.
We would like to take a moment to introduce our new product Alerts4Dynamics to you. Alerts4Dynamics lets you schedule and manage alerts in Dynamics 365 CRM to notify users about the updates in CRM, due invoices, reminder to send quotes, etc. You can define target audience and send them priority based alerts via pop-ups, form notifications and emails. You can also view the log of read/dismissed alerts by users and also create alerts for multiple records by defining rules.