We are glad to announce that we have reached a new milestone with our achievement of Microsoft Dynamics CRM Gold ISV competency. It is exciting to get acknowledged with the highest accreditation demonstrating "best-in-class" ability. This signifies our expertise, experience, and commitment to deliver optimized and innovative solutions and services meeting the standards set out by Microsoft to manage their Microsoft Dynamics CRM customers' needs.
In order to earn this Microsoft Gold Competency, partners have to go through rigorous set of tests. As a Microsoft Gold Partner, we will receive multiple benefits and support from Microsoft with a distinctive place in Dynamics CRM aka Dynamics 365 ecosystem. We believe in teamwork and this achievement has made us feel extremely proud of our efforts setting even higher goals and milestones to achieve in the near future.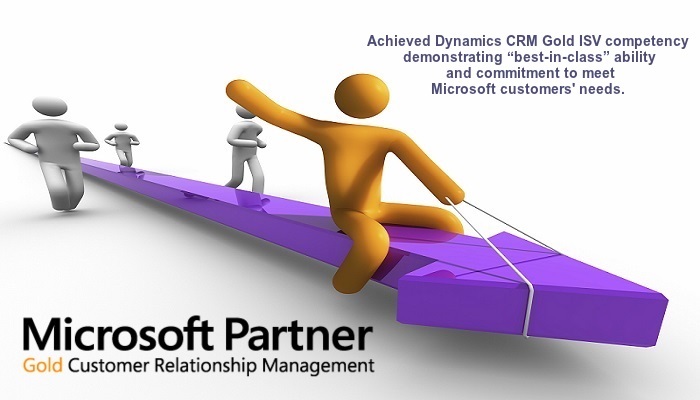 Our innovative software solutions include;
Maplytics™: Maplytics is an integration solution of Dynamics CRM & Bing Maps, which allows to visualize Dynamics CRM data on maps. It is a Geo-Analytical tool offering detailed regional analysis with several other features like; route planning & optimization, territory management, heat maps, POI searches, analytical dashboards, all within Dynamics CRM.
InoLink: InoLink is designed to synchronize the data between accounting software Intuit QuickBooks and Microsoft Dynamics CRM. It acts as a bi-directional integration solution for QuickBooks and Microsoft Dynamics CRM to perform auto transfer of data entered in one system to the other avoiding any data duplication or data inconsistency. CRM Sales person can get accounting information of customer right from within Dynamics CRM using this solution.
Click2Export: Click2Export is a productivity add-on for CRM to export Dynamics CRM reports to Excel, Word and PDF in a single click. Users can export report to these file formats or can also attach it to an email or note in a single click. This helps to improve user efficiency avoiding any cumbersome process especially if this is an often-performed task in Dynamics CRM.
Click2Clone: Click2Clone is a productivity add-on, which expedites data entry by quickly copying/cloning Dynamics CRM record from existing record to a new record along with all of its related child records. This cloning functionality is available for most commonly used system entities and can also be configured for use with custom entities.
User Adoption Monitor: User Adoption Monitor is a unique solution which allows managers to review adoption of CRM application. It provides details of the actions performed by users in Dynamics CRM like; Create, Update, Read, Set State, Delete, etc. and have the data summarized by timelines like Daily, Weekly, and Monthly. The results can further help administrator to guide their training and adoption methodologies to suitable areas.
User Gamification Module: User Gamification Module is an innovative Gamification tool, which gamifies CRM in order to encourage adoption of the CRM application. You can setup games to be competed between team members by performing common operations in CRM like Create a lead or close an opportunity and earn badges and have leader boards displayed for encouraging a healthy competition.
Our achievement of Gold level of competency has demonstrated our deep expertise and efficiency. It has heightened our responsibility towards the CRM eco-system for providing best-in-class Services and Innovative Solutions. A huge Thanks to all our Partners, Customers and Team members for their trust and support towards all of our achievements!
Our solutions are available on Microsoft AppSource! When are you getting your first trial?