One of the reasons Microsoft Dynamics 365 CRM is the best business application for organizations looking to nurture customer relationships, is the way it keeps on improving day by day with new updates and release cycles. One of the key factors is also the way it allows ISV partners to fill in the gaps unintentionally left, thereby creating a bridge between the end users through partners. Inogic, one of the leading Microsoft ISV Gold Partners, has been developing apps and add-ons to strengthen this bridge and fulfilling the needs of Dynamics 365 CRM users. Want to know how we are doing it? Our experts will be representing Inogic at Dynamics Community Summit North America in Orlando, FL from October 10-13 as Platinum Sponsors. Visit us at our booth #1334 and we can have a one-on-one session on how to get the most out of your Dynamics 365 CRM investments.
Productivity is one such gap, that Inogic with its suite of 15+ productivity apps has been successfully fulfilling for years. For example, there are times when some of the daily mundane tasks in CRM eat into your quality time with customers, like repetitive data entry in CRM.
Just automating some of these processes will do away with all these daily woes of manual operations that are restricting your productivity.
And Inogic has the perfect solution for you – Click2Clone – Clone/Copy Microsoft Dynamics 365 CRM records with just 1 click!
But what does this Microsoft Preferred App do? It's time to find out……
With Click2Clone, you can –
Easily Clone/Copy Record(s) in Dynamics 365 CRM
Making an exact copy of a Dynamics 365 CRM record (even with more than 100 line items) will become easier with Click2Clone. All you have to do to create a copy of a record of any OOB or Custom entities in Dynamics 365 CRM is open the record you need to clone/copy and just click on the 'Click2Clone' button. And within no time the record will be copied and a similar record will be created. This process can also be automated through workflows.
Furthermore, you will be able to clone/copy multiple records in Dynamics 365 CRM at once. If you have to clone quite several records in the same entity then all you have to do is to select the records from the view and click on the 'Click2Clone' button. All the selected records will be cloned and similar records will be created within no time, thereby helping you to finish your half a day's work in a few seconds.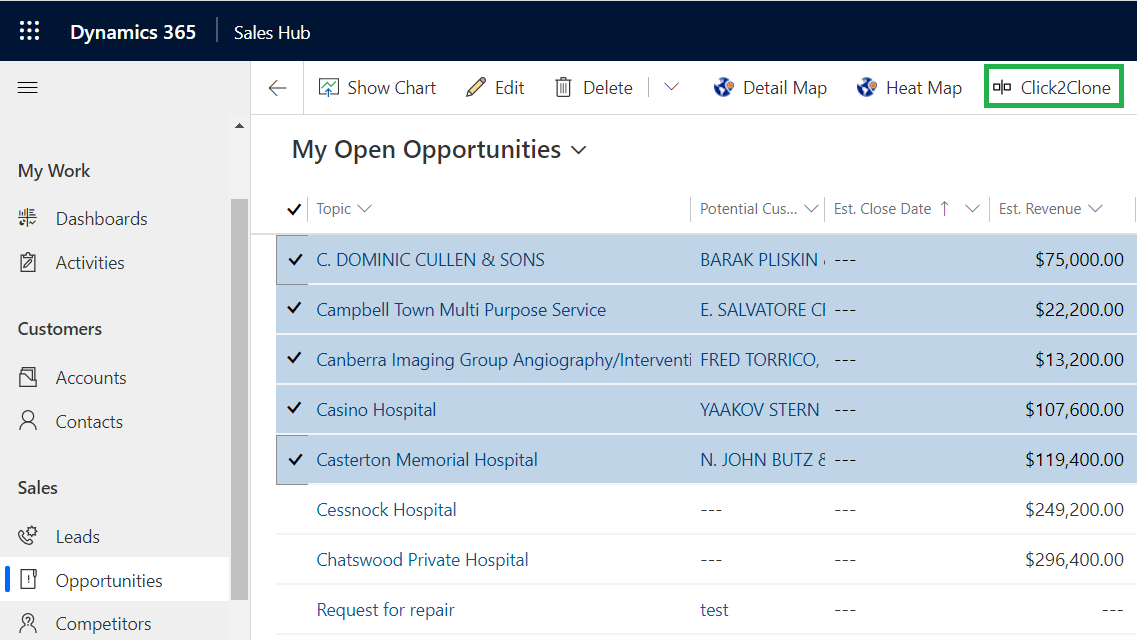 Copy data from one record to another in the same Entity
You can also copy/clone the related/associated child records from one record to another within the same entity. It is useful when you want to add the same line items from one record to another existing record without creating a duplicate copy of the record. All you have to do is go to the target record in which you need to add the line items, click on the 'Get Records' button and select the source record. In no time the selected line items will be copied to the target record.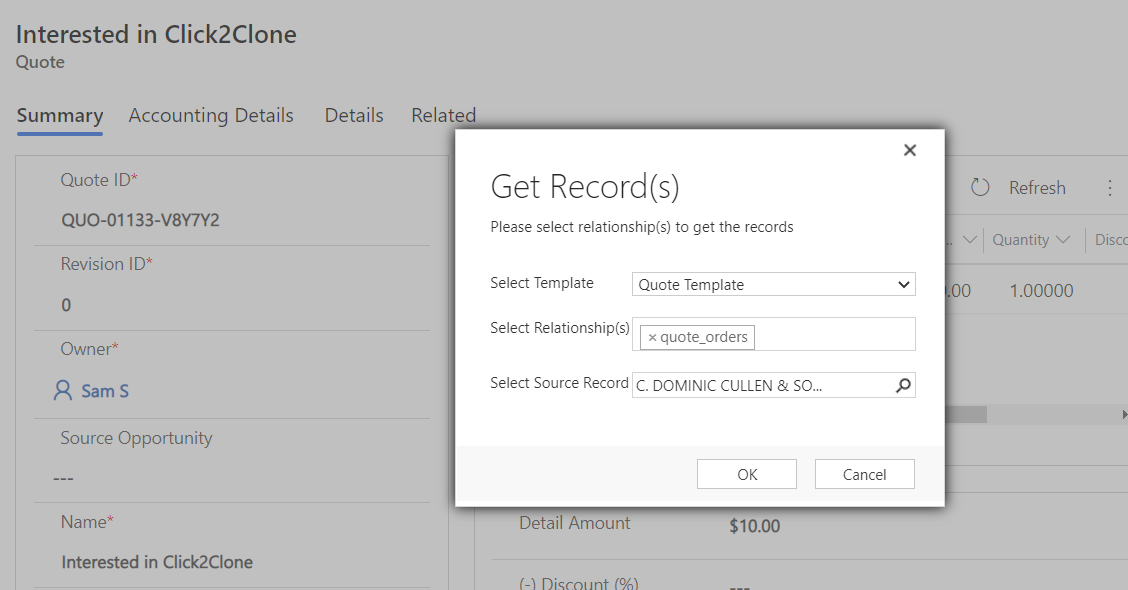 Copy data from one Entity Record to another Entity Record
Click2Clone enables you to clone/copy records from one entity to another. If you want to copy some attributes from the Opportunity entity record to the Order entity record then Clikc2Clone will help you in achieving it quickly and effortlessly. You have to just set the template, map the fields you want to copy, go to the source record (Opportunity entity) from which you want to copy, and click on the 'Click2Clone' button. Within seconds a new record will be created for the Order entity with the selected attributes from the Opportunity entity.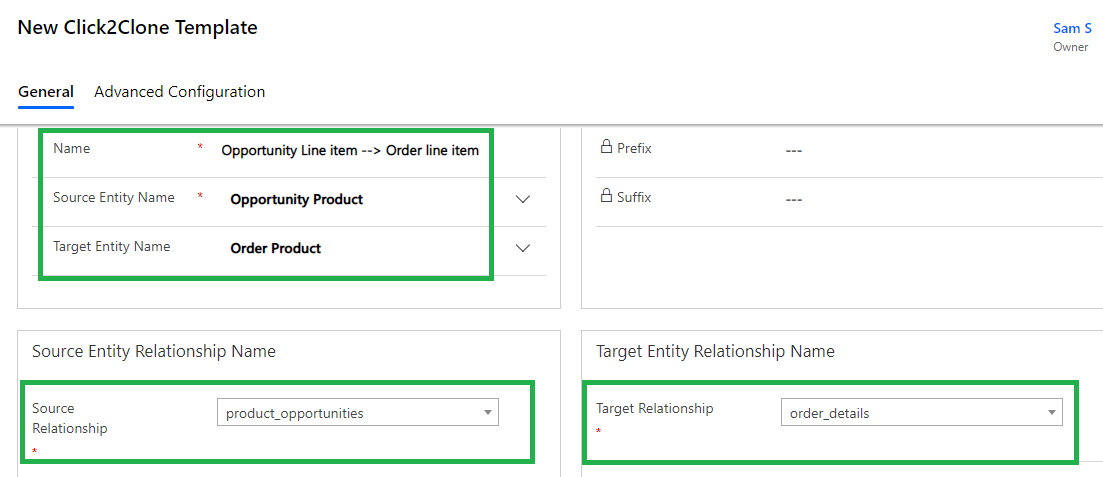 Effortlessly Create Multiple Copies of a Record
You can easily create multiple copies of any OOB or Custom entity record in Dynamics 365 CRM. There is no need to repeat the process of cloning a record again and again. All you have to do is enter the value in the 'No. of Copies to be created' field in the pop-up that appears when you click on the 'Click2Clone' button and click on OK. And within no time that many copies of the record will be created.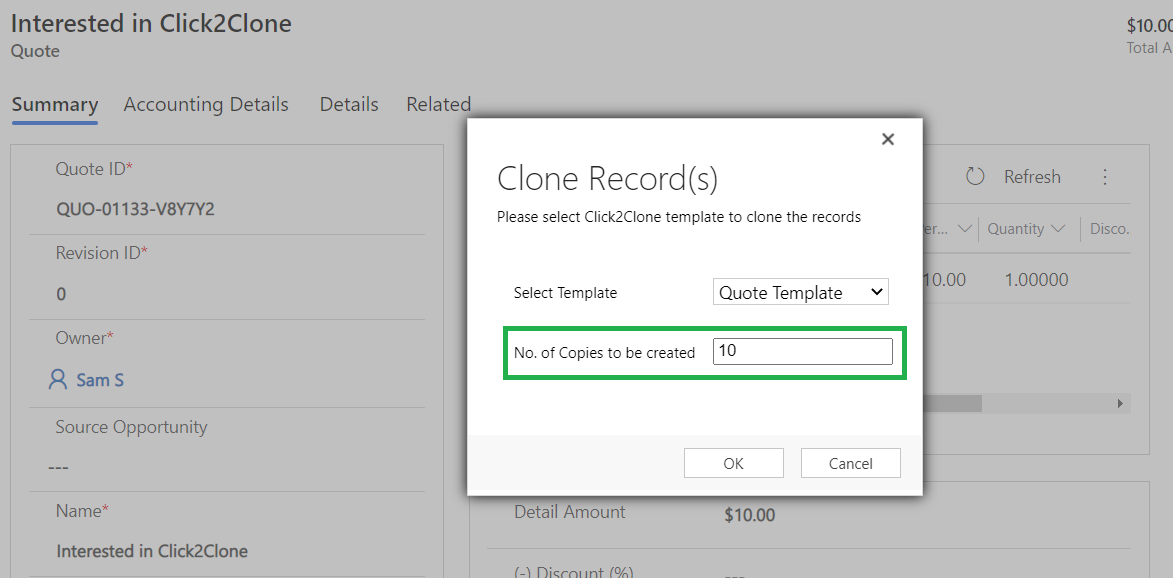 With all these remarkable features you can easily bid goodbye to the woes of manual repetitive data entry and get the following benefits:
Reduce human errors leading to inaccuracies due to repetitive data entry
Reduce cost, time, and effort invested in daily manual tasks
Enhance user productivity leading to higher growth and returns
Want a quick demo of the product and how it can be implemented in your business use case? Watch our Click2Clone video.
So, don't wait! Grab this amazing app for your CRM system from our website or Microsoft AppSource and eliminate all your repetitive data entry woes!
Also, do check out our other popular Microsoft Dynamics 365 CRM 1 Click productivity apps – Click2Export & Click2Undo. If you are looking to export CRM data or restore deleted records in CRM in just 1 click then these are the apps meant for you.
Check out our website or Microsoft AppSource and learn more about their 15+ Microsoft AppSource preferred Dynamics 365 CRM Productivity Apps that will enhance your CRM productivity and help you gain higher ROI.