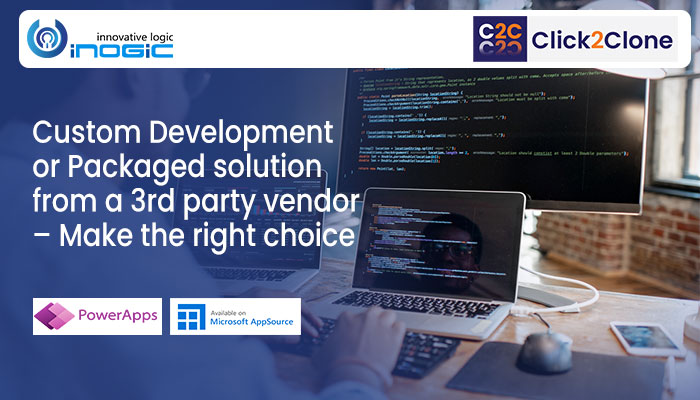 Any implementation of a business app is aimed towards not only providing better services to your customers in terms of response time but also improving the efficiency and productivity of your users in delivering the best experiences. In this technologically advanced business world, being stuck with something as common as repetitive data entry on a daily basis is a big NO! With the extension capabilities provided by Microsoft for its Dynamics 365 CE Applications one could either go in for
Develop your own solution utilizing the services of a pro-code developer
With the advent of the no-code/low code solutions in the form of Power Apps and Power Automate flow, design a solution that helps you with this
Go in with one of the 3rd party ISV solutions available on Microsoft AppSource
Choose the one that works the best for you.
Traditionally the 1st one had been the way to go especially when it required copying not just the fields from the parent record but you were also looking to clone the child records associated with it. An example of this would be cloning a quote along with the quote lines.
With the Dataverse connectors available for Power Automate one can now design flows that help you with deep cloning of the record as one can now navigate through the child records available the no-code way.
While these will get you what you want and are good when the needs are extremely specific and you are not talking volume of records here, they do come along with limitations that you need to be aware of to avoid long term costs and maintainability of the solution designed.
Designed for specific needs which means any change in future with regards to adding a new field whose data needs to be copied over or a new related entity records need to be copied over, would require modifying the code or the flows to incorporate these new changes.
In case you are looking to clone quotes that have 50-100+ line items, chances are your flow may fail due to the 2-min execution time limit that is set
Power Automate Flows though easy to design even by power users or citizen developers, it does not provide an intuitive and good user experience. Flows are background processes which means they will go ahead and clone the record but you will not be able to present the user with the record form on their screen for further review and edits if any required.
Maintainability across release updates. Given the wave kind of release cycles which effectively results in something new being shipped throughout the year, ensuring the customizations continue to work is important. While following supported SDK methods for development ensures compatibility across updates, there are still scenarios where there were unexpected impacts of the bits released that caused working pieces of customizations to break.
Given the above discussion, one of the options is definitely to look for solutions available on Microsoft AppSource – packaged solutions – vetted by Microsoft through their certification process – rather than reinvent the wheel as they say.
Talking about something as simple as "cloning" records, you would find multiple apps on AppSource that serve this purpose. One of them being "Click2Clone" from Inogic, a 5-star rated solution that also has been awarded the preferred solution badge on AppSource. Some of its core features and benefits includes:
Quick and Easy configuration:
The app functions based on the configurations provided for cloning a specific entity record. Choose the fields and related records you want to copy over. Any future changes with regards to fields or related entity records to clone is just a matter of updating the configuration. No code changes required.
Often doing custom development means the development is only done to suit your current set of requirements which makes it impliable to any future changes or support. To do small changes in requirement or to perform cloning of records for some other entities also would require a developer and a development sprint which would cost you resources as well as time. Cloning for any entity i.e., OOB as well as custom entities is easily possible using Click2Clone. With custom configurations you can define the field and relationship which you want to clone and it can also be changed at any moment without causing any issues to any existing process. In short, with Click2Clone you can easily achieve complex cloning requirements without any coding and programming.
Continuously being verified against the latest release/updates shipped by Microsoft to ensure the solution does not break unexpectedly. Minimum 3 updates released each year for the app that includes new feature additions based on customer feedback as well as bug fixes reported.
Click2Clone has quite a set of unique features which makes cloning easy and feasible. With Click2Clone, you can –
Clone a single CRM record
Clone record along with child records (Supports N-level cloning)
Clone record from one Entity to another entity
Clone multiple records as well as create multiple copies of a record(s)
Automate cloning process
Copy child records from one record to another and many more
Troubleshoot issues quickly:
While cloning records you are liable to face issues such as; cloning a record for which you don't have access or facing failure due to some custom logic, etc. In such situations, with the help of our highly informative logs these issues are easy to troubleshoot. Our dedicated support team is always available for help if you are not able to solve the issue.
Supports multiple CRM types:
Click2Clone is available for Dynamics 365 8.2 and above, On-premises, and Dynamics CRM Online as well as the Dataverse environments.
Once you install the Click2Clone solution then you are automatically eligible for a 15-day free trial period. You can evaluate Click2Clone in the trial period. No card details would be asked and there are no hidden charges/costs.
Quite interesting, isn't it? And this is just a glimpse of Click2Clone and its features.
Visit our website or Microsoft AppSource  to download free 15 days trial and find out more what Click2Clone has in store for you.
For any queries or any assistance in setting up Click2Clone, please feel free to reach out to us at crm@inogic.com