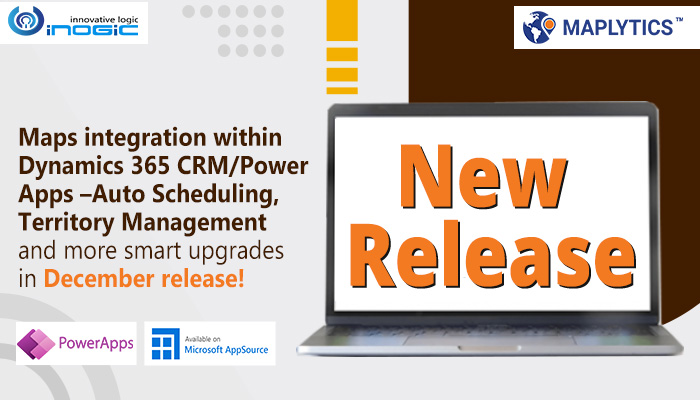 It's time for an upgrade! We are thrilled to announce the latest December 2020 release for your favorite mapping solution within Dynamics 365 CRM / Power Apps.
This release enhances highly useful Map Dynamics 365 CRM features for the management teams of businesses, features like Auto Scheduling, Territory Management, Detail Map PCF control, and Security Templates. Let's unpack these new upgrades to understand them better!
Upgrade #1: Advanced Auto Scheduling
Auto Scheduling allowed managers to create intelligent schedules automatically for a user directly on the map within Dynamics 365 CRM/PowerApps. This latest December update unlocks the ability to create schedules for multiple users at once! These routes are also color codes for differentiation and easy identification. 
Managers can also consider the existing meetings of their field reps and set many more advanced preferences to create truly flexible schedules! This upgrade makes scheduling a breeze for managers who have multiple field sales or field service reps under their management.
Upgrade #2: Auto Creation and Drafting Territories
Managers use Territory Management to handle large geographical areas of their business to cater to their audience. Territory Management makes the whole process of assigning, organising, and managing multiple territories simple, automated, and efficient. 
With the latest release, managers can even automate their Territory Creation!  All they are required to do is enter the required records and the regions for creating the territories, enter the number of territories to be created and run the territory operation. That's it! Simple, isn't it? 
Maplytics will then distribute the plotted records into the territories created and provide the desired number of balanced territories.
Moreover, now the whole process of territory creation can be taken in intervals without the fear of loss of work or progress. Territories can now be saved as drafts to be worked on later before finalizing and creating territories in the CRM. This allows modifications and revisions that are convenient and hassle-free.
Upgrade #3: Detail Map Control
PowerApps Component Feature (PCF) allows users to have a convenient and time-saving option of performing Maplytics features without switching screens. In the last release, four PCF controls were added, in this latest release, we have focused on one of them, Detail Map. 
Now users can perform more Maplytics features like plot multiple datasources, categorize multiple datasource based on respective attributes selected, plot data By Region or By Drawing and also plot current GPS location as the current location on the map while using mobile, all without switching to any map pages!
Upgrade #4: Multi-user/teams Selective Security Access
Providing only the necessary access to the staff is vital to preserving confidentiality and data integrity. It also simplifies the interface and learning curve for the users. Maplytics Security Templates allows managers to exactly do that. They can create a template with selective actions enabled and then assign it to the required Maplytics users.
With the latest release, managers can now save time and effort by assigning the template to many users or teams at once. They can select multiple users or even the whole team that needs to be assigned with a template and provide the required security access to them at once. 
This wraps up all the productive goodness in the latest release of your favourite Map Dynamics 365 CRM app Maplytics! This release increases the overall intelligence and efficiency of the popular features of Maplytics and ensures a profitable return on the time and effort invested by managers for achieving their tasks.
No time is better than right now -upgrade your Map Dynamics 365 CRM Maplytics solution to the latest version for all the upgraded benefits! If you need a walk through, send us an email at crm@inogic.com to get a live demonstration of all the latest features.