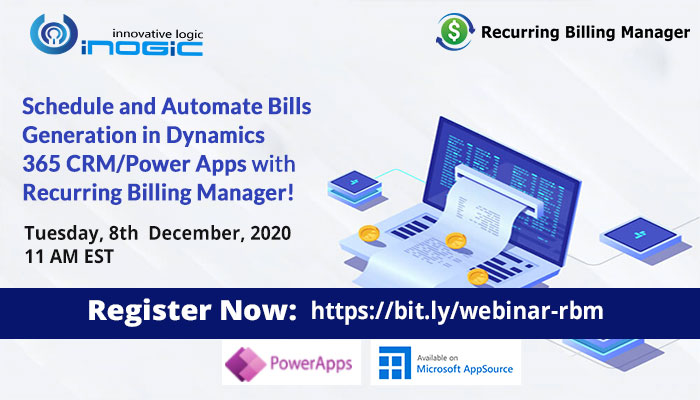 Tired of dealing with recurring billing processes manually? Looking for a smart and cost-effective way to cut short on this daily workload?
Don't look further! Recurring Billing Manager is just what you need!
Recurring Billing Manager automates your recurring billing processes in Dynamics 365 CRM/Power Apps. You can set specific billing schedules to generate Invoices automatically, set reminder schedules to send automatic reminders for overdue payments, and set delayed charge schedules to calculate delayed charges for unpaid invoices. Dealing with daily billing processes is now a piece of cake with the Recurring Billing Manager.
That's not all!
We have organized a webinar to give you an in-depth demonstration on how to streamline the recurring billing processes in your Dynamics 365 CRM. In this way, you can increase your productivity and achieve higher efficiency in dealing with daily recurring billing activities with the help of the Recurring Billing Manager.  
So, don't wait! Register Now!
Tuesday, December 8, 2020 – 11 AM EST
In this webinar, you will be introduced to the following prominent features of Recurring Billing Manager:
Automated Billing System: 

Flexible billing system that automates the creation of Invoice with the necessary line items on a daily, weekly, monthly, quarterly and annual basis

Delayed Charge Schedule: 

Ability to set up Delayed Charge Schedules for calculating delayed charges on overdue Invoices

Reminder Schedule: 

Ability to schedule automatic reminders for upcoming or past due payments

Define Audience: 

Ability to define audience with regards to whom the Invoices or payment reminders should be sent
Be ready for an exhilarating and engaging session on Recurring Billing Manager with our team of solution experts.  
Feel free to bombard us with your queries and suggestions.
Don't Think! Just Register.
Until then, download and explore this fabulous app from our website or Microsoft AppSource for a trial period of 15 days.
See you soon!