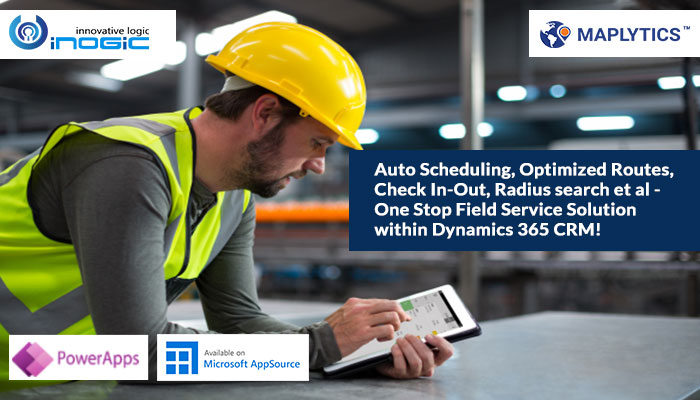 No matter how digital the world gets, door to door servicing is not going away anytime soon. The facility of booking a service like repair, delivery, consultation, etc. at our fingertips and having it at our door in minutes keeps getting more convenient with time.
Customers today appreciate being treated as a priority and expect nothing less than instant service for their requests. This makes on-field customer servicing a vital component for many businesses and their effectiveness in allocating, routing, and managing their field service agents directly influences their profitability and market reputation as a business.
Our team deeply understands this business model and therefore offers solutions that allocate appointments with ease, create optimized routes automatically, ability to update routes for unpredictable cancellation, and much more, to serve this growing demand. To put it in short, Maplytics handles all your field service requirements as a One Stop Field Servicing Solution! Our efforts of creating this solution have been rewarded with the community's constant appreciation and Microsoft's Preferred Solution badge on Microsoft AppSource.
Let's unpack this field servicing features set with a use case.
Consider Rachel is a manager in a recently started company 'Sturdy Builds' with a small yet rapidly growing business that provides carpentry services to their customers. She has 10 field service agents under her management.  Rachel handles one of the busiest and highest sales regions among which one is Staten Island, New York. Therefore, her responsibility is to serve at least 10-15 customer requests which come as an average every day.
Keeping in mind the volume of requests, Rachel needs to do an exceptionally good job at using her service agents mindfully by allocating schedules every day with the most optimized routes with respect to time and location. To do this, Rachel uses the Auto Scheduling feature of Maplytics. Rachel plots all her Active Cases for the day on the map as shown below. She now needs to create an optimized schedule for two of her service agents who are available on Staten Island. To do this, Rachel clicks the Auto Scheduling in the Mass Actions to open the Auto Scheduling card.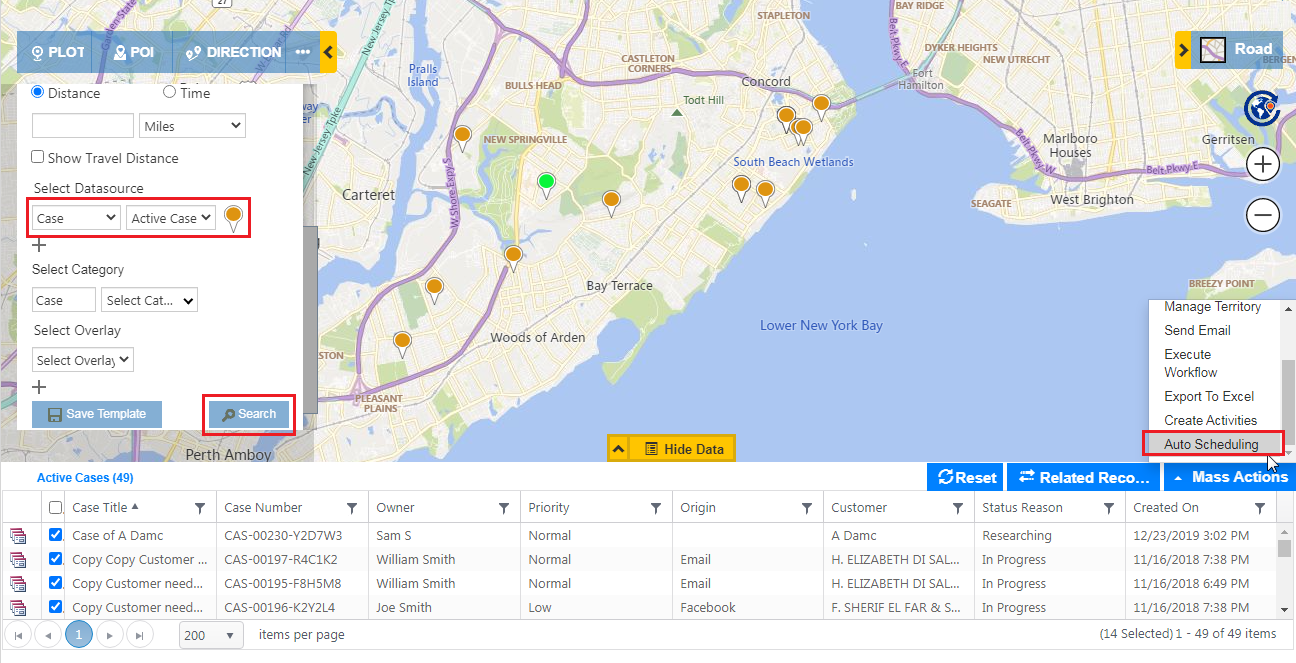 She selects both the service agents, (users) Joe and William, and she can also select the checkbox of the Consider Existing Meetings to take the existing meeting of her field agents into consideration while generating the schedule. She can choose whether to add existing meetings as they are or reschedule them within the schedule to be created. As there are no existing meetings, she keeps it deselected.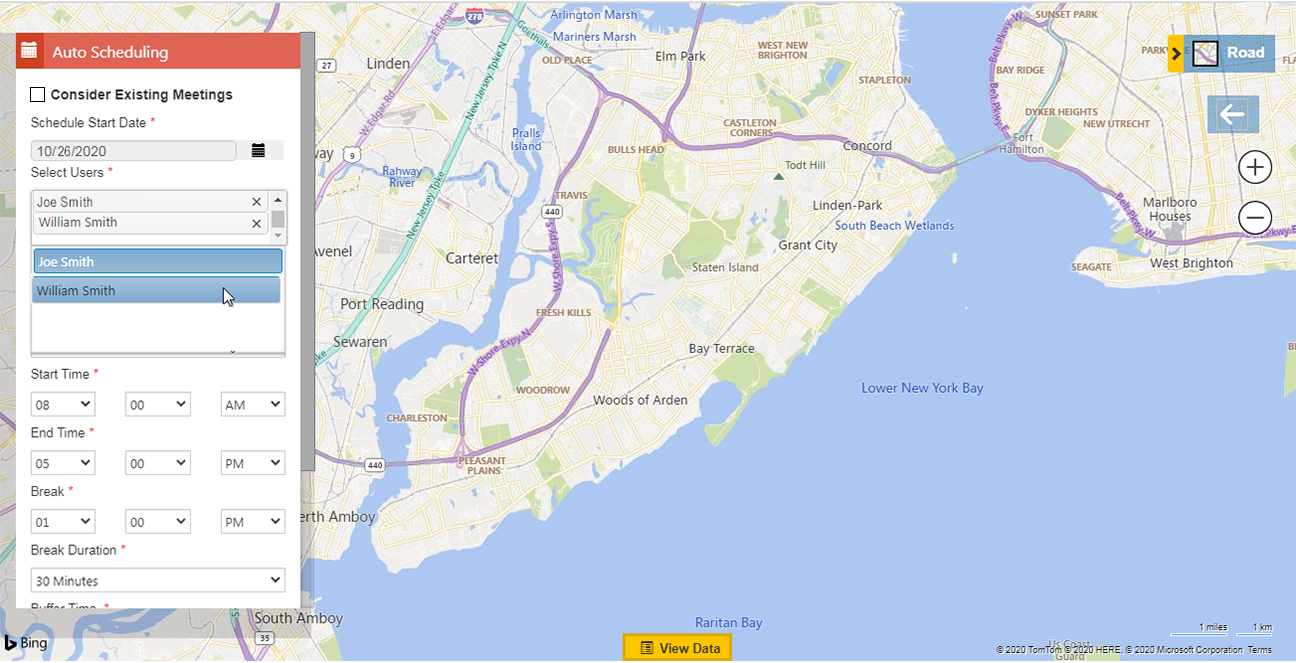 She uses the Advanced Preferences option to set a maximum of 10 meetings in a day where each meeting lasts 30 minutes or less. If Rachel received more requests than usual she could also create a multi-day schedule to resolve all requests in a span of multiple days.
Within this window of Advanced Preferences, she is able to see Users and Meeting Details.  Once all the preferences are set, she clicks Proceed to create the Auto Schedule.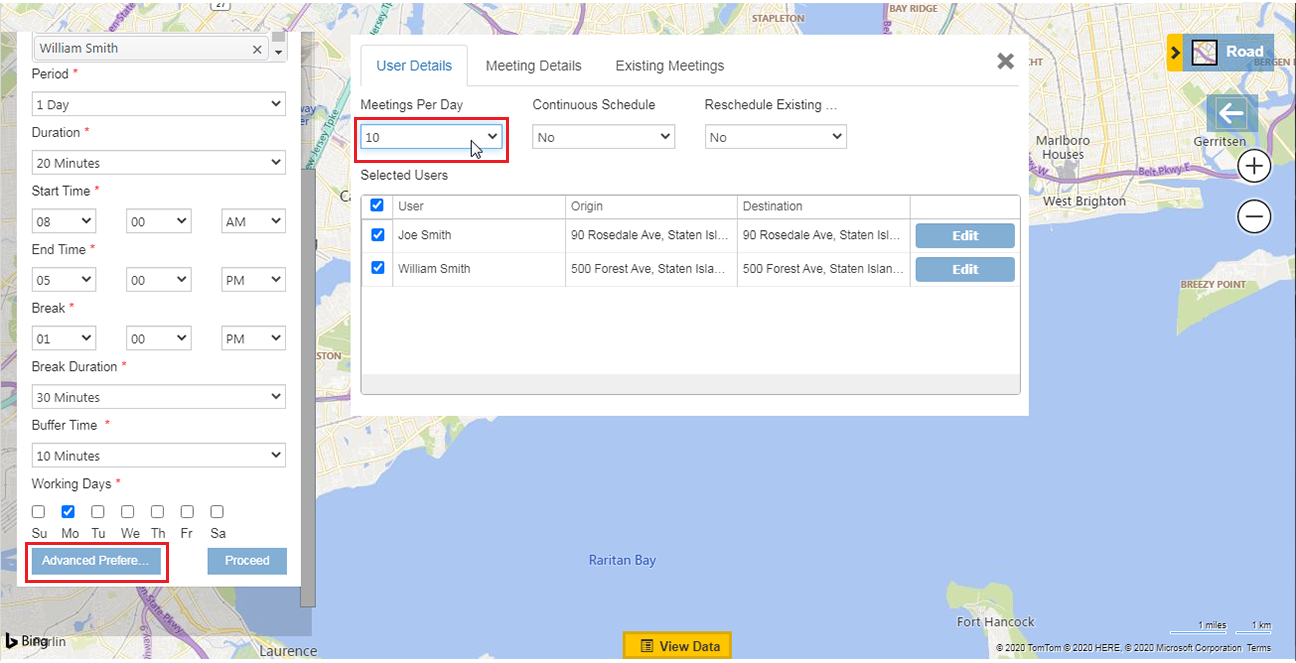 Rachel has now got an optimized schedule created within a few minutes by using Auto Scheduling. She can clearly distinguish between the routes of the two users based on the convenient color coding of the routes.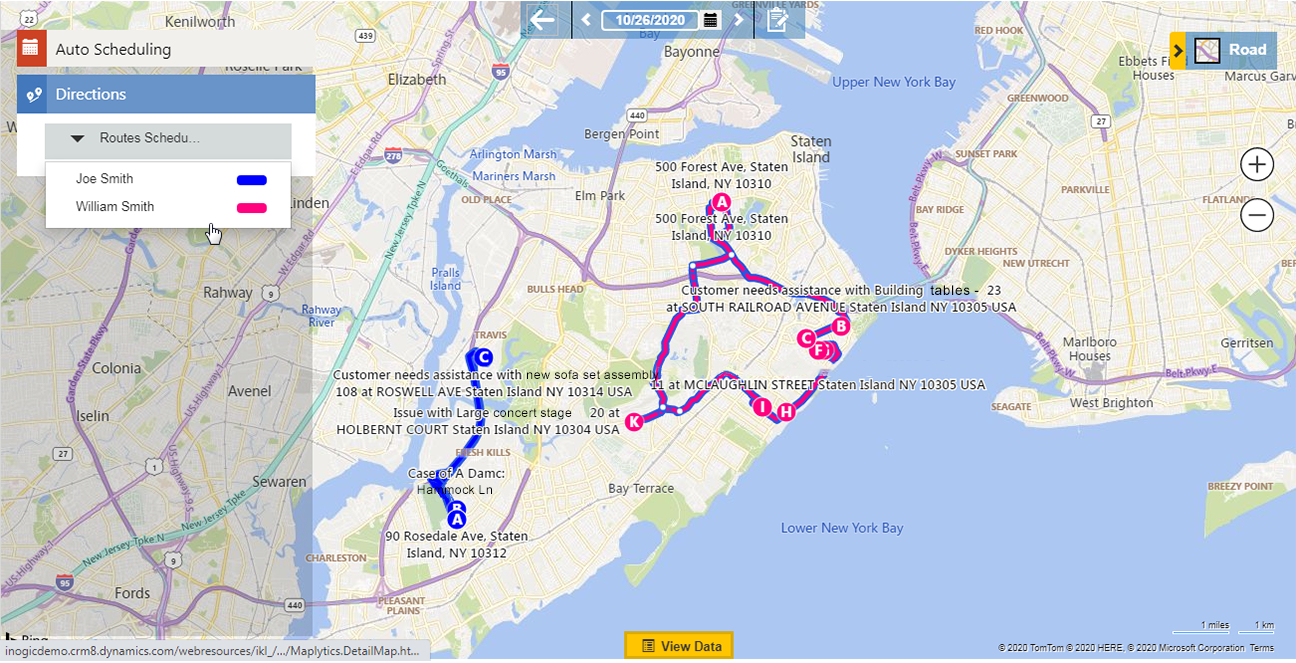 She clicks on Create Activities to create the bookable resource bookings and assigns the routes to the respective users as shown below.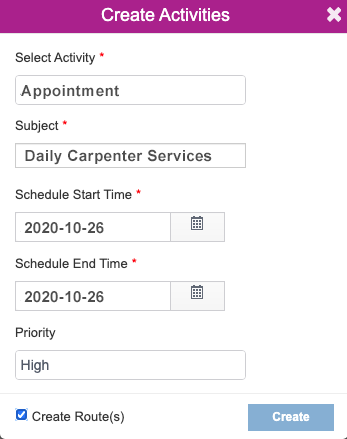 Once assigned, the field agents use the Maplytics app on their mobile or tablets while on the field to navigate themselves to follow the routes using either Google Maps or Waze App to view turn-by-turn navigation while following a route on the field.
Let's step into the shoes of one of the agents named William who is on the field to understand the use of Maplytics in the daily routine of a field agent better. William plots the route assigned to him on the map and can see as his schedule for the day as shown below. He clicks on the Navigate button to start his schedule.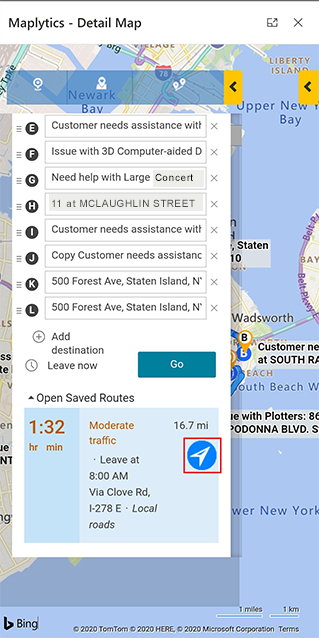 William has set his user configuration detail record to set his 'Navigation Within' option to Google App, so he gets redirected to the Google maps where he can easily view the route for turn-by-turn directions.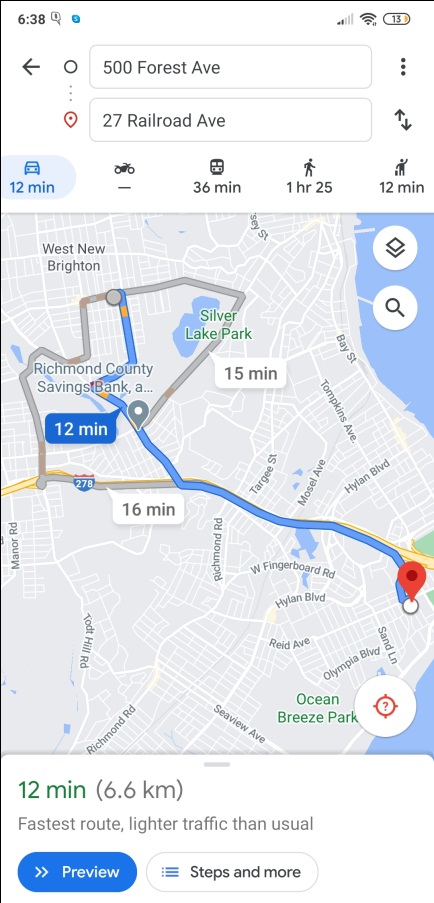 William follows the route with the easy-to-follow directions and reaches the destination in the least time possible. When he reaches the service location, he uses the Check-In button to register his arrival to the service site.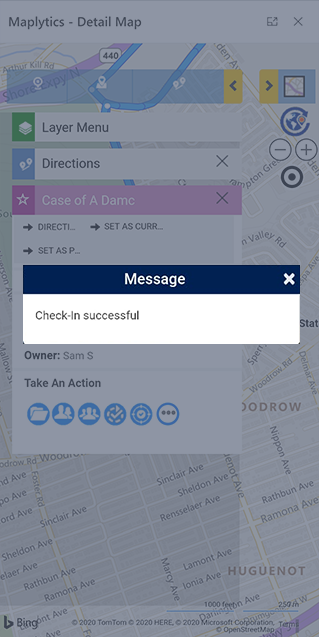 The request was to inspect a front wooden porch. However, when he starts inspection it turns out that the porch was beyond the state of repair and has no option but to be replaced. Since there was no need for repair, his appointment completed sooner than expected and now he is left with idle time. He quickly uses the Check-Out button to register that he is done with the appointment and decides to use this time to schedule another meeting with a nearby customer.
To search for a nearby customer, he opens Maplytics on his phone and clicks the Locate Me button on the Detail Map to plot his current GPS location. Next, he opens his Plot Records card and enters a 2 and 3 mile of radii as Search Radius since his next location is more than 3 miles away. He then selects Leads as the datasource and the My Open Leads as the View, and hits the Search button.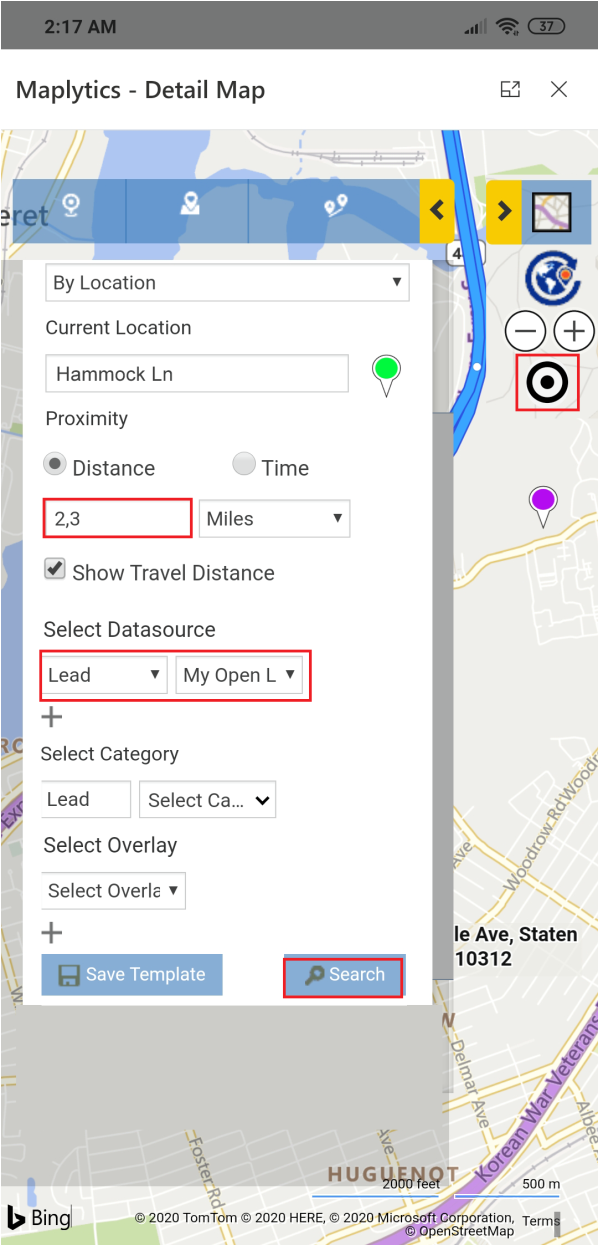 This provides him with all the leads plotted on the map which lie within the specified radii from his current location as shown below.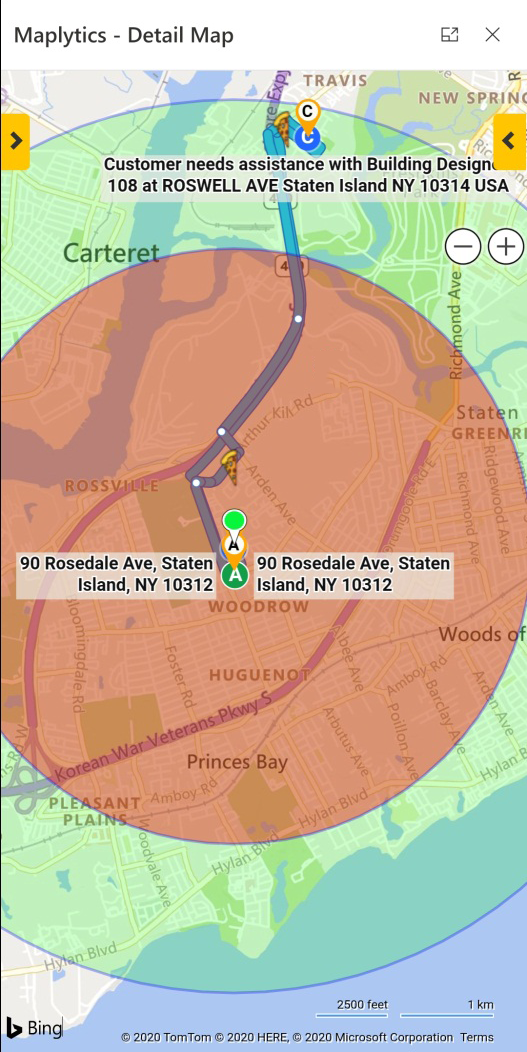 He uses the tooltip cards of the respective pushpins and looks at the Line-of-Sight Distance to understand which location is the nearest and most suitable to him from his current location. He sees that the closest customer is only .40 miles and it is also aligned with the route to his next customer! He calls the customer and asks if they are available for getting their service early. On receiving a positive response, he quickly right clicks on the pushpin and adds it to the route and heads to this location. He uses Check In to register his appointment, performs the service, Checks Out, and moves on to continue with his remaining schedule.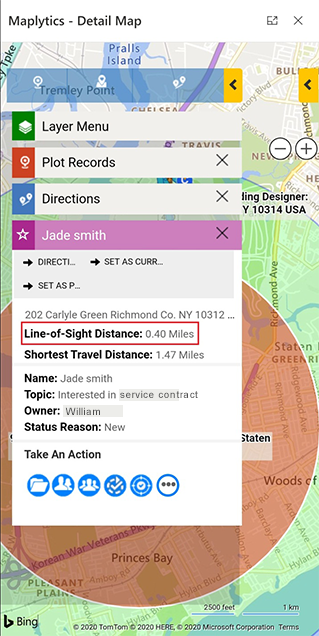 William is able to follow the route assigned to him and resolve the repair requests throughout the day. This way the field agents can use Maplytics to operate with the schedules assigned to them efficiently. On the managerial side, once the schedules have been assigned and commenced, Rachel can monitor how many requests have been met and also track the agents who are fulfilling the maximum numbers of requests by plotting the Check-Ins and Check-Outs in order to monitor the services performed by all the team members to get a glimpse of the day's performance by the team and individuals.
So we can clearly understand by using these set of Maplytics features right within Dynamics 365 how managers can handle all their field service requirements to cater to their potential or existing customers. Whereas, the field agents are able to easily use their handheld devices like mobiles or tablets for navigating to their destinations in minimal time and make informed decisions by utilizing idle time for increasing productivity.
Maplytics also comes packed with complementing features that allow you to Auto Create territories, manage territories, perform along the route search, area of service, and much more to unlock the full advantage of our productivity enhancement features.
If you too would like to reap the field-smart benefits of our One Stop Field Service Solution to improve your sales and market position, you can get a hands-on experience of these features by downloading our 15 days free trial from Microsoft AppSource or our Website. Alternatively, you can even get a free demo from our team to get a fuller understanding of how Maplytics would fit into your organization –simply drop us a mail at crm@inogic.com to get started with this today.