Dynamics 365 CRM attachment management on cloud storage has now been made easy with the help of our productivity app Attach2Dynamics. With the help of Attach2Dynamics, a Preferred Solution on Microsoft AppSource for Dynamics 365 and PowerApps, users have been able to perform actions on Dynamics 365 attachments on cloud storage like drag and drop, upload/download, rename, create anonymous links of attachments, delete, deep search, etc. With this users have extended storage space in Dynamics 365 and they have the liberty to keep their attachments safe on cloud storage of their choice be with Share Point, DropBox or Azure Blog Storage.
In our recent Attach2Dynamics release we have made another amendment in the mode of performing actions on cloud storage. For instance, up till now while an attachment was uploaded in SharePoint the name of user whose credentials were used for authentication appeared. But with this release the name of logged in user appears for action performed irrespective of whichever user's credentials were used to authenticate the connector.
Let's understand this with the help of an example. Before Attach2Dynamics when Rhea a sales person was logged in into CRM and she uploads a file. Here since the authentication was done with the admin account the name of person responsible for attachment action displayed as admin i.e. Sam.

Now Rhea installs and uses Attach2Dynamics to upload files and folders to SharePoint. Now, the logged in user Rhea again uploads a file using Attacch2Dynamics UI. In this scenario the name Rhea appears as the user responsible for uploading files in SharePoint. With this the identity of user responsible for uploading file is maintained.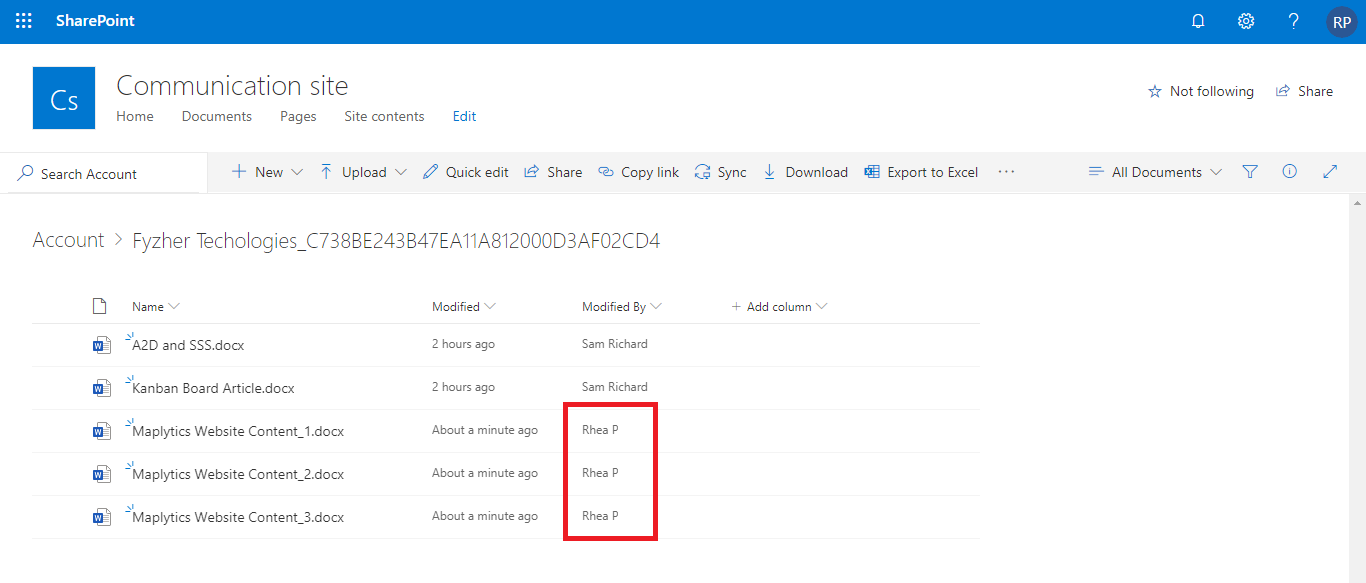 Therefore, you have seen how easily the manager can keep track of which attachment action is performed by which user in SharePoint via Attach2Dynamics UI.
Apart from this there is one more feature introduced in the current release in Attach2Dynamics. It is email configuration. Earlier when an email was required to be sent, the recipient had to be set then and there. With the help of Attach2Dynamics latest feature, now email configuration can be done while setting the entity configuration itself. With this the task of setting email template each time while sending the file as attachment is saved.

Thus, with the help of these two prominent features the data integrity is maintained along with tracking the person responsible for attachment action on SharePoint.
rApart from Attach2Dynamics, we also have another powerful app SharePoint Security Sync that works in sync with Attach2Dynamics. With SharePoint Security Sync users can replicate the security model of Dynamics 365 in SharePoint. For instance, the security roles are auto-synced from CRM to SharePoint in case of assigning, sharing, modifying and other such roles.
Give this a try today download free trial of 15 days:
Attach2Dynamics: Website | Microsoft AppSource
SharePoint Security Sync: Website
Happy Attachment Management and in a secure way!