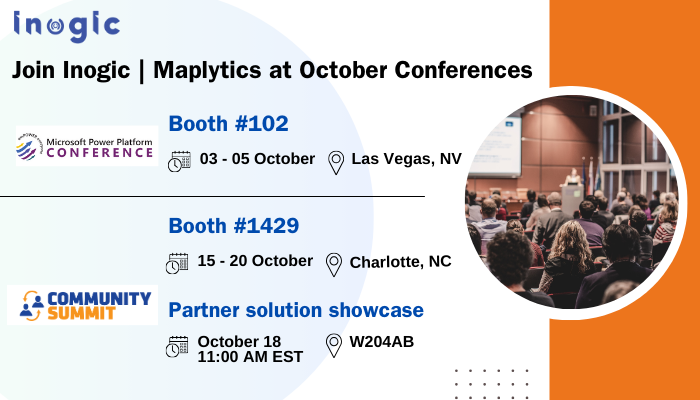 It is Autumn 2023 and you know what the air smells of? Of course, it's pumpkins and pine nuts but also the annual community summits!
This year's Microsoft Power Platform Conference shall be conducted in Las Vegas, Nevada at the MGM Grand Conference Center from October 3-5.
This would be followed by the CRMUG Summit in Charlotte, North Carolina from October 15-20, 2023.
Inogic is excited to be present at both of these amazing events!
Meeting like-minded people is an excellent way of increasing one's community and augmenting acquaintances, friends, and partners for personal and professional growth. Last year was an enriching and fulfilling experience for us. We got to learn and experience a lot from our community. Hence, we can pre-empt that this year is going to be double the fun, knowledge, expansion, connection, and so on! In 2023, we are envisioning a greater footfall and are excited to meet more people.
What's new at the Conferences?
With a large booth and enough space, our experts will conduct one-on-one sessions, we will be happy to schedule a dedicated time to discuss how our innovative solutions and high-quality, low-cost offshore development services on Dynamics 365 CRM, PowerApps, Power Automate & Portals can help you utilize every last bit of functionality and get you the ROI you want.
Inogic's 2023 presence also marks the introduction of two of our latest innovations, DeDupeD and WhatsApp4Dynamics which have been turning a lot of eyeballs since launch. Visit us at our booths to learn more!
September 2023 is witnessing Fall 2023 release of Maplytics. There would be lots to explore such as Frequency detail-based advancement in Auto Scheduling, plotting multiple routes on the map simultaneously, searching records based on templates, marking frequently visited locations as favorites, plotting common records between two overlapping shapes derived with multiple search layers, and a lot more! All of these could be experienced briefly in our dedicated webinar and in detail at our booths.
Partner Solution Showcase at CRMUG 2023:
Like 2022, we will be presenting the following Partner Solutions Showcase Session: –
Presented by: Roohi Shaikh, 10x MVP Business Applications & CEO, Inogic
Wednesday, October 18, 2023 │ Time: 11:00 AM EST | W204AB
Why visiting Inogic Booths 102 at #MPPC23 and 1429 at #MySummitNA is a must?
Inogic was started in 2006 by a group of like-minded professionals with collective industry experience of over 30 years. It has a suite of 19 Microsoft Preferred Productivity Apps on Microsoft AppSource – Inogic has always been a hub of distinct and innovative solutions for Microsoft Dynamics 365 CRM / Dataverse.
The 19 products of Inogic are divided into categories such as Geo-Spatial App, Storage and Document Management Apps, User Adoption Apps, SaaS Management Apps, Productivity Apps, Visualization Apps, and Integration Apps. Here is your opportunity to meet the representatives of the enterprise in person and learn in-depth about the possible applications of the apps for your business!
We look forward to meeting you at these premier conferences! 
Register today and join us at
Booth #102 at #MPPC23 &
Booth #1429 at #MySummitNA
For setting up a 1:1 meeting, do get in touch with us at crm@inogic.com
See you soon!