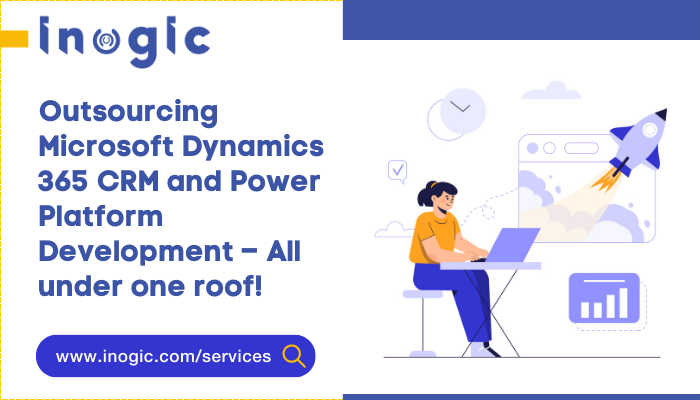 Hello, and welcome back! In this second episode of our two-part blog series, we dive into Inogic's Microsoft Dynamics 365 and Power Platform Development Support outsourcing service. If you haven't had a chance to catch our part 1 on Inogic professional services, read here on Inogic Techno-consulting professional services.
Being a leading provider of Microsoft Dynamics 365 outsourcing services in India our team of 100+ skilled developers has collaborated extensively with enterprises. Our focus has been on delivering productivity tools that empower their employees to swiftly tackle challenges and enhance efficiency. These include workflow automation for sales, marketing, and service tools to achieve higher customer conversion and better performance management. Our expertise in development services includes planning, development, testing, deployment, and migration with affordable options, high-quality services, tools, and technology, superior infrastructure, increased profitability, an experienced team, and short turnarounds for corporate needs. Below are seven different ways to utilize Inogic development services to simplify and increase customer productivity.
Dynamics CRM and Power Platform outsourcing service has proven to be a far more productive and cost-effective choice than engaging an in-house team to set up or operate Dynamics 365. Inogic has a solid track record of being your trusted outsourcing partner for Microsoft Dynamics 365 setup and customization. With Inogic Outsourced Development Servicesfor Dynamics 365 and Power Platfrom, you will be working with a competent team of developers, solution architects, and technical project managers to create the ideal business management system.
Offshore Delivery Centre (ODC)
Accessing technical experts with infrastructure in place for design, quality testing, security audits, and business operations is very challenging for most corporations. Inogic delivers best-in-class technical support for long-term major projects, allowing you to retain control over governance and quality. Inogic's Dynamics CRM outsourcing and offshore development services provide a quick, cost-effective, and more productive option for expediting your business production.
In Dedicated FTE Development, Inogic aligns its Dynamics 365 specialists with a customer's existing technological platforms, services, and processes. Assuring that Inogic's best talent is full-time professionals eager to work and grow with your organization over time. Dedicated FTE development ensures higher efficiency, speed, transparency, cost-efficiency, dedicated full-time engineers, simplified resource management, and more for the customers.
Microsoft Dynamics 365 integrates effortlessly with other Microsoft solutions, web portals, business intelligence apps, and ERP systems. Inogic assists organizations in integrating end-to-end integration support to easily automate their workflows, resulting in cheaper development costs, more scalability, and faster implementations. Inogic ensures swifter integrations by minimizing the need for manual data entry, giving real-time inventory statistics, and enabling wiser business decisions.
ISV/Partnership App Development
Microsoft Dynamics provides a community to solve business and technical challenges, build integrated solutions, and establish and grow deep relationships. As a top Microsoft ISV Gold Partner and with Microsoft coding standards, Inogic as a Dynamics 365 development expert collaborates with partners and other smaller ISVs to provide organizations with the specialized tools and expertise needed to create products based on their ideas by assisting them in designing, guiding, and creating unique products and services that allow them to operate more efficiently with greater flexibility and velocity.
Data migration can be a risky endeavor, yet it is required on a regular basis, whether owing to storage upgrades, vendor changes, or storage transformation projects. At Inogic, we have dedicated teams of data migration specialists who understand your business objectives and IT strategies and enable flawless data extraction, and transformation to make it compatible with Dynamics 365 CRM schema structure, exporting, and mapping.
On-Premise to online Migrations
Migration from on-premise to Power platform/Dataverse is critical for a number of reasons, including improved CRM application accessibility, lower maintenance and infrastructure expenses, better integration, and a faster return on investment. Inogic offers On-Premise to online Migration solution that is in line with your long-term goals through proper evaluation of the current situation and the implementation of SSIS with the KingswaySoft toolkit framework.
Enterprises can be assured of swift setup and customization through Inogic's Power Platform and Dynamics 365 outsourcing services. Inogic understands the requirements, discusses the estimated project completion time, and delivers high-quality services on time. With more than 15 years of experience and a presence in more than 50 countries, the Inogic services team has been able to provide exceptional Microsoft Dynamics 365 services with genuine customer satisfaction and superior quality, allowing you to elevate your professional service practices and begin optimizing potential growth and scalability.
Visit our New Services website for more details or mail us at crm@inogic.com to learn more about Inogic Professional Services.