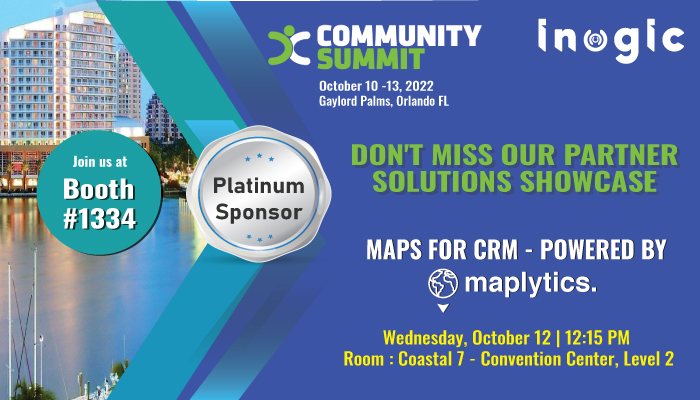 It is mid-September and we can already hear the bells ringing for the annual Dynamics Summit in October 2022!
This year's CRMUG Summit would be held at Gaylord Palms Resort, Orlando, Florida from October 15-18, 2022.
Meeting like-minded people and increasing the list of acquaintances, friends, and partners is an absolute delight for personal and professional growth. The pandemic restricted our movement for two years, hence, this year is it going to be doubled the fun, knowledge, expansion, connection, and so on! So, this year, envisioning a greater footfall and meeting more people, we have a larger Platinum booth to accommodate all of you.
What's new at Inogic Booth this year? Well, that's to be experienced that day itself at Booth # 1334!
Agenda at a Glance: Check out the Summit 2022 Agenda at a Glance
Sessions at a Glance: Review the 2022 speakers and their session details and plan your calendar
Save on Registration: Register in advance and save 10% on your registration by using the INOGIC10 coupon code, exclusive to Inogic friends. Here's a quick registration link!
With a larger booth and enough space to conduct one-on-one sessions, we will be happy to schedule a dedicated time to discuss how our innovative solutions and high-quality, low-cost offshore development services on Dynamics 365 CRM, PowerApps, Power Automate & Portals can help you to squeeze every last bit of functionality and get you the ROI you want.
In addition to this, we would be presenting the following Partner Solutions Showcase Session: –
Presented by: Roohi Shaikh, CEO, Inogic
Wednesday, October 12, 2022 │ Time: 12:15 – 01:15 PM | Coastal 7 – Convention Center, Level 2
For adding this to your calendar, login & mark our session as a favorite now!
Why Attend?
Brings a community of new attendees and "veterans" closer
Fosters long-term collaboration with like-minded peers
Optimizes your Microsoft Business Applications with a Partner Ecosystem of services and solutions
Accelerates your Microsoft journey by decreasing complexities
Deepens your knowledge of the applications you use every day
Why Inogic Booth 1334 is must visit!
Inogic was started in 2006 by a group of like-minded professionals with collective industry experience of over 30 years. It has a suite of 15 Microsoft Preferred Productivity Apps on Microsoft AppSource. – Inogic has always been a hub of distinct and innovative solutions for Dynamics 365 CRM / Dataverse.
The 15 products of Inogic are divided into categories such as, Geo-Spatial App, Storage and Document Management Apps, User Adoption Apps, SaaS Management App, Productivity Apps, Visualization Apps, and Integration Apps. Here is your opportunity to meet the representatives of the enterprise in person and know in-depth about the possible applications of the apps for your business!
We look forward to meet you at this premier conference! Register today and join us at Booth #1334.
For setting up a 1:1 meeting, do get in touch with us at crm@inogic.com
See you soon! #MySummitNA