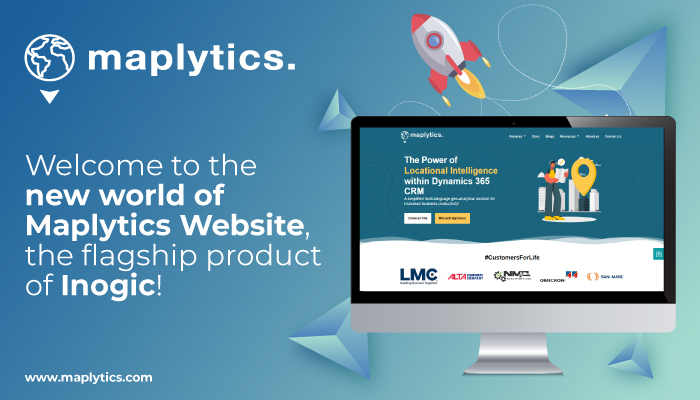 Work hard, achieve a set milestone, celebrate it, and move ahead to the next one. Team Maplytics and Team Inogic have been implementing this principle in their everyday work life since inception. Looking at the amount of collective efforts taken and strategies implemented by the Team members, Partners, management, and even the clients, it does not come as a surprise to see where Maplytics, the flagship product of Inogic has reached today!
Maplytics is known for being the 5-star rated preferred app of the Microsoft AppSource which is popular and in-demand for seamless integration of Map with Dynamics 365 CRM. However, it started off as a mere add-on named Dynamaps which was used as a store locator. The journey from there to today, being a go-to product for geo-mapping has been full of highs and lows and has a remarkable story to tell. Witnessing the success, however, it all seems inspiring and worthwhile.
Every little milestone tastes sweeter when the efforts to reach it have been genuine and honest. One such milestone in the journey of Maplytics is the revamp of the Website and the introduction of the new logo. Yes, we take this opportunity to present our new and improved Maplytics Website along with a revised, more meaningful logo.
The revamped Website is extremely easy to navigate and user-friendly. It is very informative and advocates an easy understanding of the product among the viewers. The interface is engaging and colorful with a pop of fresh new and young colors integrating the experienced old and the vibrant, and creative new that the product has to offer. With this, the Team promises to bring out new upgrades in the product and the service while adhering to the old principles, clients, partners, and the ethics of doing business.

The new logo of Maplytics too has a deep significance to the improved and uplifted phase of Maplytics. The globe at the left indicates the global presence of Maplytics and the services it offers across industries and brands. The little arrow at the bottom of the globe stands for the pushpins that are used to visualize the global client records within Dynamics 365 CRM on the Map, at exact latitude and longitude with a simple click of a button. The unusual and distinct placement of the dot at the end takes pride in stating that Maplytics is the ultimate, all-inclusive geo-mapping app that harnesses the power of Location Intelligence for all kinds of businesses.
We at Inogic are thrilled about conquering this milestone and wished to share it with our supporters throughout our journey. With this renewed zeal and enthusiasm, Team Maplytics promises to continue planning new goals, upgrading the product and its features, and engaging and assisting the clients and partners well.
For more details, do check out our website and let us know your thoughts on the same. Thank You all and cheers to a brighter future awaiting us ahead!
Until then,
Happy Mapping!