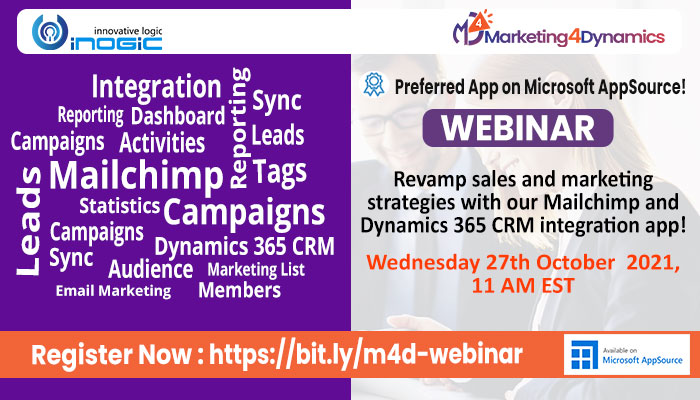 A synchronized Sales and Marketing team which works like a well-oiled machine is the need of the day. This belief is shared by more than 85% of sales and marketing leaders who feel that collaboration between sales and marketing is critical for business growth. So, to compliment this collaboration between sales and marketing team we have introduced yet another smart integration app – Marketing4Dynamics –  for seamless integration between Dynamics 365 CRM and Mailchimp.
Already a Preferred app on Microsoft AppSource, Marketing4Dynamics works as a medium to bridge the gap between Sales and Marketing data. For SME's around the world, who prefer email marketing this app would work as a boon since both Sales as well as Marketing teams working with Dynamics 365 CRM would have a 360 degrees views of the complete marketing insights available in Mailchimp ensuring better clarity while addressing future marketing or sales strategies.
But this is just a small taste of what Marketing4Dynamics can do!
To learn more about this amazing integration app, register for our upcoming webinar to be held on:
27th October 2021, 11 am EST

In this session, we will showcase following key features of Marketing4Dynamics:
Sync Mailchimp Audience with Dynamics CRM Marketing Lists:

Two-way sync of Leads/Contacts/Members which are available in Mailchimp and/or Dynamics 365 CRM.

Sync Mailchimp Campaigns:

Statistics of Mailchimp email marketing campaigns and member activities (Open, Sent, Click, Unsubscribed and Bounced) is made available within easy reach of sales team in CRM.

Analyze Campaign statistics on Dashboard:

Mailchimp campaign statistics are graphically represented on CRM dashboards to provide a clear picture of the success rate of campaigns carried out.

Syncing Campaign interactions from Mailchimp:

Member interactions with the marketing newsletter sent from Mailchimp is synced to respective Contact/Lead in Dynamics 365 CE/CRM.
So, get registered and be ready for an illuminating session on our latest Marketing4Dynamics app with our team of solution experts.
In the meanwhile, check out the latest Marketing4Dynamics overview video to get a brief insight on the working of this wonderful integration app.
And even if you are not able to attend – make sure to register so we can email you link of the recorded session.
See you soon – Register now!