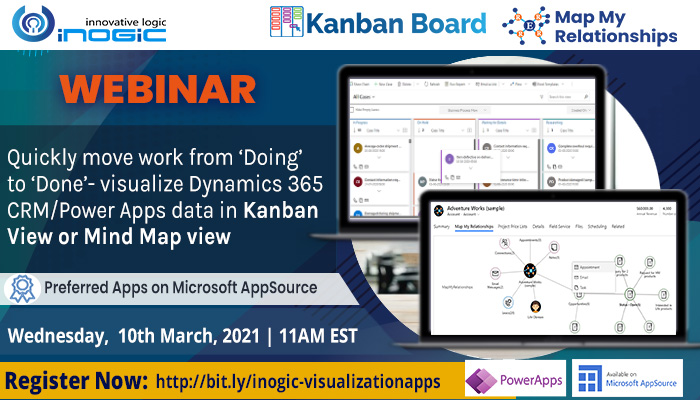 A Big Thank You to all our Dynamics friends for making our latest Maplytics webinar a huge success! Riding on this success, we are excited to invite you to our upcoming webinar on Visualization apps for Dynamics 365 CRM/Power Apps. Kanban Board and Map My Relationships are two of our popular visualization apps which will help you to analyze Dynamics 365 CRM/Power apps data with ease by representing it a Kanban View or Mind Map View. This will effectively save your time, help you to take prompt decisions, increase your overall productivity and lead to a higher ROI.
So, what are you waiting for?
Register Now for this exclusive session on Microsoft Preferred Visualization Apps – Kanban Board & Map My Relationships to be conducted on:
Wednesday, 10th March 2021
│11:00 AM EST│
In this webinar you will be given a detailed demonstration of the following features of our Visualization apps:
Kanban Board
• Visualize any Dynamics 365 CRM View as lanes in a Kanban View on the web, mobile or tablet client
• Configure the fields for defining the categories for lanes, rows & Business Process Flow
• Pin your most used business process flows and start working on it as soon as you open the configured entity view
• View records as compact cards with the ability to configure the data displayed in the cards
• Drag & drop the cards across lanes & rows to quickly update the values of the underlying category fields
• Configure cards to support up to 3 quick activity actions to create activity records like Email, Phone Call, Task, etc.
• Search, sort, and filter records
Map My Relationships
• Drill through the relationship N-level further down and see its associated entity records
• Map My Connection control to manage connections using network-style UI and grid view
• 360 degrees view of all important data of the record in a single view
• Support for 1:N, N:1 as well as N:N information
• Quick summary of related records and connections at a glance and subsequently drill down to the details in depth
• Easy Navigation to any of the records displayed in the relationship map
• Create quick activity records like Email or Appointment for the related Entity records
• Support for viewing aggregate values without the need for creating rollup fields
• Configure the data to be displayed as part of the mind map view
So, don't forget to join us for this exclusive, insightful, and interactive session on Dynamics 365 CRM/Power Apps Visualization apps.
Book your seats now! And be ready for an interesting one-on-one session with our team of solution experts.
In the meanwhile, get familiar with these visualizing apps by downloading it from our website or Microsoft AppSource for a free trial period of 15 days.
Looking forward to an illuminating and exciting session.
Meet you soon!