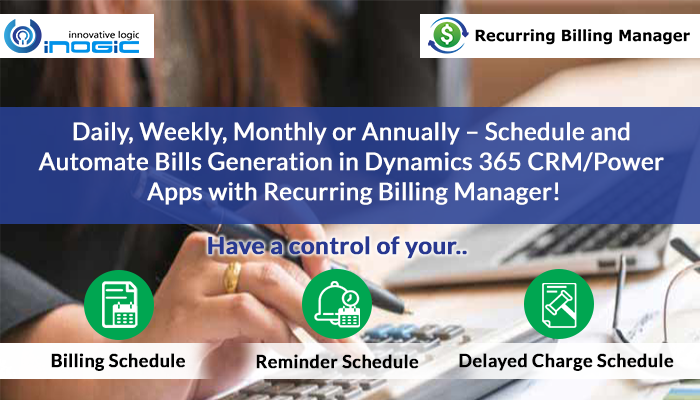 Do you find it hard to manage multiple billings in Dynamics 365 CRM? Do you find it tedious to keep track of overdue payments?
Don't look further! Recurring Billing Manager – our popular billing app for Dynamics 365 CRM/Power Apps is just what you need!
With a new name, new look and a very user-friendly UI, Recurring Billing Manager is your answer to all the troubles that you face while dealing with recurring billing processes.
So, what does our Recurring Billing Manager do?
Recurring Billing Manager automates your recurring billing processes in Dynamics 365 CRM/Power Apps. You can set specific billing schedules and generate Invoices automatically on a daily, weekly, monthly or annual basis. Similarly, you can set reminder schedules to send automatic reminders and set delayed charge schedules to calculate delayed charges for unpaid invoices. Once all the schedules are set, all your tedious manual tasks are automated, thereby enhancing your Dynamics 365 CRM productivity.

Now let's have a brief look into its key features to know how it will benefit you in the long run.
Flexible Billing Schedule
With Billing Schedule, you can determine which Invoices should be generated, when it should be generated, how frequently it should be generated and what line items should be a part of the new Invoice. You can create multiple Billing Schedules and customize them based on common billing attributes such as billing length, frequency, reminders, delayed charges and include multiple products as per your requirement. In this way, you no longer have to worry about missing any invoices due to overwork or mismanagement.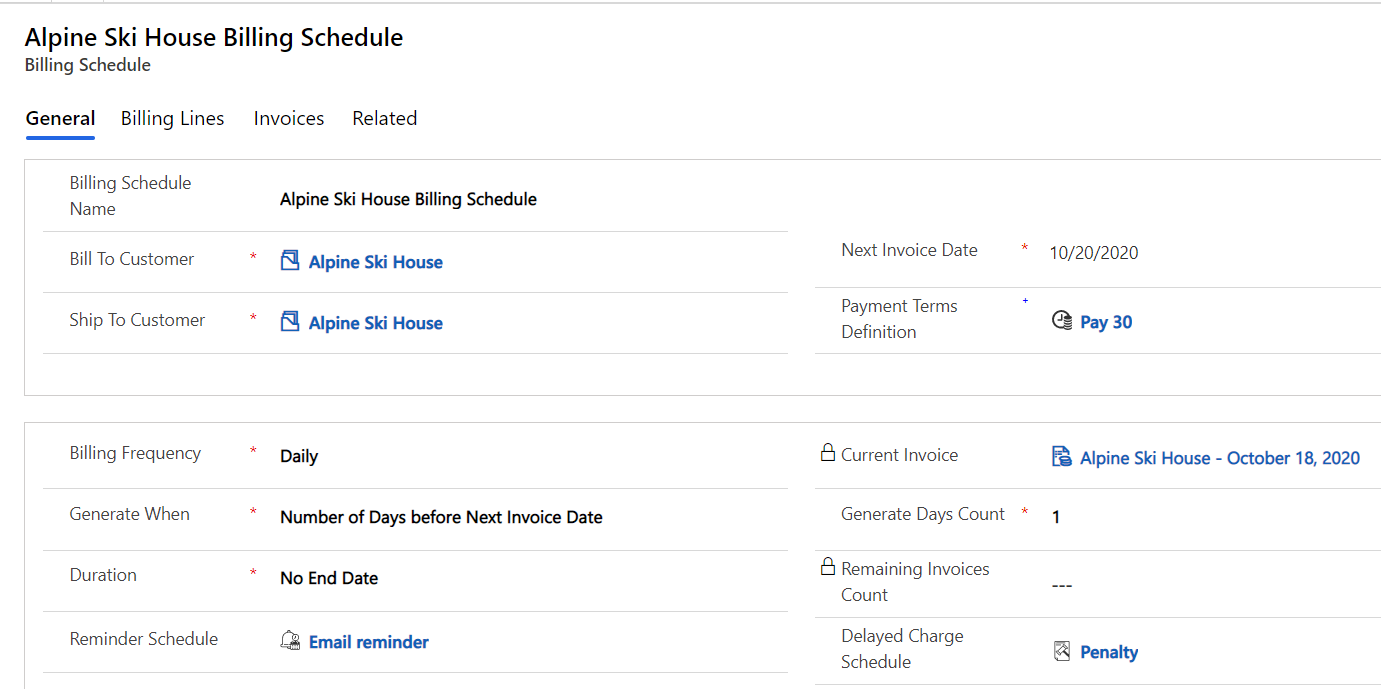 Reminder Schedule
Reminder Schedule will help you to set up a schedule for reminders with respect to invoices that are past due or for upcoming renewals. Every Reminder Schedule will have Reminder Rule(s) which will specify when the reminders should be sent, the email templates to be used, to whom it should be sent and so on. You can now happily do away with the tedious tasks of sending reminders to the customers for overdue payments.


Delayed Charge Schedule
With Delayed Charge Schedule, you can create a schedule for the delayed charges that the customers must pay for their overdue invoices. It will provide a framework such as the percentage of penalty, its frequency and from when it should be charged. And based on this framework it will automatically calculate the penalty for overdue payments. This will eliminate the risk of miscalculations, reduce your manual labor and help you invest your time in other productive areas.
Intriguing, isn't it?
With all these amazing features, you can now easily streamline your billing process.
There will be no more worries about generating bills, overdue payments or penalty calculations.
For 'Recurring Billing Manager' is here for you to manage all your billing activities.
So, wait no more!
Go to our website and download this performance-enhancing billing app for a trial period of 15 days.
For any billing requirements or personal demo, you can contact us at crm@inogic.com
Until then – Stay Safe, Stay Healthy!