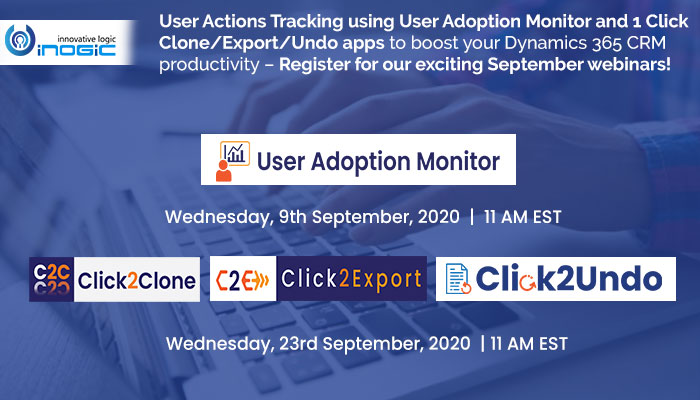 Evaluating user activities and tracking their performance helps organizations in making informed and analyzed decisions. For Dynamics 365 CRM managers and admins, high user adoption is a key measure of the overall success of a CRM implementation. This month, to help organizations keep track of Dynamics 365 CRM user actions and increase their overall productivity, we will demonstrate our user adoption tracking app 'User Adoption Monitor' along with productivity-enhancing 1 Click productivity apps viz 'Click2Clone', 'Click2Export', and 'Click2Undo' respectively.
Let's know more about these webinars in detail:
Register now for Webinar-1 on User Adoption Monitor
On Wed, Sep 9, 2020 – 11 am US EST
In this session, we will talk about the following existing features along with the newly added features:
Track User Actions: Track actions of enabled users such as Create, Update, Delete and opening of Records in Dynamics 365 CRM.
Monitor login and logout activities: Monitor login and logout details of individual users in Dynamics 365 CRM on a daily basis.
Track user Check-in/Check-out details: Keep track of the amount of time an individual user spends on a particular entity record in CRM.
Data Completeness: Users will be able to ensure the completeness of the entity record in Dynamics 365 CRM.
Aggregate Tracking: Users can calculate aggregate values of respective fields across the selected entity in regards to CRM user actions.
Target Tracking: Users can allot and keep a track of the targets assigned to users towards specific entity actions in Dynamics 365 CRM.
Leader board and Performance Dashboards: Users can also view the individual user performance across Dynamics 365 CRM through Dashboard visualizations and assess them based on their performance.
Make sure to reap the benefits of this session to increase the user adoption of Dynamics 365 CRM users and find out your top-performing users through User Adoption Monitor.
Register now for Webinar-2 on 1 Click Productivity Apps
On Wed, Sep 23, 2020 – 11 am US EST
Consisting of Click2Clone, Click2Export, and Click2Undo; 1 Click productivity apps (Preferred apps on AppSource) brings increased productivity and helps Dynamics 365 CRM / PowerApps users by easing their day-to-day mundane tasks. Let's go through in detail about these apps that will be demonstrated in this session.
Click2Clone: Clone/Copy Dynamics 365 CRM / PowerApps records in just one click using Click2Clone. This productivity-increasing app enables users to clone single as well as multiple records in one go, create multiple copies of any record and much more.
Click2Export:  Export any of the Dynamics 365 CRM / PowerApps Report/Word/Excel templates and CRM Views data in 5 different file formats viz Excel, Word, PDF, CSV or TIFF in just one click using Click2Export. This solution will not only help you in exporting files but also in scheduling the exports.
Click2Undo:  The latest addition to our 1 Click productivity apps, Click2Undo is fast growing as one of the most sought after Dynamics 365 CRM solutions. As the name suggests, it is a productivity app for Dynamics 365 CRM & PowerApps that helps users to undo changes and restore the records to its previous known state with just a single click. You can also undo bulk changes, undo past changes, and restore deleted records in one go.
So, grab this opportunity to learn how our apps can benefit your business by enhancing your Dynamics 365 CRM / PowerApps productivity.
Don't forget to add the session dates to your calendar!
Before you leave, here's exciting news to share, all your favorite Inogic Dynamics 365 CRM / PowerApps solutions now have the Preferred Solutions Badge on Microsoft AppSource. So, what are you waiting for – Start with Confidence by Downloading a Free Trial!