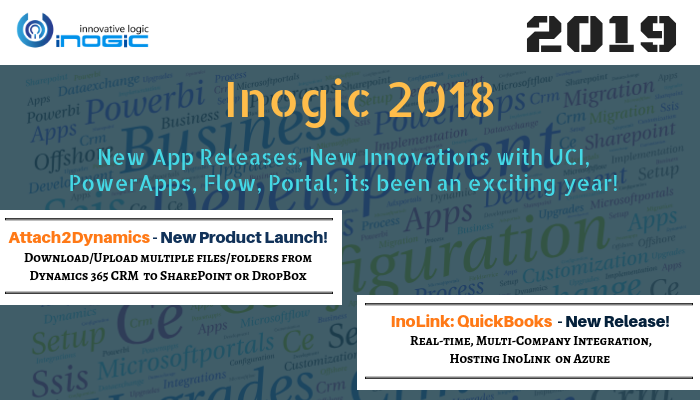 Wonderful time of the year, isn't it! All the hustle and bustle to plan the New Year eve and throw a frenzy party! It is the countdown, and we are so thrilled and amazed reminiscing how 2018 left us awestruck. We went miles ahead of how we expected to serve you, our Partners, Peers, Customers and Dynamics 365 CRM Community members. 2018 was an extraordinary year in all horizons and we have assured that 2019 turns even better!
Here is a quick recap of how we have explored the best of Dynamics 365 CRM in 2018 –
We are quite excited to announce launch of our new product Attach2Dynamics. It is an ISV add-on for Dynamics 365 CE which enables users to manage documents within Dynamics 365 CRM in a very easy and user friendly way. The primary function of this App is to provide its users the functionality to drag and drop, or upload/download single/multiple files/folders to Cloud Storage of their choice.  Currently it supports – SharePoint and Dropbox and we plan to add more depending on feedback from you all.
Maplytics, milestones covered
2018 proved to be a significant year for Maplytics! In January with the introduction of Dynamics v9.0 we launched Maplytics support for mobile devices as well. This was a minor release which was immediately followed by a major release in March which focused on making Field Sales or Service Reps life easier with its innovative features like Concentric Proximity Search, Along the Route Search, Heat Map Enhancements and others. We didn't slow down after this release and our team started brainstorming on other features that could be introduced in the next release. October release was to empower Senior Executives/Managers. We introduced/modified features like Auto Scheduling, Territory Management, Enhanced Heat Maps, Security Template and few more.
Rocking Dynamics 365 Community Events
Inogic had a great experience in 2018 attending two Dynamics events. The prominent conference #CRMUG Summit at Phoenix was a paramount of accomplishments where we participated once again as a Gold Sponsor. CRMUG Summit has been a launch pad for showcasing our products as an exemplar. The new release of Maplytics, Click2Export and Click2Clone raised a curiosity among our Partners, peers and Microsoft experts and we had an enriching brainstorming at the Partner Solution Showcase Session. In fact, our other two products for Dynamics 365 CRM, InoLink and User Adoption Monitor were also applauded for the kind of innovation they have brought.
We also attended Summit EMEA Dublin for the first time as a Silver Sponsor. It was a plethora of success for all our extensive products. We were simply fascinated by interacting with Partners, ISVs and Microsoft Leaders at the Summit and showcased our flagship product Maplytics along with our add-on products for Dynamics 365 CRM – Click2Clone, Click2Export, InoLink and User Adoption Monitor.
Click2Clone suite of features release
This year, there was an inception of three features for the productivity tool Click2Clone. Yes, now we can clone Dynamics 365 record with over 100 line items in a single click. This is a profound feature which has added ease of cloning records. In addition, user can Set References & Auto update the cloned Dynamics 365 records using Click2Clone workflow feature. Apart from these, the third feature is to clone one Entity type (custom or OOB) to another Entity type including child records.
The users can not just export and attach Dynamics 365 CRM report files to email, but with our latest release, they can also send these files automatically to the required users. Along with reports users can also automate exporting of Dynamics 365 CRM Word Templates to PDF with new Workflow feature. Our new release has facilitated users to export CRM reports in CSV and TIFF format as well along with PDF, MS Word, and Excel. Now, the users also have the ability to export and upload the CRM reports to SharePoint. The best part is, Click2Export is now upgraded and is compatible with v9.0 as well. These cumulative features have made Click2Export even a notch better.
We have considerably enhanced InoLink in its latest release which now syncs one or more QuickBooks Company with single instance of Dynamics 365 CRM. The most awaited feature was it being on cloud and now with this release InoLink Window services are hosted on cloud storage, Azure. And that's not all now users can process real time data from Dynamics 365 CRM to QuickBooks. This is a major movement from On-premise to Online deployment model by InoLink. It supports USA, UK, Canada and now even Australia version of QuickBooks.
Along with these innovative solutions, we have also worked hard to get expertise in Dynamics 365 for Customer Engagement new versions, PowerBI, Field Service, Microsoft & ADX Portals, Common Data Service, Microsoft PowerApps, Flow, Integrations using SSIS and SharePoint Integrations and be ready when you need us.
These were the highlights for what we explored and innovated in 2018 and are prepping for many more being on the verge of 2019! We know you will but still from our side, Team Inogic wishes you a Very Very Happy New Year 2019! Have a blast!
Will see you again in 2019 till then Ciao!