Introduction:
Click2Clone is one of our popular Dynamics 365 CRM Productivity App which assists you to clone your Dynamics 365 CRM records in a single click. Our solution supports Dynamics CRM version starting CRM2013 and all deployment models which means it doesn't matter if you are on CRM Online, On-Premise or IFD you will very much be able to leverage the benefits of our solution.
You can just download the solution and start your 15days trial right away and experience the ease of Cloning your MS CRM records at the click of a button. You can download Click2Clone solution from our website or Appsource. Click2Clone provides this 'Clone' feature for commonly used OOB entities as well as supports cloning for custom entities as well. It also allows carrying over related records from 1:N and N:N relationships. We have recently added some new helpful features like Hierarchical Relationship Cloning, Cloning records using Workflows and Prefix & Suffix configuration for cloned records and the users are loving it!!
Kindly follow below steps to activate 15 days trial license:
1. Download the solution from our website or Microsoft Appsource.
2. Navigate to Settings -> Solutions and import the downloaded solution.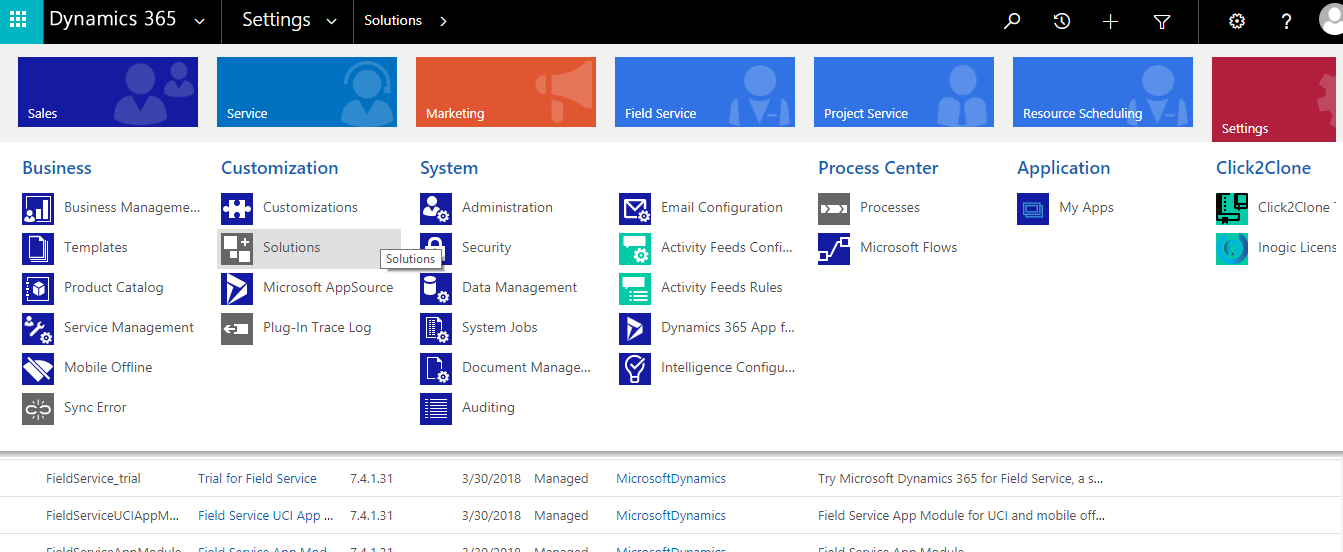 3. Once you have imported the solution navigate to Solutions -> Click2Clone solution -> Configuration.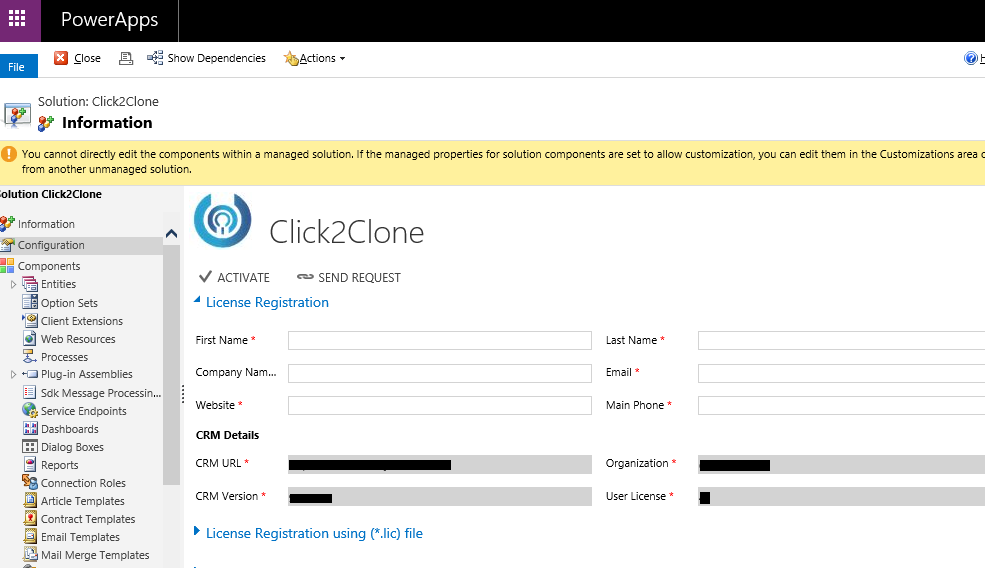 4. Here you will need to fill in your CRM details and then click on the ACTIVATE button as shown below. On click of this button, a 15 days trial license will be activated immediately for your organization.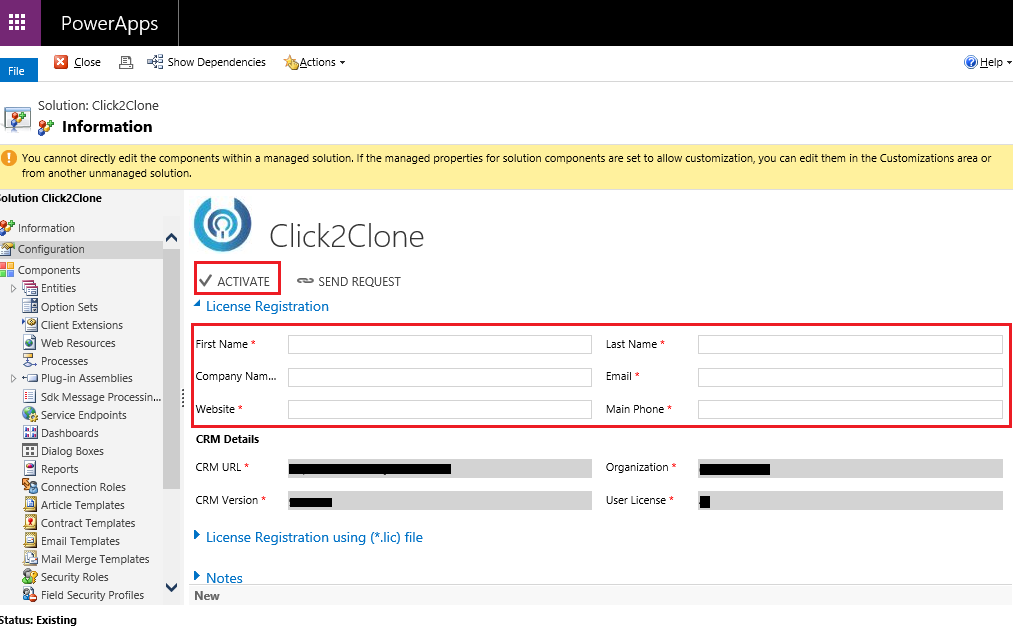 For ordering an annual production license of our solution just drop in a mail at crm@inogic.com with the following details:
Production CRM URL
Unique Organization Name
Production CRM Version
Total Active/Enabled CRM User Count
Once we have the above-mentioned details of your production environment we shall generate a production license. You have to follow similar steps the only difference is this time
you will receive a 'Click2Clone.zip" file from us, kindly follow the below steps to activate the Click2Clone license.
Steps to activate Production license:
1. Navigate to Settings -> Solutions -> Click2Clone solution ->

2. Now extract the attached zip file to find the Click2Clone.lic file.
3. Then from the Click2Clone configuration window browse the "lic" file and click on the Register button as shown below, to register the application for use.

After successfully registering Click2Clone solution, you are ready to simplify the process of creating new records, Click2Clone significantly reduces the time spent on redundant data entry.
For more information on our Dynamics 365 CRM Productivity Apps visit our Website or AppSource or contact us at crm@inogic.com.
We would like to take a moment to introduce our new product Alerts4Dynamics to you. Alerts4Dynamics lets you schedule and manage alerts in Dynamics 365 CRM to notify users about the updates in CRM, due invoices, reminder to send quotes, etc. You can define target audience and send them priority based alerts via pop-ups, form notifications and emails. You can also view the log of read/dismissed alerts by users and also create alerts for multiple records by defining rules.