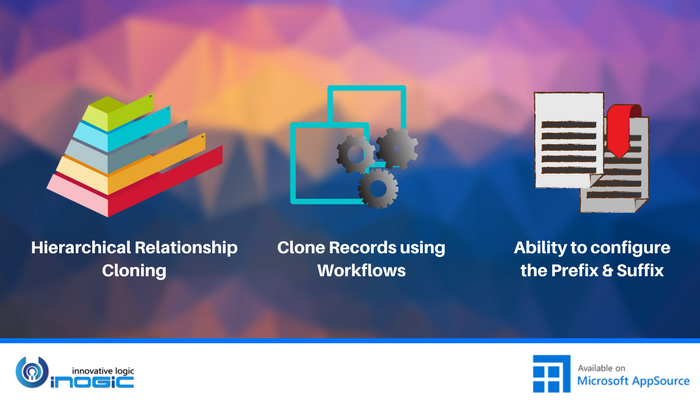 Click2Clone is a productivity app for Microsoft Dynamics 365 Customer Engagement that empowers the users to automate the process of copying OOB & custom MS Dynamics CRM entities. Click2Clone simplifies the process of creating new records in Dynamics 365 and helps CRM users to significantly reduce the time spent on manual data entry and improve the overall organizational productivity.
We recently released the new & improved version of our leading productivity solution!
Click2Clone is now even more powerful with new features like;
1. Hierarchical Relationship Cloning
Click2Clone now offers the ability to clone Dynamics CRM records along with all the hierarchical relationships associated with that record. This can be easily configured while creating the template for the entity and all its hierarchical related entities. The support for cloning the hierarchical relationships of a Dynamics CRM entity in the new release of Click2Clone will allow the users to save even more time as the records are already cloned!
2. Cloning Dynamics CRM records using Workflows
Now users can automate cloning tasks with Click2Clone using workflows in Dynamics 365. The ability to clone records using workflows will enable users to automate the process of copying Dynamics 365 records to improve the overall productivity within Dynamics 365.
3. Prefix & Suffix configuration for cloned Dynamics CRM records
Click2Clone now allows users to configure the Prefix & Suffix of the cloned records based on their preferences and business needs. The configuration of the prefix and suffix can be done in the Click2Clone templates and is a quite important feature for many Dynamics CRM users.
Get your free trial of Click2Clone today and experience the power of automation within Dynamics 365!