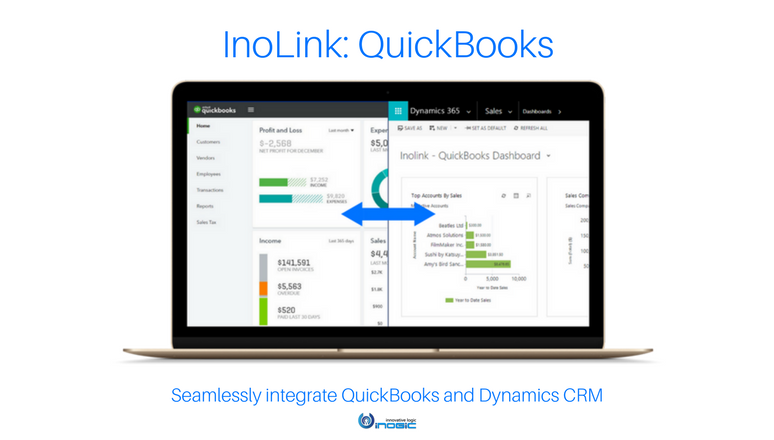 With over 4.3 million businesses using QuickBooks, it is one of the leading and a preferred accounting application for SMBs.
Also, according to a study conducted by Forrester polling 2,000 employees that were using Microsoft Dynamics CRM found that ROI, when a system is properly integrated, can exceed a whopping 245%. Businesses also prefer Dynamics CRM because of the extendibility and seamless integration with other Microsoft products and services.
Who needs QuickBooks and Dynamics CRM integration?
Many businesses find themselves at the intersection of both the products, meaning they use QuickBooks to manage and improve the financial processes and Dynamics CRM to develop and build strong business relationships, improve customer retention and drive better sales and marketing.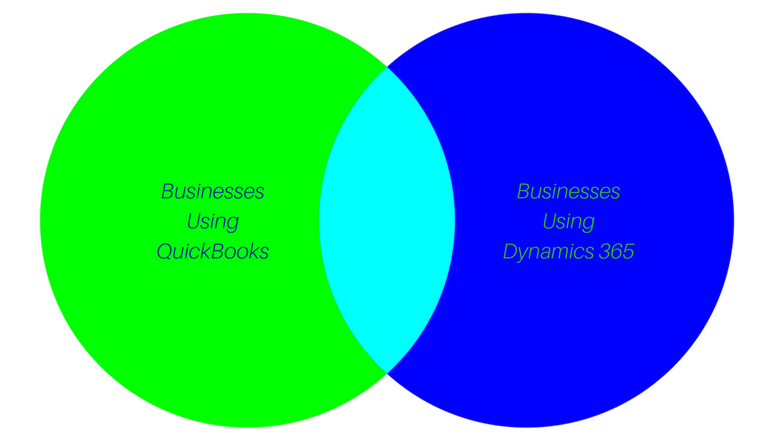 These businesses can experience remarkable benefits by streamlining the information flow between Dynamics CRM and QuickBooks by integrating both the systems.
What are the benefits of integrating QuickBooks with Dynamics CRM?
InoLink: QuickBooks syncs the Sales Transactions and Payment Information from QuickBooks to Dynamics CRM and enables seamless data flow between the two systems, improving the coordination between Sales and Accounts team. Just by integrating QuickBooks & Dynamics CRM, businesses can;
1. Improve their Business Processes & Maintain Data Sanctity:
The integration of QuickBooks with Dynamics 365 radically improves business processes within an organization. For example, with the information synced between QuickBooks and Dynamics 365 enables Sales & Accounts team to work in harmony, improves cross-departmental processes, and augments customer service. Moreover, as both the systems are integrated, the need for manual entry is eliminated, and data integrity in both the systems is maintained.
2. Enhance Customer Satisfaction & Improve Sales Process:
With a complete view of customer accounting information in Dynamics 365, Sales Reps can personalize and provide relevant Sales pitch to the customers, improving the overall experience. Also, with the inventory details seamlessly synchronized between the systems, Sales Reps have updated information and can utilize it to improve the whole sales process.
How to Integrate QuickBooks & Dynamics CRM?
After knowing the impact a business can experience by integrating QuickBooks & Dynamics CRM, the next obvious question is, HOW TO INTEGRATE QUICKBOOKS & DYNAMICS CRM?
We have a solution for you, InoLink: QuickBooks!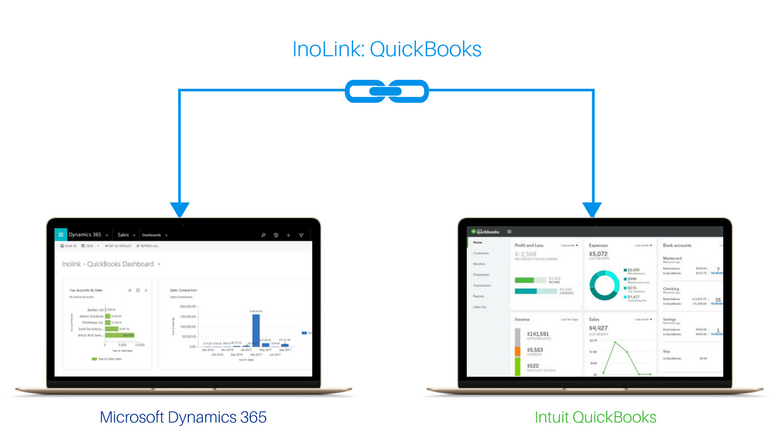 InoLink: QuickBooks is a leading bi-directional integration solution that seamlessly integrates Microsoft Dynamics 365 Customer Engagement/CRM and Intuit QuickBooks.
It enhances the efficiency of processing financial information and streamlines the information flow between the systems to empower CRM users with a 360 degrees view of the customer by synchronizing transaction history and Aging details of the customers from QuickBooks. Avoid data duplication and maintain consistency between the two systems by syncing Customers as well as Quotes/Orders and Invoices.
InoLink supports QuickBooks Desktop & QuickBooks Online and all deployment models of Dynamics CRM/Dynamics 365 Customer Engagement beginning CRM 2013.
Key Features:
Bi-Directional: Two-way sync of Accounts, Contacts, Products, and Prices.
Transaction Sync: Ability to promote Quote/Order/Invoice from Dynamics 365/CRM to QuickBooks.
Accounting History: Access complete transaction history and their updates right within Dynamics 365/CRM.
Account Balances: View customer open balances and aging details to help schedule follow-ups.
Tax Calculation: Perform Sales tax calculation in Dynamics 365/CRM for Quotes, Orders, and Invoices.
Reporting: Accounting Dashboards shipped along that display accounting transaction updates in Dynamics 365/CRM. This includes Recent Transactions, Top Customers, Open Invoices.
Security: Ability to control access to synced accounting data through security roles and field level security.
To get a free trial of our QuickBooks and Dynamics 365 integration solution, write to us on crm@inogic.com
To get started with InoLink: QuickBooks, visit our InoLink InfoCentre where we have provided all the resources you need to integrate QuickBooks Online & Desktop with Dynamics CRM/Dynamics 365!