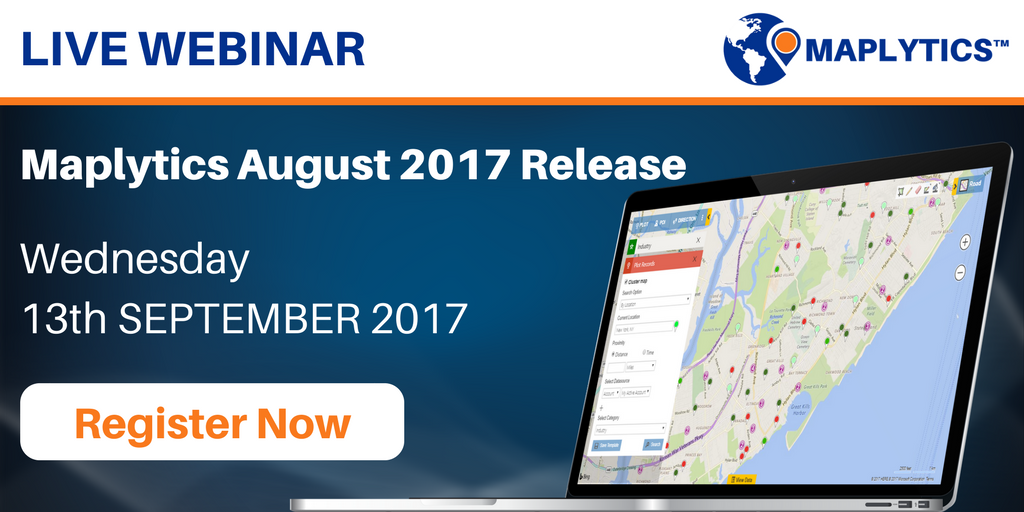 With user centric improvements and features, Maplytics August 2017 Release is designed to enhance the productivity of every Dynamics CRM user by adding enhanced geo-analytics capabilities and user level personalization!
The new release is more user-friendly than its predecessors and empowers the user to do more on the map within Dynamics 365 Customer Engagement and places the user in control of how they want Maplytics to work.
Maplytics August 2017 Release incorporates features that allow users to personalize Maplytics based on their preference, perform more actions on data plotted on the map, get additional insights on the map for enhanced analytics, and control how the plotted data is represented for enhanced visual analysis!
Maplytics™ is an ideal solution for every Sales, Service, and Marketing enabled organizations. Maplytics empowers organizations to extract critical location based insights from Dynamics 365 data for better analytics and informed business decisions.
In this webinar, we will walk you through the new feature and improvement in Maplytics like;
Personalize Maplytics as per your preference with user level 'Map Configuration'
Do more with the data plotted on the map with 'Mass Actions'
Get aggregate information for any enclosed area on the map with 'Summary Card'
Quickly perform actions you use the most with 'Customizable Tooltip Card'
Easy visual analysis on the Map with 'Customizable Pushpins'
Know your business geographically with the new and improved 'Heat Map'
Join us, as we guide you through the new features in the new release of Maplytics!
Maplytics August 2017 Release – Uniquely Yours!

Wednesday, September 13, 2017

9:30 AM GMT | 1:00 PM EDT
Cannot attend live? You can still register, as we will be sending out the recording to all the registrants!