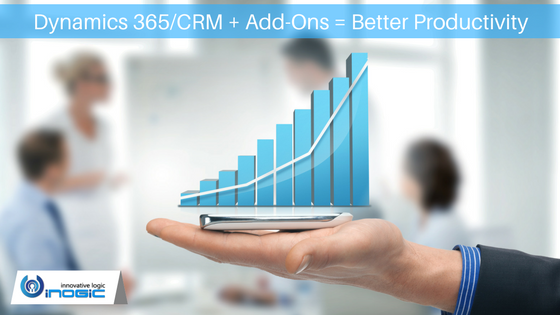 People drive businesses! When you equip people with the right tools, they can conquer complex situations effortlessly. Dynamics 365/CRM is a platform designed to empower users to achieve more. In addition, there are many add-ons and integration solution for Dynamics 365/CRM, which further extend its capabilities. Add-Ons and Integration apps for Dynamics 365/CRM allow users to simplify complex tasks, add useful capabilities and integrate with third party applications.
Get Better Insights and Improved Performance with Integration Solutions for Dynamics 365/CRM!
Dynamics 365/CRM is a leading CRM platform that allow Organizations to improve their marketing, boost their overall sales performance and enhance customer service. However, many Organizations needs something more, like integrating Dynamics CRM/365 with third party applications. That is when integration solutions for Dynamics CRM/365 comes into picture. Integrations not only make Dynamics 365/CRM more powerful but also add value to the business process of the Organization.
Many Organizations are already using QuickBooks as their main accounting application. Rather than completely migrating to Dynamics CRM/365, they would prefer to keep using QuickBooks and search for a way to integrate QuickBooks with Dynamics CRM to get the best of both worlds!
For such Organizations, powerful integration solution like InoLink that seamlessly integrates QuickBooks (Professional, Enterprise and Online) with Dynamics CRM/365 (On-Premises, Partner-Hosted and Online) is best suited for their business needs! For Sales teams, this means getting complete accounting insights and transaction history right within Dynamics 365/CRM to help them assist customers better and make informed decisions!
According to a study, CRM integration saves up to 30 minutes every day while boosting sales productivity by 17%.
Bing Maps is a powerful market leading mapping application from Microsoft. Integrating Bing maps with Dynamics CRM / Dynamics 365 can enable Organizations to visualize Dynamics CRM data on a map. Maplytics™ is a Bing Maps and Dynamics CRM/365 integration solution that offers powerful features and capabilities like Multi-Language Compatibility, Plot Related Records, Time Based Search, Geocoding, Appointment Planning, Heat Maps, Route Optimization and sharing, etc.
Maplytics is a complete mapping solution for Sales, Marketing, Service and Management modules. Sales and Marketing Teams can boost their performance by using Maplytics to get enhanced business insights, schedule and manage appointments, perform proximity search based on distance or time, find the most suitable place for marketing events, build targeted marketing list, and much more!
Increase Productivity by Adding a Fun Element!
Dynamics 365/CRM is a powerful application that can significantly improve productivity of an Organization. However, it is crucial for the users to adopt the application to realize the true potential of Dynamics CRM/365. One way to improve user adoption of Dynamics CRM/365 is by using a productivity add-on like User Adoption Monitor that helps Managers to oversee and evaluate work performed by users. However, it is extremely important to engage users to further speed up the user adoption of Dynamics CRM/365. A great way to engage users is by gamifying Dynamics CRM/365.
Studies claim that gamification improves productivity levels for 90% of the users and significantly improves awareness of goals and tasks among other users.
Gamification is a concept used from a very long time in many Organizations where you turn an activity or task into a game. User Gamification Module is a gamification solution for Dynamics 365/CRM (On-Premises, Online, and Partner-hosted). It helps to add a fun element by gamifying user actions within Dynamics CRM/365. With a user-friendly interface and intuitive dashboards, User Gamification Module is a perfect gamification tool for Organizations looking to boost user engagement and productivity within Dynamics 365 / Dynamics CRM. Applying gamification to routine tasks can engage and motivate users' thereby improving the user adoption and productivity in Dynamics 365/CRM.
Growth oriented organizations can use productivity add-ons and powerful integrations to improve the overall productivity of every user! Productivity tools for Dynamics CRM/365 can help organizations to drive sales, deepen customer relationships, and stay productive anywhere!
Checkout our other Productivity Add-ons for Dynamics CRM/365: Click2Export (Export Dynamics CRM/365 Reports with 1 Click) and Click2Clone (Clone Dynamics CRM/365 Records with 1 Click).