Microsoft AppSource is envisioned to be a new destination for users to get their favorite Business applications at one place. We are pleased that our solutions for MS Dynamics CRM namely; Maplytics™, User Adoption Monitor, Click2Clone, and Click2Export, categorized under Dynamics 365 are now available for trial on AppSource.
Getting started with AppSource is even easier. You can reach your business app through Microsoft AppSource in two ways. You can either visit Microsoft AppSource website through a web browser and search for a partner or your favorite business app directly. This will need you to sign up later on. Or you can search for a business app from within your Microsoft services like Dynamics 365 (MS Dynamics CRM) instance which you are already using.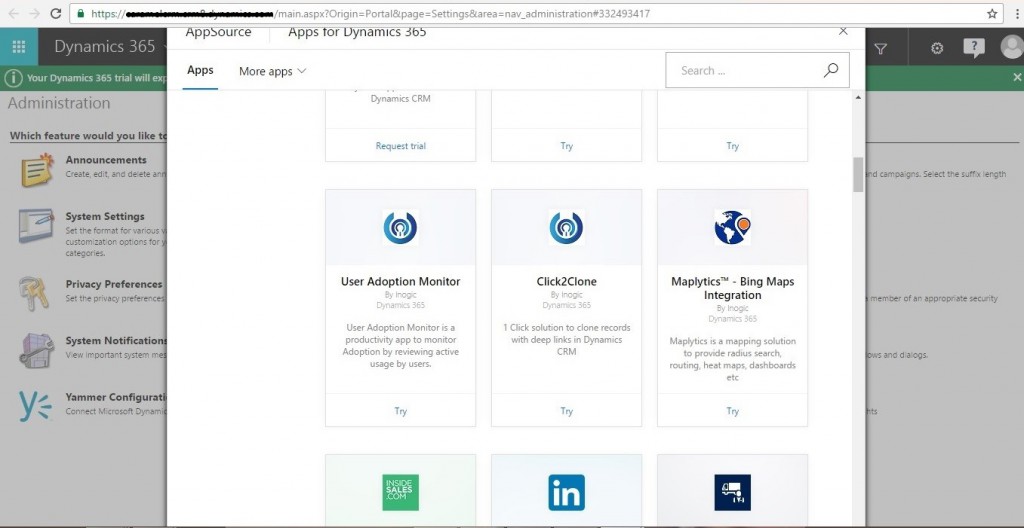 Let us see how you can reach your favorite Inogic solutions through AppSource;
(Method 1) Through the Microsoft AppSource website:
Visit Microsoft AppSource official page. You will find a search tab wherein you can search for Inogic to list out our applications. You can also search for add-ons directly with a name such as Maplytics. Here we are searching available apps by Inogic.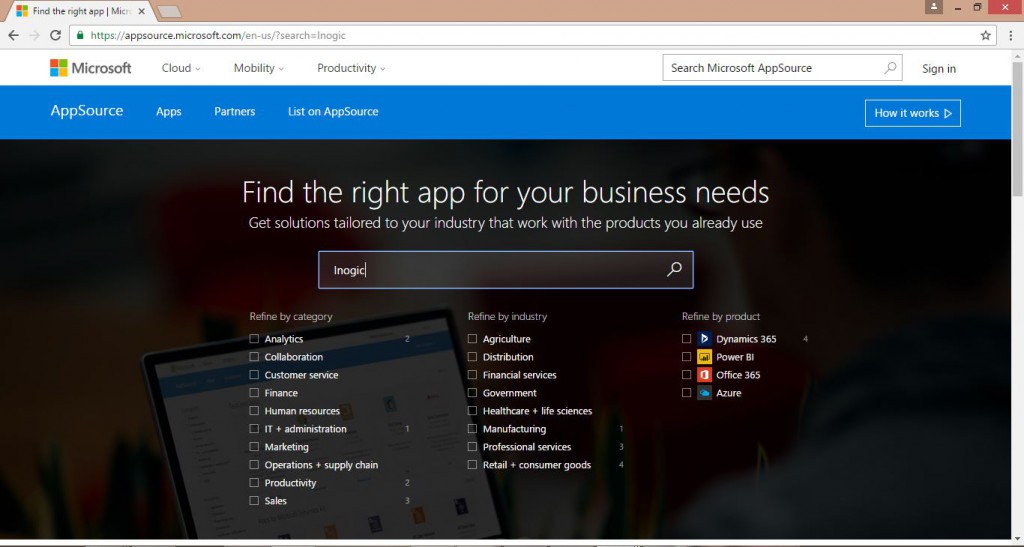 The search results will show all the add-on solutions for Microsoft Dynamics 365 featured in AppSource including User Adoption Monitor, Maplytics, Click2Clone, and Click2Export. Click on your favorite add-on as per your requirement for e.g. Maplytics.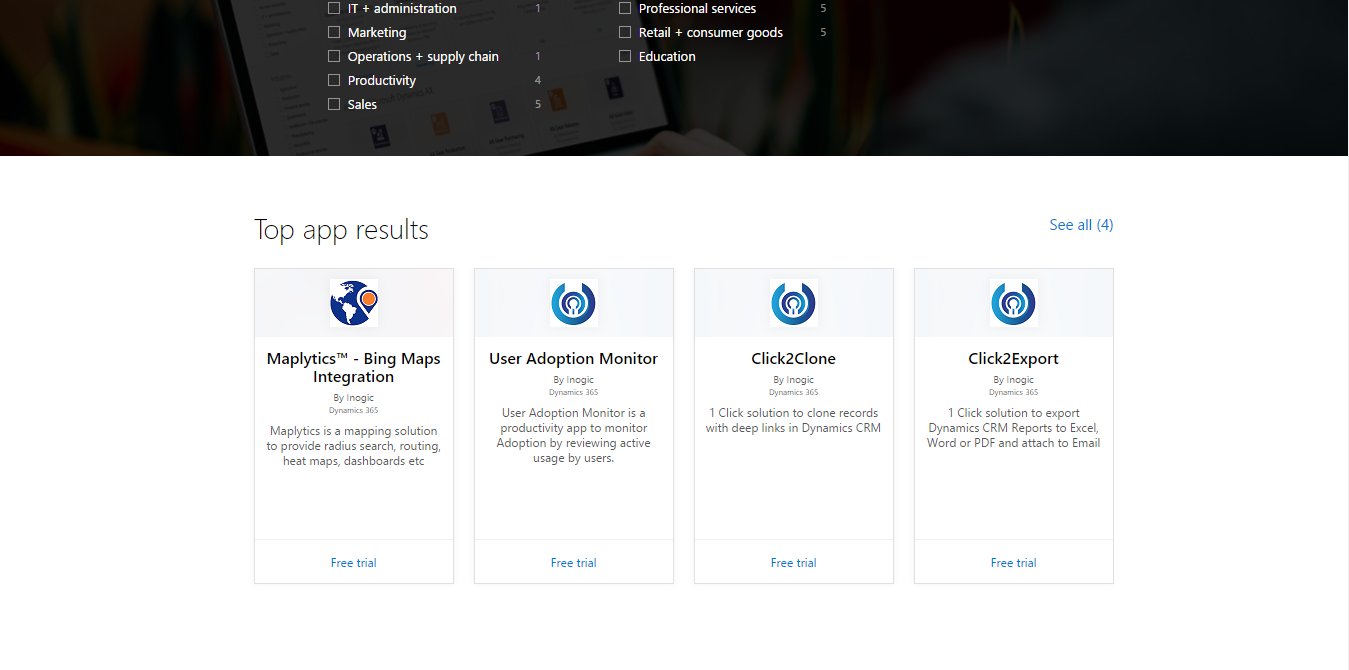 You can view the complete description of the product along with the features by clicking on the solution. Once you are done, click on Try button.
This will open a new window where you need to sign-in to your MS Dynamics 365 account. Provide correct credentials and Sign-in. Maplytics is a business app for Dynamics 365, and hence you must have an instance of Dynamics 365. If you don't have an account, you can sign-up for one.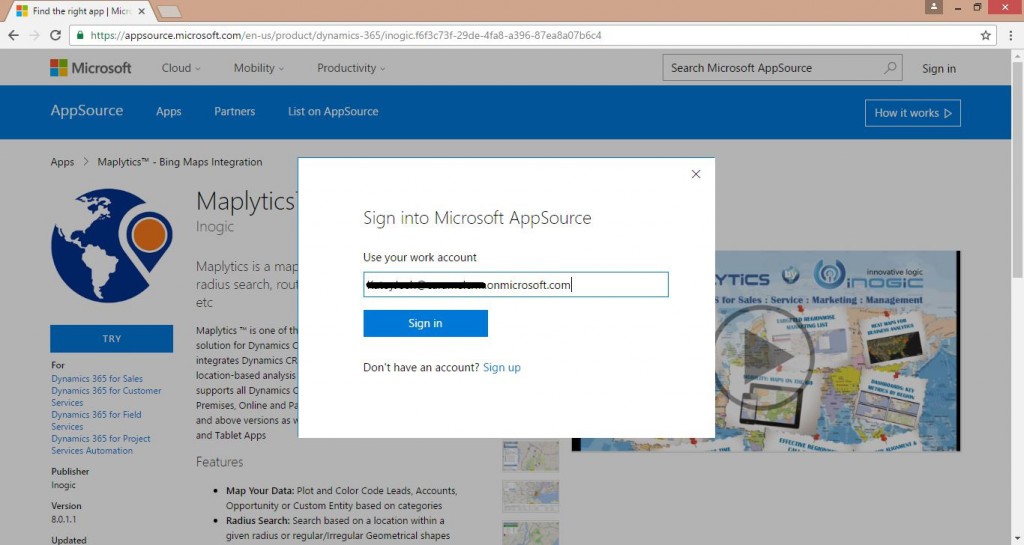 As soon as you sign in with correct credentials, following window will open. Check the option of I agree to the terms of use, and click on Continue.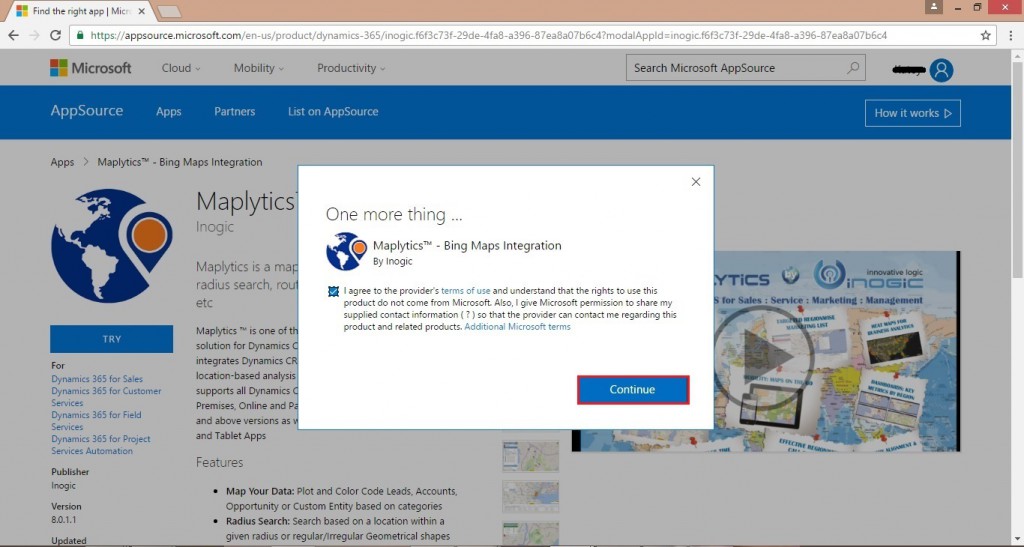 Select the Dynamics 365 organization to which you want to add this app, check the options as shown below, and click on Agree button.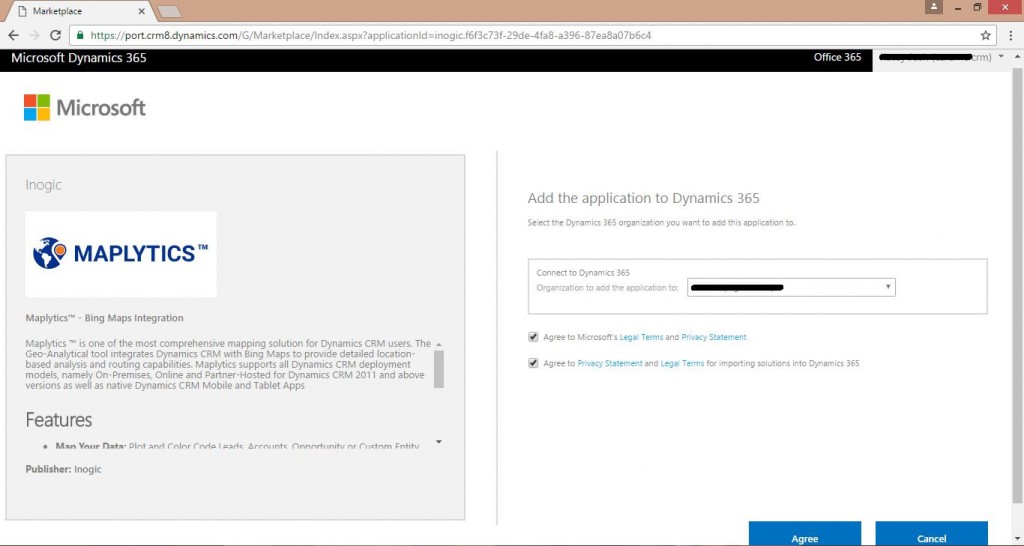 7. You can check the status as shown below.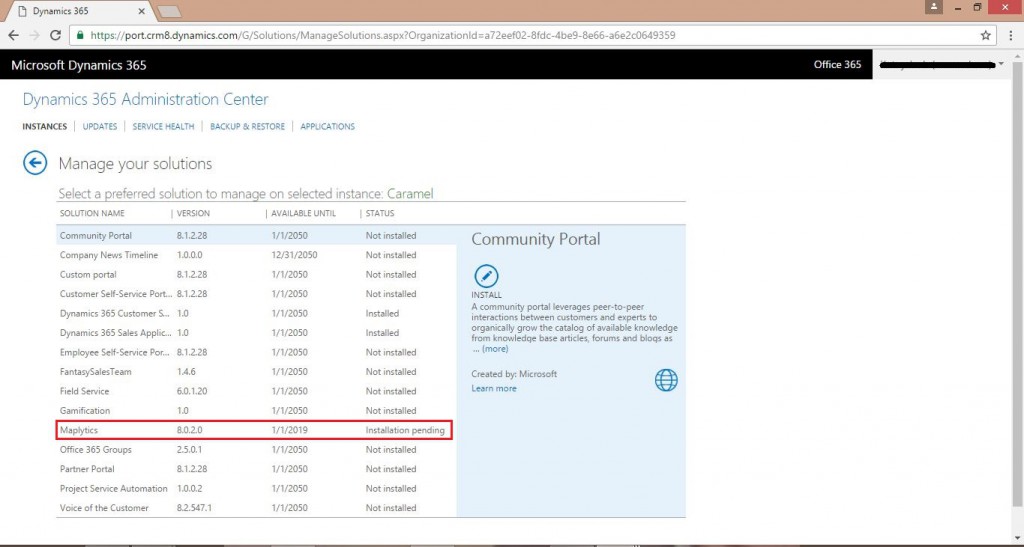 As soon as the installation is complete, the status for Maplytics appears as "Installed".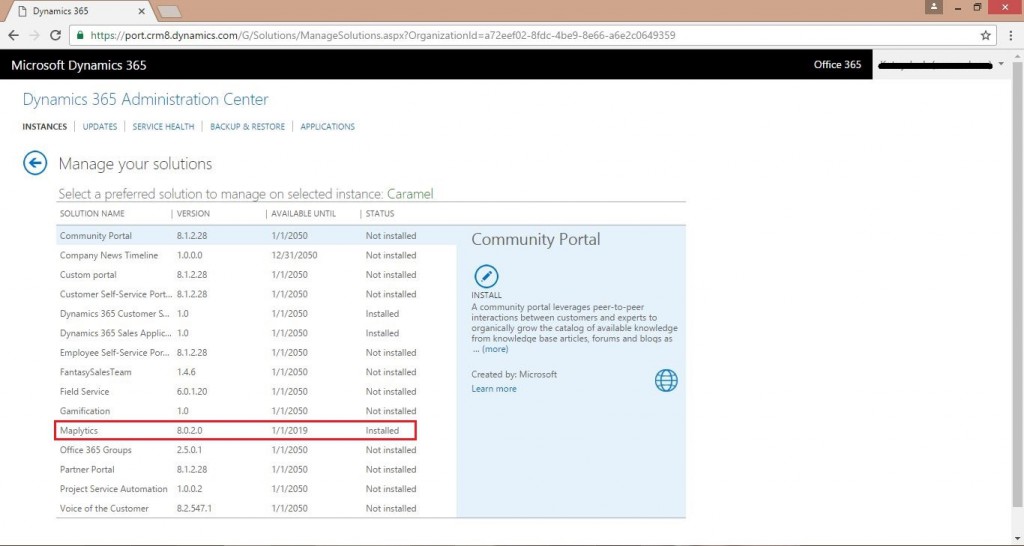 9. After successful installation, Maplytics can be seen as an imported solution.
(Method 2) Search within Microsoft Services (Dynamics 365) through Dynamics Marketplace:
You can follow the below-mentioned steps to find Maplytics solution.
Navigate to Settings > Customization > Dynamics Marketplace within Dynamics 365.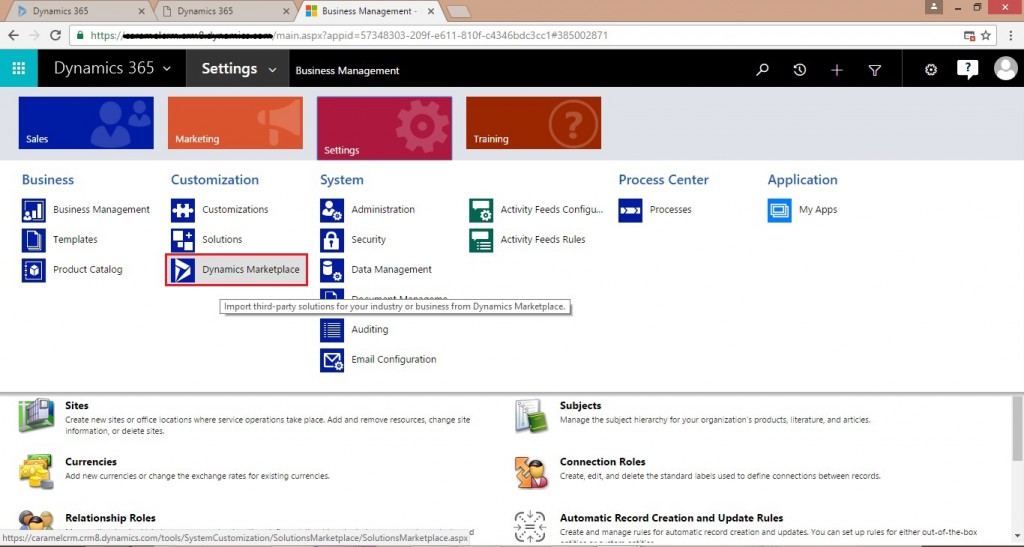 As you click on Dynamics Marketplace, the Gallery for all the business apps gets displayed. You can search for Maplytics directly through Search tab. This will show Maplytics solution, click on the Maplytics solution and then click on Try.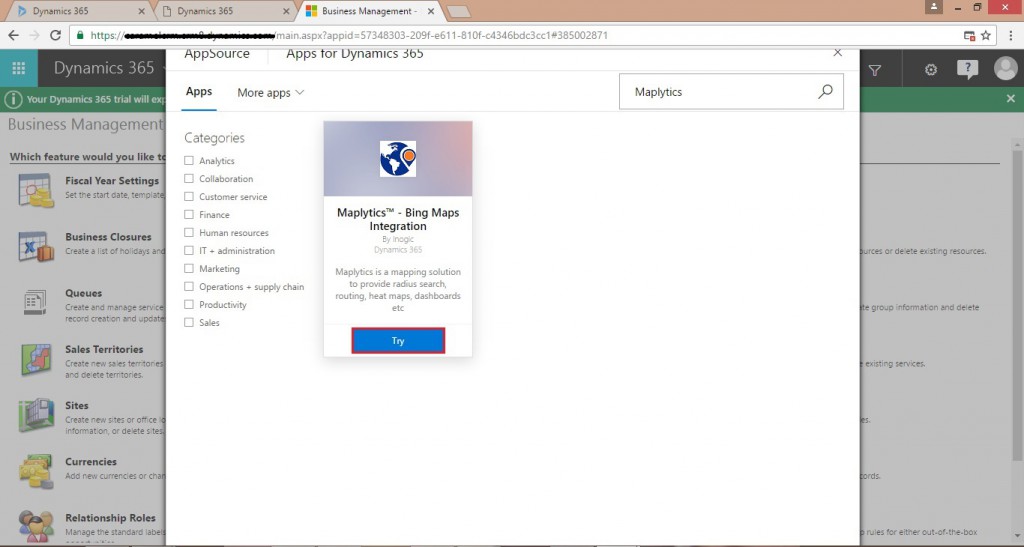 3. Here onwards, similar steps as mentioned above in Method 1 can be followed from Step 5.
Once you are done with all the steps, don't forget to activate your Maplytics™ solution. Visit here to follow the instructions for activating this solution!
Microsoft has taken this big step of staging in digital app store AppSource that will prove to be a resourceful hub for business users to get business applications at one place. On the other side, end users will also find this online store interesting to get a right app fitting their business.