We are happy to introduce Instant trials for our most popular product Maplytics. A comprehensive maps integration solution for Dynamics CRM supporting both Dynamics CRM on-premises as well as online.
Steps to activate the trial:
1. Navigate to Settings -> Customizations -> Solutions -> Select the solution e.g. Maplytics solution.
2. To configure the solution, navigate to the Configuration section of the solution.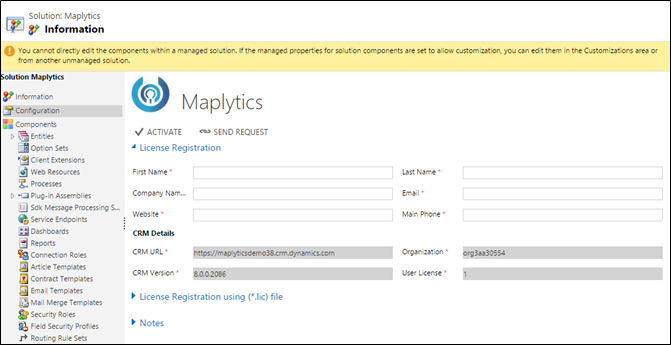 Steps for License Registration:
For the trial version, fill in the data in License Registration section and click the "ACTIVATE" button to activate the product for 15 days. The license will be issued for the organization mentioned in CRM Details User License is the count of active users in the CRM at the time of making the request for the license. Please see the below screenshot for the same:
To purchase the product, use the "SEND REQUEST" button to mail with the details about your organization. Once we receive the purchase request, we will review and process the request. Once the request has been processed, you will receive an email from our end and then you can click on the "ACTIVATE" button to activate production license.
In order to re-activate the trial version you can mail us on crm@inogic.com. We will process your request and the license will be extended as per the discussion with Maplytics Team. You will receive confirmation mail from Maplytics Team for extension. Once this mail is received by you, click on "Activate" button to extend the trial version.
Download the latest Maplytics™ solution from here. You can also download it from AppSource!
Note – If you would like to try Maplytics without installation, you can follow the process as given in this blog post.