May has arrived and the most-awaited May Release of Maplytics is now ready to ship with newly integrated advanced features. We have redefined various aspects of this Dynamics CRM Geo-Analytical tool and have focused on features like; Mobile compatibility, intuitive interface, and better proximity search.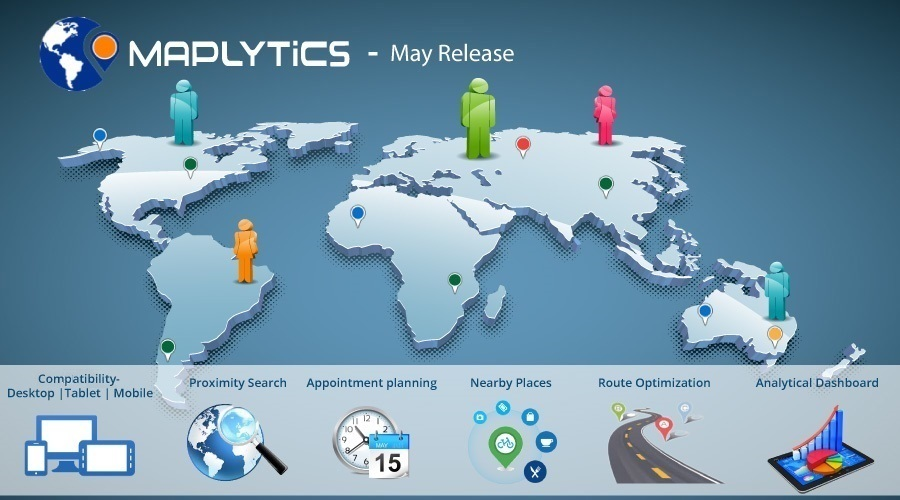 Let us have a quick look on the new highlighting features of Maplytics May Release:
Route Optimization: Plan best conceivable routes between different locations.
Proximity Search: Narrow down searches within specific geographic area.
POI Search: Locate nearby places like; Coffee shop, Gas station, Hotels, etc.
Heat Maps: Visualize your Dynamics CRM data plotted on Bing Maps.
Appointment Planner: Plan appointments across the route smartly.
Wide Compatibility: Now available on Desktop, Mobile and Tablet
Get Your First Interaction With New Maplytics!
Maplytics is known for its exceptional functioning and benefit to all segments be it Sales:Service:Marketing or Management. This new version of Maplytics is even better now and these advancements made in this release are surely going to assist many of our existing users enhance their user experience. You can see how it works here in this Introduction Video.
Try it now on our Demo Environment
URL: https://maplyticsdemo52.crm.dynamics.com
Username: sam@maplyticsdemo52.onmicrosoft.com
Password: pass@word1
Maplytics is also available for trial on your own CRM environment with your own set of data. Download Free Trial Version.
Need a live demo, contact us at crm@inogic.com. You can also visit Maplytics infocentre to get new updates for Maplytics.