Introduction
CRM 2016 includes interactive dashboards, which were specifically advantageous for the service agents providing better customer service. This newly integrated feature of Interactive Service Hub introduced in CRM 2016 was discussed in one of our earlier blogs. This new interface for accessing Dynamics CRM data provides organized view of entities. It allows focusing on the cases and activities for resolving issues. In addition to this Interactive Dashboard, it lets users perform better case management processes in fly-out style. The section discussed below will help you accomplish this update and utilize it.
As mentioned above, CRM 2016 update, you can easily update the case from dashboard by selecting the case and appropriate action as shown in below screen shot.
For this, click on Experience Now option as shown below;
You can select any case and perform various operations on that record like Resolve Case, Cancel Case, etc. For this you have to check the check box of the record (checkbox will be visible when you take your cursor on the record) in which you have to perform operation and then select the operation to be performed.
Here, if you want to perform same operation for more than one case record then you can do that it in a single click by checking the checkbox of the multiple records.
Similarly, in interactive dashboard, Draft Emails and Activities can also be seen and operations can be performed on them.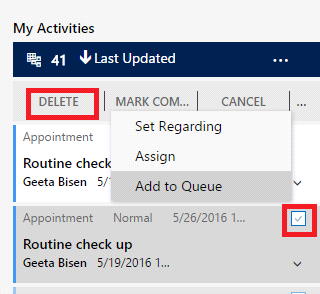 In addition to this, you can edit their stream properties also. Stream properties indicate what your entity sorting is based on. For example, if you want to sort your activities on the basis of due date, perform the following steps –
In My Activities section click on … sign and then click on Edit Properties as shown below:
This will open the page where you can click on drop down symbol available for Sort by section, which will show all the present sorting options. Here, select Due Date and then click on OK button.
Now this will show My Activities based on Due Date.
You can also see Visual Filter Flyout of Cases and Activities by selecting Visual Filter Flyout button as shown in below shown screenshot;
Interactive dashboard also provides option of filtering records on Daily, Weekly, Monthly, and Quarterly basis. You can select filter criteria option and see records.
Conclusion
The interactive dashboard was introduced to simplify the whole experience making it effective for customer service. With the help of Interactive Dashboard, you can perform various operations on Cases and Activities with less number of steps. This blog discusses about the Case and Activities update in Dynamics CRM.
Have you tried new Maplytics(CRM + Maps)? Download your free trial today!