Introduction:
Dynamics CRM 2016 has come up with many new features. Case Enhancement is one of it.
Now we have a newly added SAVE & ROUTE button on the Case Entity which performs quick operations of Routing the Case.
We have an Automatic move records to default Queue feature at the entity level customization, which helped the Cases to automatically move in the Queue on create of records. For which the user had to check the checkbox as shown below to enable this feature.

Later with the Spring 14, there came an Apply Routing rule button on the case entity to route the cases to Queues/ User / Team. For which users had to first save the Case record and then the button used to be enable and then on click of it, the Routing rules were been applied to the Case.
For more details related to the Routing Rules set, you can refer this blog.
And now with the 2016 Update, it has come with a feature of routing the Case while creating the Case record. Previously, in order to apply the Routing rules we had to first create the record and then click on Apply Routing Rules to route the Case according to the Active Routing rule present in the system.
Now we can achieve this by clicking the new button "Save & Route" while creating the Case record.
Use of Save & Route button on Case Entity:
Suppose you have an Active Routing Rule to route the Case in which you have set the routing criteria such that if the Case Origin is "Phone" then route the case to "Phone Call Queue".
Now, navigate to Cases and click NEW CASE as shown below:

New Case window will be open where you can see the SAVE & ROUTE button in the Ribbon.
Fill the required Information and set the "Origin" as Phone on the Case and then click to SAVE & ROUTE button.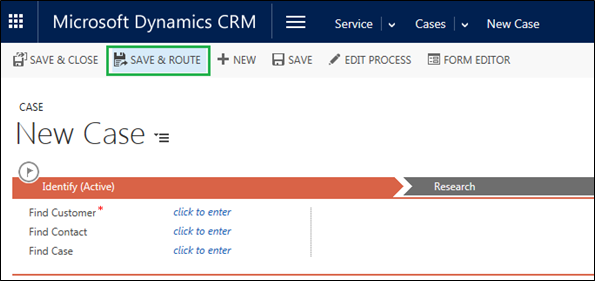 When you click on this SAVE & ROUTE button, you will get a below popup: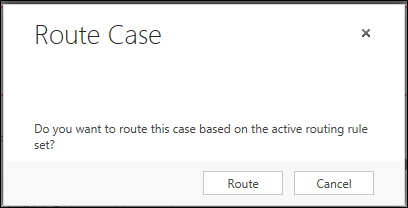 Click on the Route button, and your Case will be saved and routed according to the Active Routing Rule set present in the System i.e.: the above created case will be routed to the "Phone Call Queue" as shown below:

Conclusion:
The two step process of Routing a Case while creating case can be reduced to single step in the Dynamics CRM 2016.
Instant trials for Maplytics – Dynamics CRM Bing Maps integration are now available.