While we were discussing about Registering Maplytics in our last post we saw once the Maplytics license was installed there's an option to install Sample Dashboards. This post explains how to restore the sample data installed for Maplytics if you have accidentally deleted the sample records of EntityMap/Dashboard.
If you try to re-install the samples using the Configuration screen like you did while Registering Maplytics, you will receive the following error message since samples can only be installed once.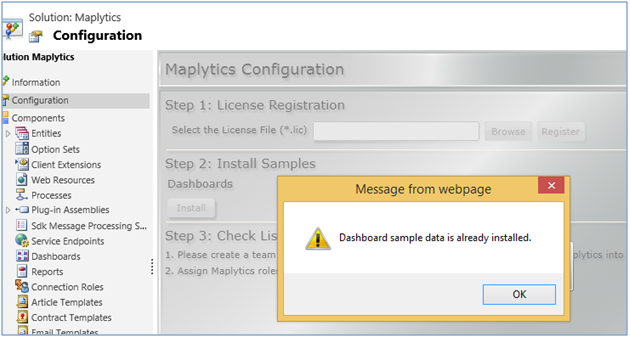 Please follow below steps to re-install the sample data.
Go to Settings → Customizations → Customize the system → Map Configuration as shown in below screenshot.  
Open the information form and add the Dashboard sample data on form as shown in below screenshot. Save and publish the form.
Then Go to Settings → Maplytics → Configuration Details as shown below screenshot.
Open the Configuration Details record and set value of Dashboard sample data to No as shown in below screenshot. Save and close the record.
Go to Settings → Solution and then open the Maplytics solution and click on Install button to install sample records.
 Note: The install option installs all of the sample records for Entity Map and Dashboards so if you had any of them already present, you could end up with duplicate entries for them. So make sure to follow this process only after all of the sample data has been deleted.
Do you Know? Bing Maps licenses are already included with your Maplytics…so no need to buy them separately.