When we had faced this issue originally, the solution provided below worked well and it didn't look to break any other components of Field Service. But having used the system for many months now, we have discovered that approach described below actually breaks some internal components of Field Service and causes issues in the long run and therefore should not be used.
We worked with Microsoft Tech Support and have the actual reasons for the issues as well as the resolution to this problem provided in the article here.
Would strongly advise against using the approach explained below. We are unable to remove this article for other administrative reasons.
Introduction:
Field Service has been one of the most celebrated modules, since, its introduction in Dynamics CRM.
Field Service has many business cases, and if it is used to its full potential, it can boost company's efficiency in terms of service.
With every iteration of Dynamics CRM, since, the introduction of Field Service has brought in significant changes for the Field Service.
Few of the improvements were towards improving the Schedule board UI; some were towards enhancing the functionality.
All in all, Field Service as a package is a boon for the companies who are interested in implementing rigorous service routine and are using CRM.
Upgrade breaks Agreements functionality
Recently, after upgrading our online environment from 8.1 to 8.2 and then upgrading the Field Service to the latest version (6.1.0.1462) we started facing a peculiar issue.
Whenever we tried saving the Agreement, after changing System Status from Estimate to Active, we kept getting the below error.

Resolution:
To resolve the above issue, we need at least the customizer security role.
Steps:
1. Go to Field Service -> Administration -> Field Service Settings
         2. Click on ellipsis (three dots) and open the Form Editor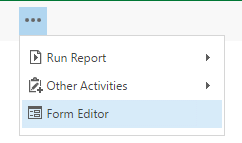 3. Through the customization, put the below field on the form

4. Click Save and then publish
5. Go to the Field Service Settings, update the Database Version value to 1.

6. Now, try to save the Agreement after changing the System Status from Estimate to Active and voila! It's done.