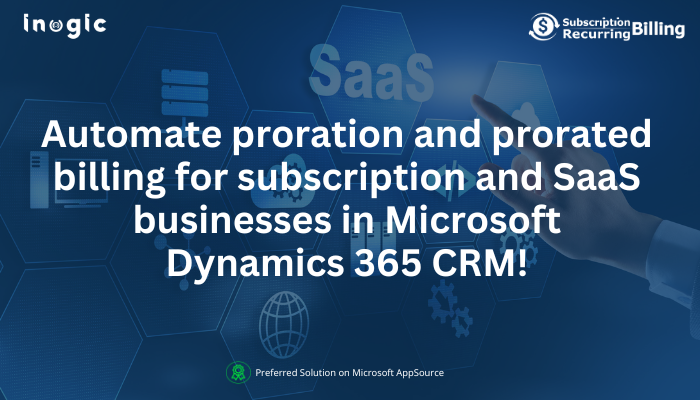 Flexibility is key for subscription-based businesses. As customers' needs evolve, businesses must adapt to cater to their needs. However, this evolution often brings challenges, especially when it comes to billing. Imagine this scenario: A customer is subscribed to a service with a set number of users. Midway through their billing cycle, they decide to increase the user count significantly. Proration becomes important in this situation.
Proration billing is a billing practice where charges are calculated proportionally based on a specific time period rather than charging the full amount for a fixed billing cycle.
While proration can offer flexibility and fairness to both service providers and customers, it also comes with certain challenges, like-
Complex Calculations
Billing Inaccuracies
Customer Confusion
Manual Updates
And for handling proration billing in existing systems like Dynamics 365 CRM, integrating proration capabilities may require significant updates to the system.
This is where Inogic's Subscription and Recurring Billing Management App comes in.
Subscription and Recurring Billing Management app enables businesses to streamline and seamlessly manage subscription and recurring billing processes within Dynamics 365 CRM. The app, with its proration billing management features, can help you make sure that your customers are charged fairly for the remaining days of the ongoing subscription despite the changes done in the middle of the subscription cycle.
Let's delve into a practical use case to better understand how the Subscription and Recurring Billing Management app helps businesses handle proration billing in Microsoft Dynamics 365 CRM.
Max is a salesperson at an IT solution company where their existing customer, Datum Corporation, has an active subscription to one of their SaaS Products (Click2Clone). Their subscription is scheduled for invoicing over a specific period.

Now, let's say Datum Corporation wants to enhance its subscription by increasing the user count from 15 to 115—a significant jump of 100 users.
To facilitate this upgrade, Max uses the proration features provided by Subscription and Recurring Billing Management App. Max creates a quote for the new subscription terms. And then he adds the existing subscription schedule within the "Subscription Management" tab and incorporates the product line items.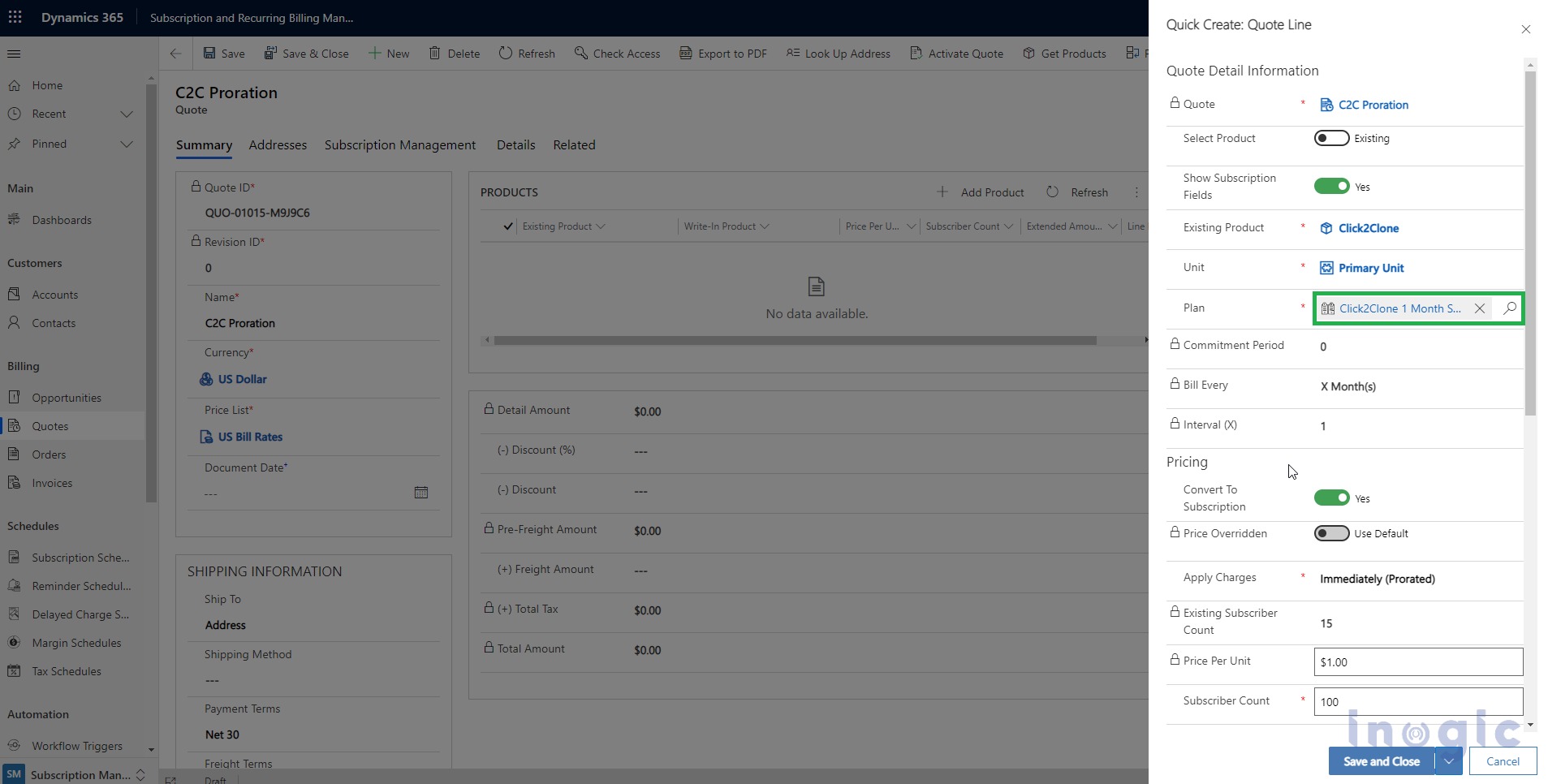 Here's where proration options come into play. The app provides Max with four types of apply charge/proration billing options, as shown below:

Let's understand these options in detail.
Immediately: Choosing this option means that the new user count takes effect immediately and a new invoice is generated for the entire subscription period. For instance, if the initial invoice was for a 3-month period starting on March 1st and the user count increased on March 4th, a new invoice for the full 3 months will be issued.
Immediately (Prorated): Proration, in this context, entails billing the customer from the day their user count increased for the remaining days of the current billing cycle plus subsequent months. Using the same example, if the user count increased on March 4th, the prorated charges for the remaining days of March, along with charges for April and May, would be invoiced.
Start from Next Billing Cycle: For Max, if he opted for this choice, the increased user count would be factored into the invoices generated for the subsequent months (April and May).
Custom: Here, Max gains more control. He can choose a precise "Billing Start Date," enabling him to implement the modifications either in the past or in the future. If he chooses a past date, a prorated negative invoice for the unutilized portion and a positive invoice for the new terms will be generated. Conversely, a future date would result in an invoice with the updated terms from that date onward.
Applying Proration to the Subscription Upgrade
Once Max adds the line item for the user count increase and approves the quote, the quote is activated and converted into a Subscription Schedule. At this point, the subscriber count is updated to 115, and the billing amount is adjusted according to the selected proration option.

Here are the outcomes for each applied charge/proration option selected:
Immediately: A negative invoice is created for the initial amount, along with a positive invoice reflecting the new terms.

Immediately (Prorated): A negative invoice covers the prorated unused portion, while a positive invoice captures the prorated charges for the remaining days of the cycle.

Start from Next Billing Cycle: The invoice for the ongoing cycle remains unchanged, and the updated terms take effect in the subsequent billing cycle.

Custom: Depending on the selected date (past or future), a negative invoice and a positive invoice cover the prorated unused portion and the new terms, respectively.

This is how the Subscription and Recurring Billing Management app, with its comprehensive proration billing management capabilities, helped Max overcome proration challenges.
In conclusion
Proration is a critical aspect of subscription management that allows businesses to accommodate customer needs flexibly while ensuring fairness in billing. By understanding the various proration options and their implications, companies can navigate subscription upgrades and changes with transparency and accuracy. Datum Corporation's journey through proration showcases the importance of aligning billing practices with evolving customer demands, fostering stronger relationships between businesses and their clients.
Ready to simplify managing proration with this amazing solution?
There is much more to the Subscription and Recurring Billing Management app features than proration. Visit our online help site to learn more about them.
Before you dive in, catch a sneak peek of this extraordinary app in action with this captivating video.
Interested in trying the app for yourself, you can get it for a 15-day free trial from our website or Microsoft AppSource.
Got questions? We've got answers! Reach out to us at crm@inogic.com for all your Dynamics 365 CRM subscription management inquiries.
Seize the opportunity and embrace the future of billing management!