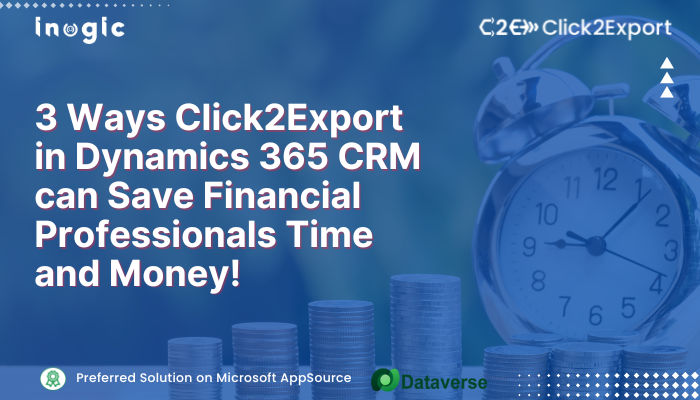 According to a report by Gartner, only 16% of financial decision makers feel that financial data can be leveraged for decision making. This is mainly because of poor data management systems and data strategies in the finance industries.
In today's fast-paced financial landscape, data is the lifeblood of finance professionals. Accurate and timely access to financial information is crucial for making informed decisions, complying with regulations, and driving business growth.
The data extraction and exporting functionality of Microsoft Dynamics 365 CRM is limited, so it can be time-consuming and complex. That's where Click2Export comes to the rescue!
In this article, we will explore 3 compelling use cases that demonstrate how Click2Export can be a lifesaver for finance professionals.
Meet Michael – A Finance Manager by Profession…
Being a finance manager, Michael requires a unique set of skills and expertise. He plays a crucial role in ensuring the accuracy, transparency, and compliance of financial records. He is responsible for analyzing financial data, detecting discrepancies, and providing recommendations for improvement. His duties include financial statement preparation, risk assessment, internal control evaluation, and regulatory compliance monitoring.
Which practically means he deals with a lot of documents!
His organization uses Microsoft Dynamics 365 CRM, and it was important for him to find a data management solution within the Microsoft Dynamics 365 CRM ecosystem. Hence, he has opted Click2Export!
We'll see how Michael makes the most of Click2Export…
Use Case 1: Financial Reporting
Efficient financial reporting is paramount for Michael as he needs to communicate about the financial performances and provide insights to the upper management and stakeholders.
Click2Export helps Michael streamline his financial reporting process by enabling him to export data from Microsoft Dynamics 365 CRM with a single click.
With Click2Export, Michael can export accurate and comprehensive reports that include key financial metrics added on to the CRM by sales teams or other departments. He has been able export reports in various formats such as PDF for reporting as well as has the liberty to convert it to MS WORD, MS EXCEL, TIFF, and CSV for further anaylsis.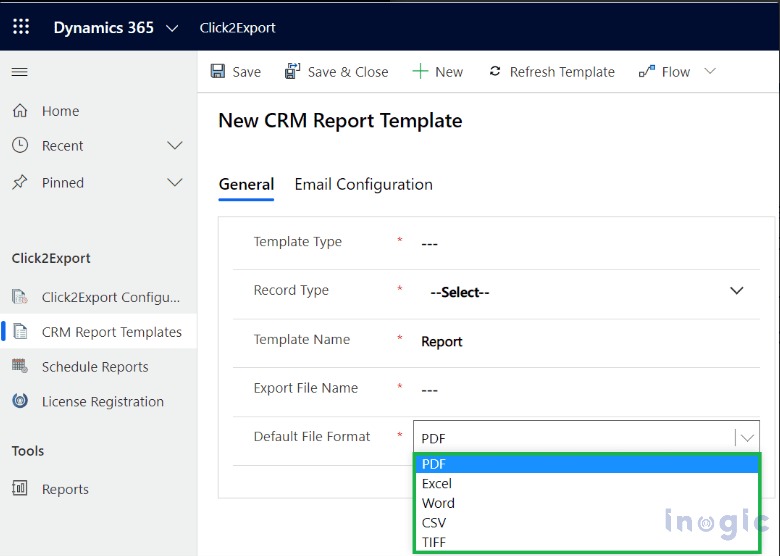 Moreover, by automating the data export process, Click2Export has saved Michael's valuable time and eliminated the risk of manual errors.
Use Case 2: Budgeting and Forecasting
Michael also manages the financial resources of his organization through budgeting and forecasting.
In order to simplify the budgeting and forecasting process, he uses Click2Export to extract financial data from Microsoft Dynamics 365 CRM, that is entered and updated by the sales and field services teams.
With Click2Export's intuitive interface, he analyzes historical data and exports it to spreadsheets. This capability enables them to make informed decisions based on past performance and effectively project future financial outcomes.
He has also configured and scheduled email on a weekly basis to himself and his stakeholders with Click2Export to stay updated on budgeting and forecasting financial metrics.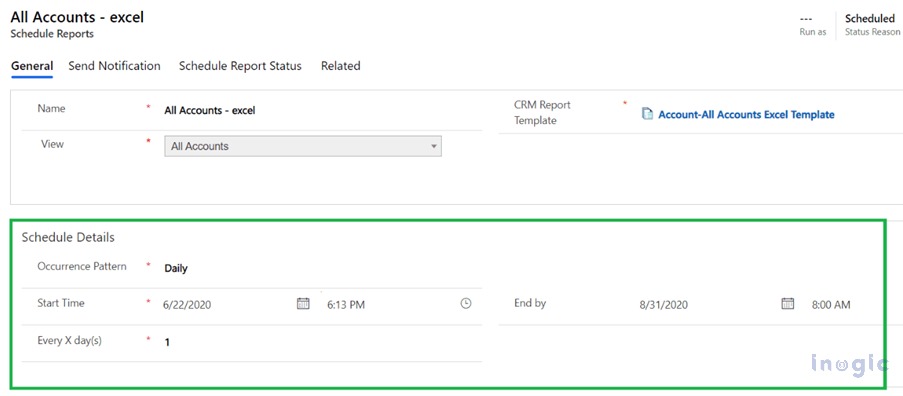 With the Schedule Reports feature Michael does not need to export data manually every time or risk forgetting sending the reports. Here, he also has the freedom to export in Reports/Word/Excel Templates or CRM Views.
Use Case 3: Data Integration and Storage
In his role as Finance Manager, Michael often has to work with sales team members on financial analysis and reporting. Through seamless data export and sharing, Click2Export has simplified data integration and storage of data for him.
With Click2Export, Michael has been easily extracting financial data from the CRM and consolidating it to eliminate silos and improves accuracy. Moreover, he has set four types of action each time he exports data, those are;
Sending an email to the respective recipients,
Exporting Reports and Word templates,
Storing them as Note attachments in Dynamics 365 records,
Downloading exported Dynamics CRM reports for offline consumption,
And uploading the exported Reports/Word templates to SharePoint.
Would You Like to Try Click2Export and Make Your Life Easy?
Click2Export proves to be an invaluable tool for finance professionals like Michael, offering a range of use cases that streamline their daily tasks and boost productivity.
From simplifying financial reporting and budgeting to ensuring compliance and fostering data analysis, Click2Export empowers finance professionals to make informed decisions and drive financial success.
By providing seamless data export, integration, and advanced capabilities, Click2Export stands out as a life-saver in the realm of financial management.
So, say goodbye to manual and time-consuming export methods and sign up for a free trial of Click2Export today to simplify your data management journey.
For more information, take a look at this demo video, learn from our online help files, or simply schedule a demo with an expert by sending an email on crm@inogic.com