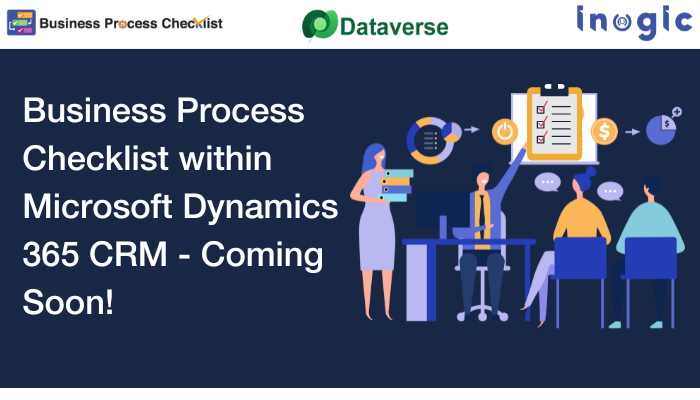 The ultimate success of any organization depends largely on the day-to-day work of its teams and individual employees. Be it your project development team, sales team, or services team, how they go on about their daily processes matters the most. It is essential to set a proper process and guidelines to which all stakeholders must adhere for consistency and reliability within the organization.
Are they following the best methods?
Is the process productive and cumbersome-free?
As a manager, you have to ensure that all these questions are answered. But the traditional way of sending a to-do list for every process or sending an excel sheet with a checklist is outdated. What you need is an agile business process management system.
And being a Microsoft Dynamics 365 CRM user, you need something that works within your CRM. With the introduction of Business Process Flows by Microsoft, working on business processes became a lot easier. Composed of stages, each stage of the business process flow has steps indicating which fields to complete, guiding the user to complete a process.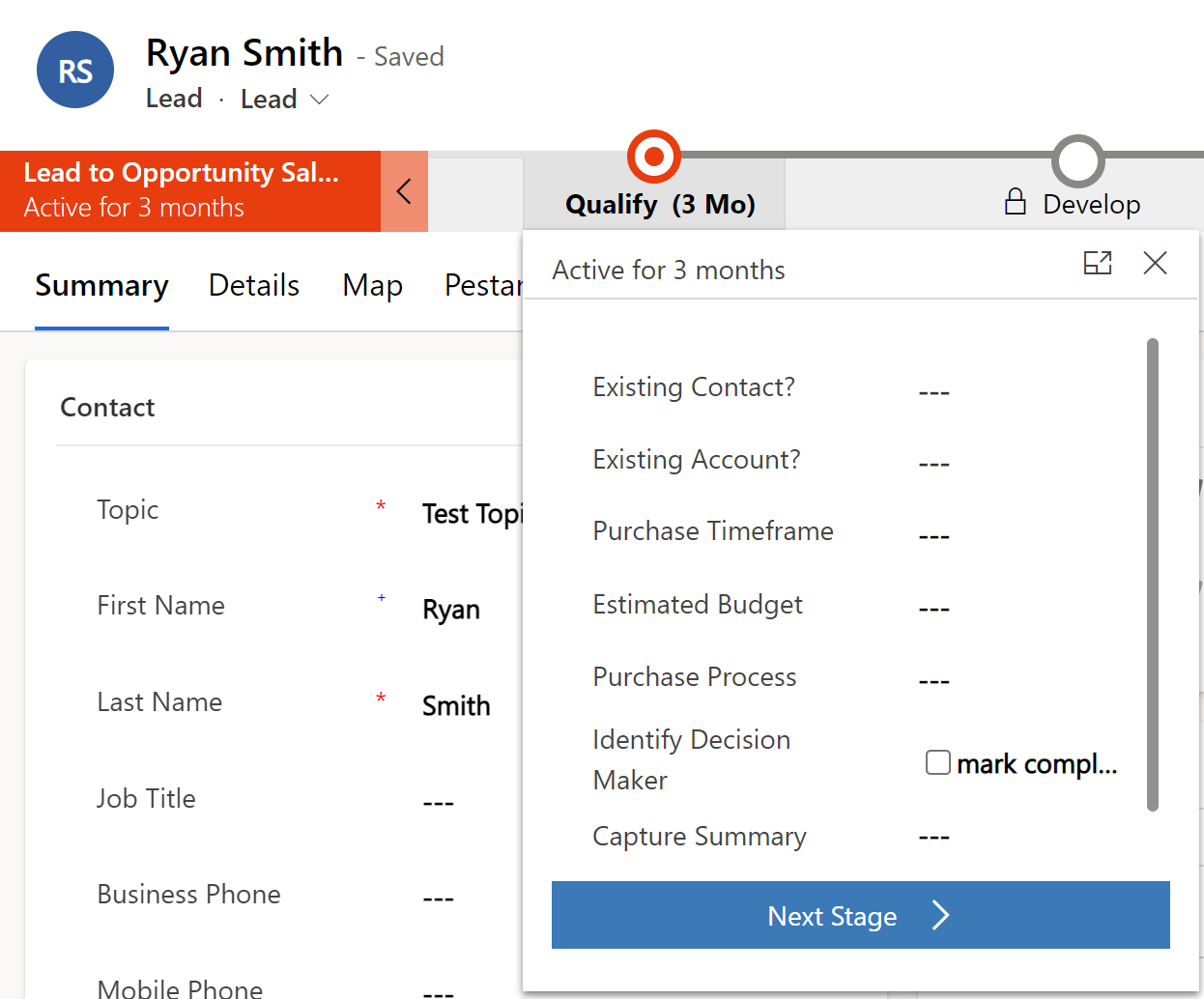 But as you can see in the above screenshot, these steps just guide the users by showing which fields to fill in the stage they are in.
What if you can associate plans, steps within the plan, and more on each stage of your business process flow, be it OOB or Custom Business Process Flow?
Yes, you heard it right!
Inogic, with its excellent team of Microsoft Dynamics 365 and Power Platform innovators, is cooking something that will be just the right solution for you and your team. A brand-new app to enhance your business process flows, manage user tasks, enforce best practices within Dynamics 365 CRM, and more.
Inogic is proud to announce its upcoming business process management app- Business Process Checklist.
Business Process Checklist, integrated within Microsoft Dynamics 365 CRM, will help you simplify your organization's internal processes by enforcing best practices for day-to-day activities. Business Process Checklist works on both custom and OOB entities, as well as OOB and custom Business Process Flows. Set a plan of action for your CRM users to follow in the order you want, and drive the results you want.
Suppose you are a sales manager in a growing organization and recently hired a few salespeople within your team. Being new to the team, they have to first understand the work culture of the company, understand the procedures, work on their CRM adoption, and more.
But to make sure that they follow the best strategies adopted by you and your company, you have set up plans against the records they will be working. These plans have a set of steps as checklists that they need to follow when working on the record. For example, whenever a new lead comes in CRM from the source 'Partner', you have set steps to ensure proper lead nurturing is done by the salespeople.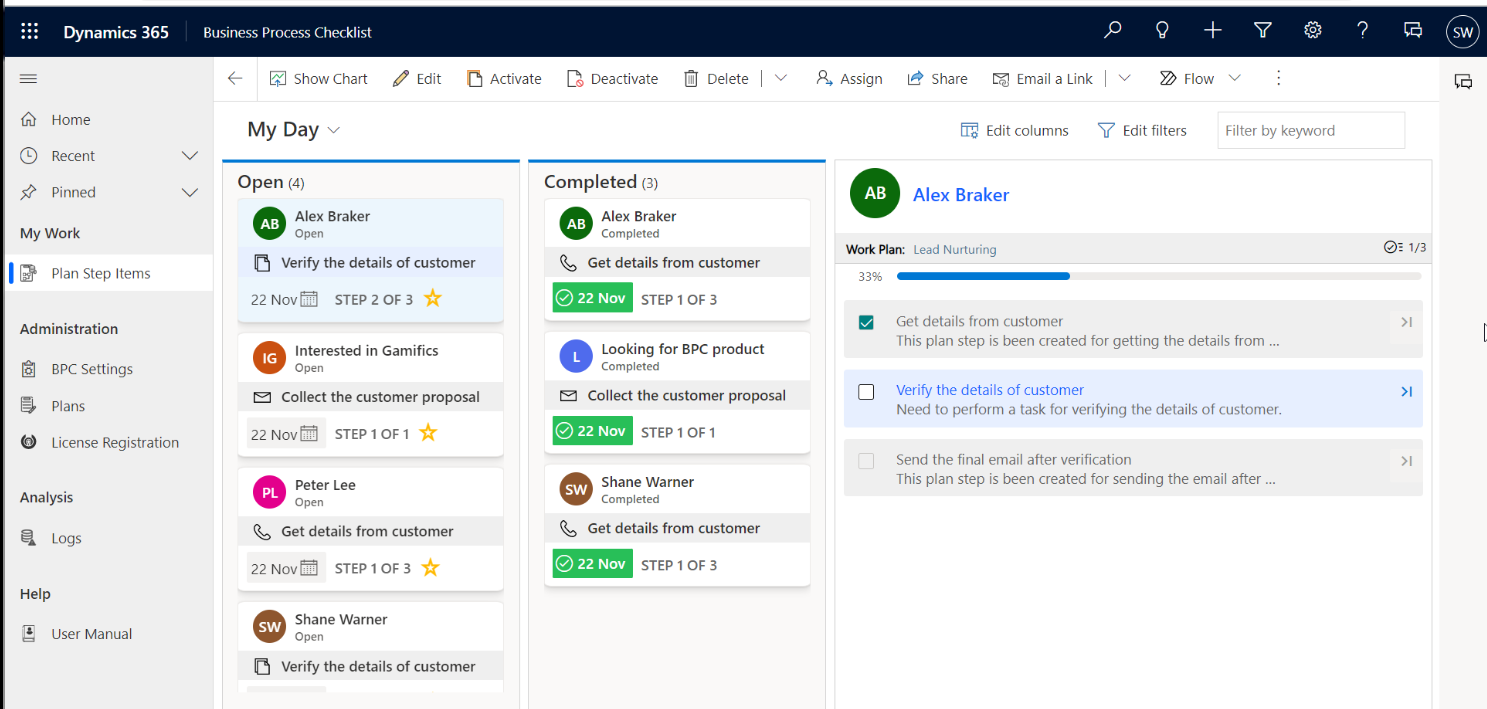 This action item will automatically get attached to the record once the conditions are met i.e., whenever the source of the lead is 'Partner'.
Now that you have ensured the salespeople have been given proper guidelines and steps for their day-to-day tasks, you can track their progress with visuals. As shown below, the users and you, the sales manager, can track the completed, ongoing, and upcoming tasks.
Amazing right?
Don't just hang your boots, this were just a sneak peek of what Business Process Checklist brings to the table. We have more features that will increase your user productivity and better align your business processes within Dynamics 365 CRM.
Create and manage plans, steps within the plans, actionable items to perform, and more.
Set plans against records, business process flows, and custom groups.
Set up different types of plans viz checklists and processes
View and follow the set plan, and track your progress by having a visual of completed tasks, ongoing tasks, and to-do tasks.
Don't want to wait till the release?
Be part of our Insider program and get early access to our app today! Reach out to us at crm@inogic.com!
You can follow us on our social media handles and get the latest updates on our apps and services (Along with our portfolio of 15+ innovative apps, we are renowned for our services in Dynamics 365 CRM and Power Platform Community). Subscribe to our YouTube channel and get updates the modern way!
Inogic, a leading Microsoft Gold ISV Partner, has been delivering innovative solutions to enhance the efficiency of Microsoft Dynamics 365 CRM. Our Microsoft AppSource Preferred apps viz Geo-spatial App, Storage & File Management Apps, Visualization Apps, User Adoption Apps, Productivity Apps, Integration Apps, and SAAS management apps, etc., catering to the needs of industries across verticals by fulfilling various organizational needs.
Ps: Our Click2Undo app is now called as Undo2Restore. Now restore your deleted records within Dynamics 365 CRM in just a click, and much more!