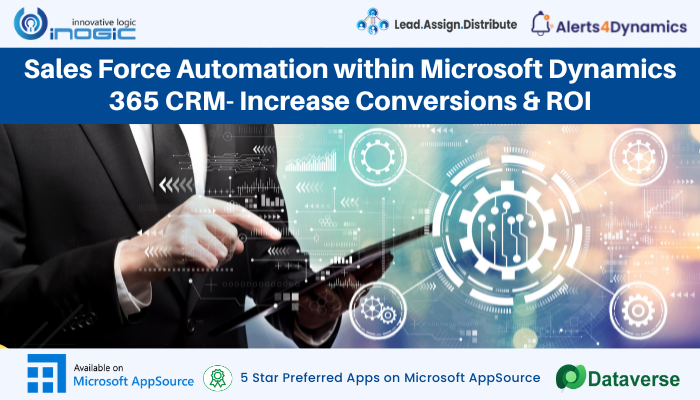 The future of business all around the world is changing at a rapid pace. And because of disruptions by new technologies every now and then, organizations face challenges to adapt quickly. One of the key aspects of this change is Automation, which lies at the core of digital transformation.
As per stats, 61% of businesses leveraging automation reported exceeding revenue targets in 2020. And the way automation is picking speed, these stats will only incline more and more towards organizations using automation.
And because of the way automation is shaping the future of how we work and do business, organizations are not using automation just as a tool. They are integrating it into every aspect of their process. And one of the most important aspects of any organization is the sales process.
Inogic, one of the leading Microsoft ISV Gold Partners, has quickly caught this trend and has a well-established CRM automation app in the form of Lead Assignment and Distribution Automation. It is a Microsoft AppSource preferred app that handles sales process automation. Sales process automation is the process of eliminating repetitive, manual tasks and automating them to allow you and your team to focus more on closing sales. Lead Assignment and Distribution Automation automatically assigns leads or any other work items within Dynamics 365 CRM in an optimized way. It uses different algorithms like Round Robin and Capacity to assign leads in the way you want to improve your CRM users' efficiency by reducing the time taken to assign the leads.
Now that your leads have been assigned to your sales reps, they need to reach out to them as soon as possible. Leads are 9x more likely to convert when businesses follow up within 5 minutes. But for that to happen, your sales team needs to know instantly whenever a new lead is assigned to them. And for that, you need a sophisticated alerts management system in your Dynamics 365 CRM. And that's where Inogic's Alerts4Dynamics comes in. An easy-to-use automated Microsoft AppSource preferred alerts management system that helps you create, schedule, and manage customized alerts as you want.
So, use these two apps together and upscale your business process. How?
Join our webinar on 24th August 2022, Wednesday at 11 AM EST to know. We will give an in-depth demonstration of how CRM automation is what your business needs in today's fast-paced world.
24th August 2022, 11 AM EST
Want a quick peek at the features of these apps before you join the webinar? Check them out below.
Lead Assignment and Distribution Automation for Sales Process Automation
Assign leads using the Round Robin method by building custom criteria like schedules, availability, etc. to suit your business needs
Set performance-driven routing of leads using our Capacity Algorithm
Monitor and analyze the scale of Work Items such as Leads, Cases, etc. assigned to individual users over a given period of time through Dashboards; and much more.
Want a quick overview before you join the webinar? Watch our demo video.
Alerts4Dynamics for Customized Alerts/Notifications
Create & manage different types of smart in-app alerts of important stages of your workflows using rule-based, record-based, and event-based alerts.
Keep your team updated by relaying information based on an organization level using announcements as per the level of urgency (information, warning, or critical)
Allow your team to make informed decisions by creating user-preferred alerts; and much more.
Want a quick overview before you join the webinar? Watch our demo video.
Book your seats and allow us to enhance your business process!
Booked for the day?
No worries. Just register and we will mail you our webinar recording so that you don't miss out on anything!
Fan of our webinars?
Here's the next one lined up just for you: 'Territory Management, Optimized Routing, Live Tracking, etc – catch the wave of Location Intelligence within Dynamics 365 CRM' on 07th September 2022, Wednesday, 11 AM EST.