Alerts4Dynamics is a productivity app which enables users to manage, track and schedule alerts and notifications within Dynamics 365 CRM. A one stop solution that helps you to create and manage alerts about all the information you need to implement right action at the right time.
To help you better understand this Dynamics 365 CRM app let's go through different scenarios and learn how to overcome the key challenges faced by sales representatives and increase their productivity.
First scenario:
The board member of an organization has decided to conduct an annual sales meeting on a specific date and the sales director wants all the sales representative to attend the annual meeting without fail.
So, in order to intimate about meeting the sales director will simply send a mail to all the respective managers and they will in turn send it to their respective sales representatives. This is a time consuming process and it also doesn't ensure whether they have read the mail or not so that they can attend the meeting.
Here's where our Alerst4Dynamics app comes into picture.
In order to intimate annual sales meeting to all sales employees you need to simply create an Announcement-based alert using Alerts4dynamics.

Once the announcement-based alert has been created, it will be notified to all the sales team members of the organization as pop-up, form notification or email notification. Managers are able to track whether the user has read or dismissed the notification and take necessary actions accordingly.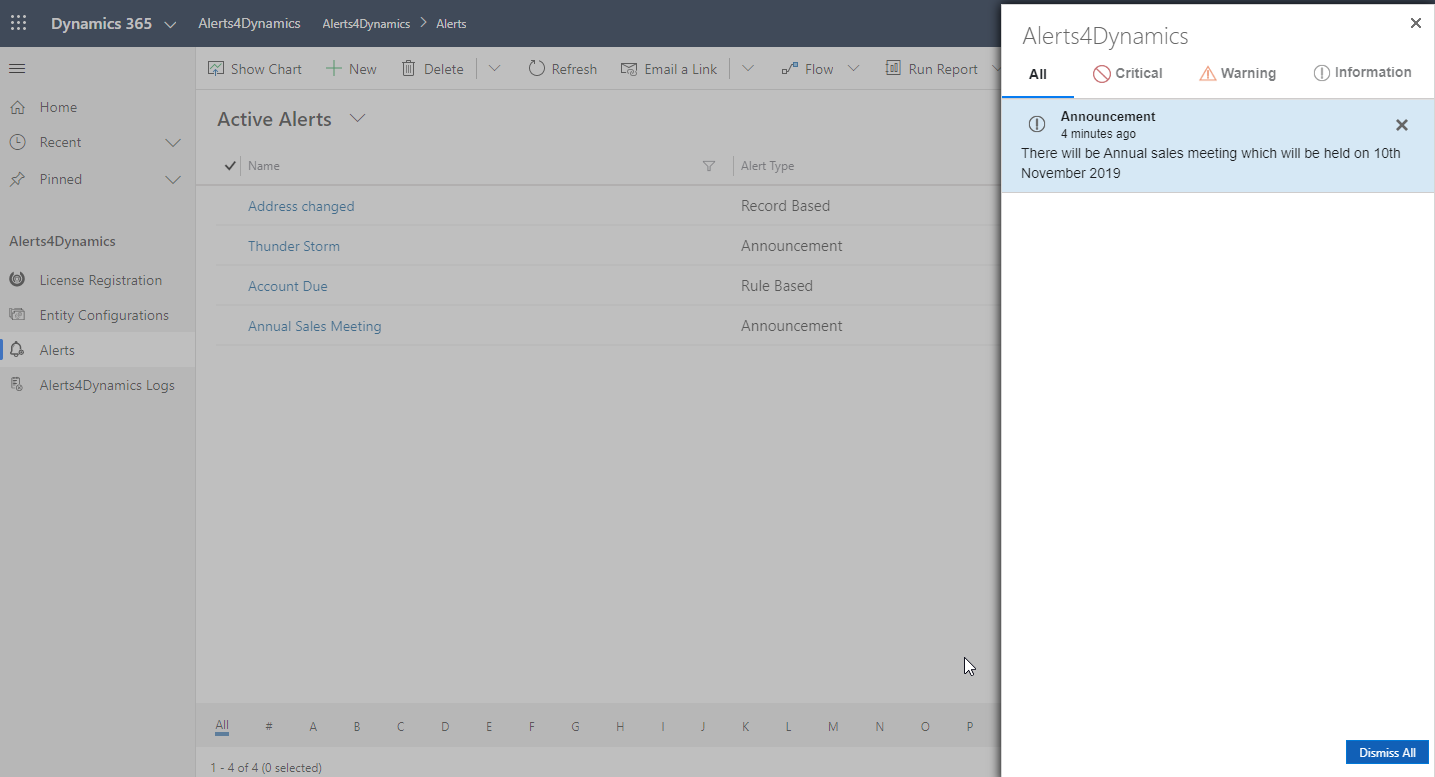 Second scenario:
Sam is the sales rep who wants all his open invoices to be closed before the year end which is next month. For this, Sam will simply create Rule based alert using Alerts4Dynamics in which he will specify his condition in fetch XML value using advanced find.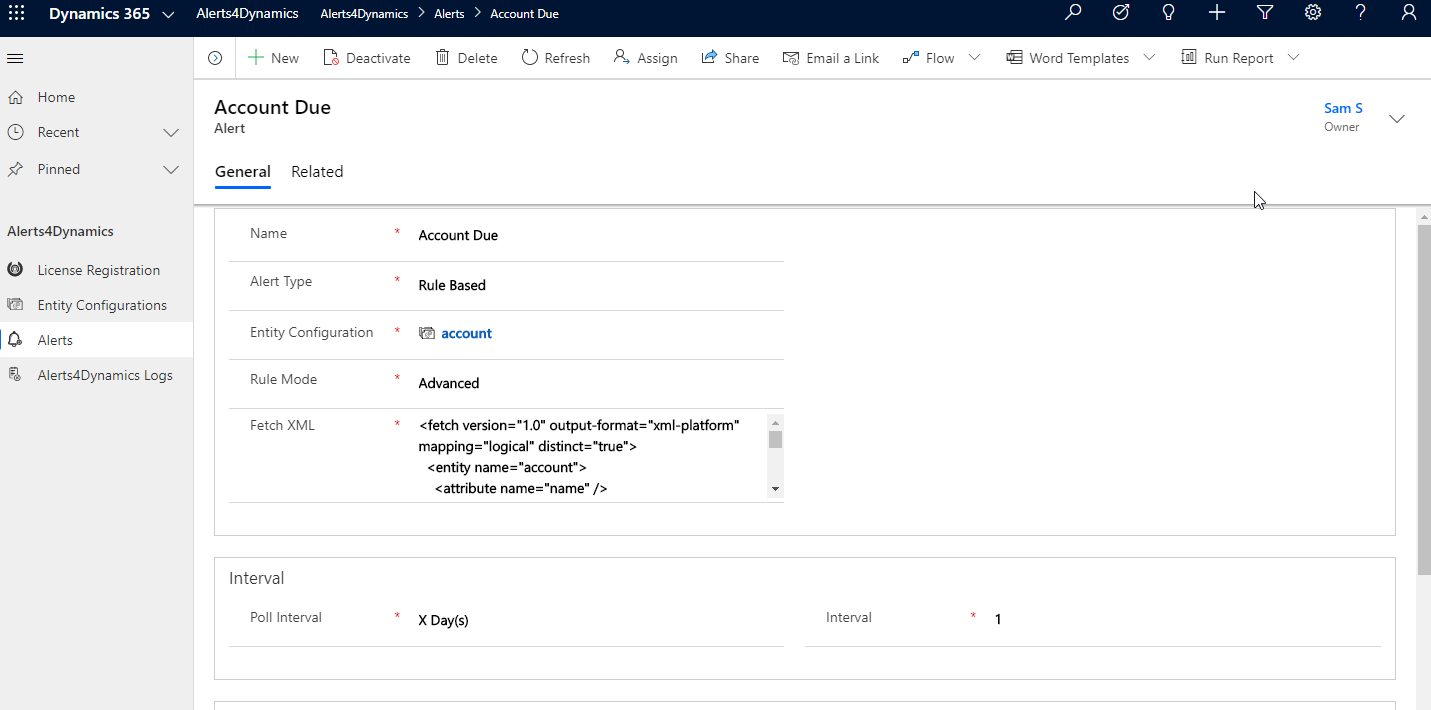 Now, it will list out all the accounts in the notification as alerts where invoices are due in the upcoming month and Sam can do the necessary follow up accordingly and get things done.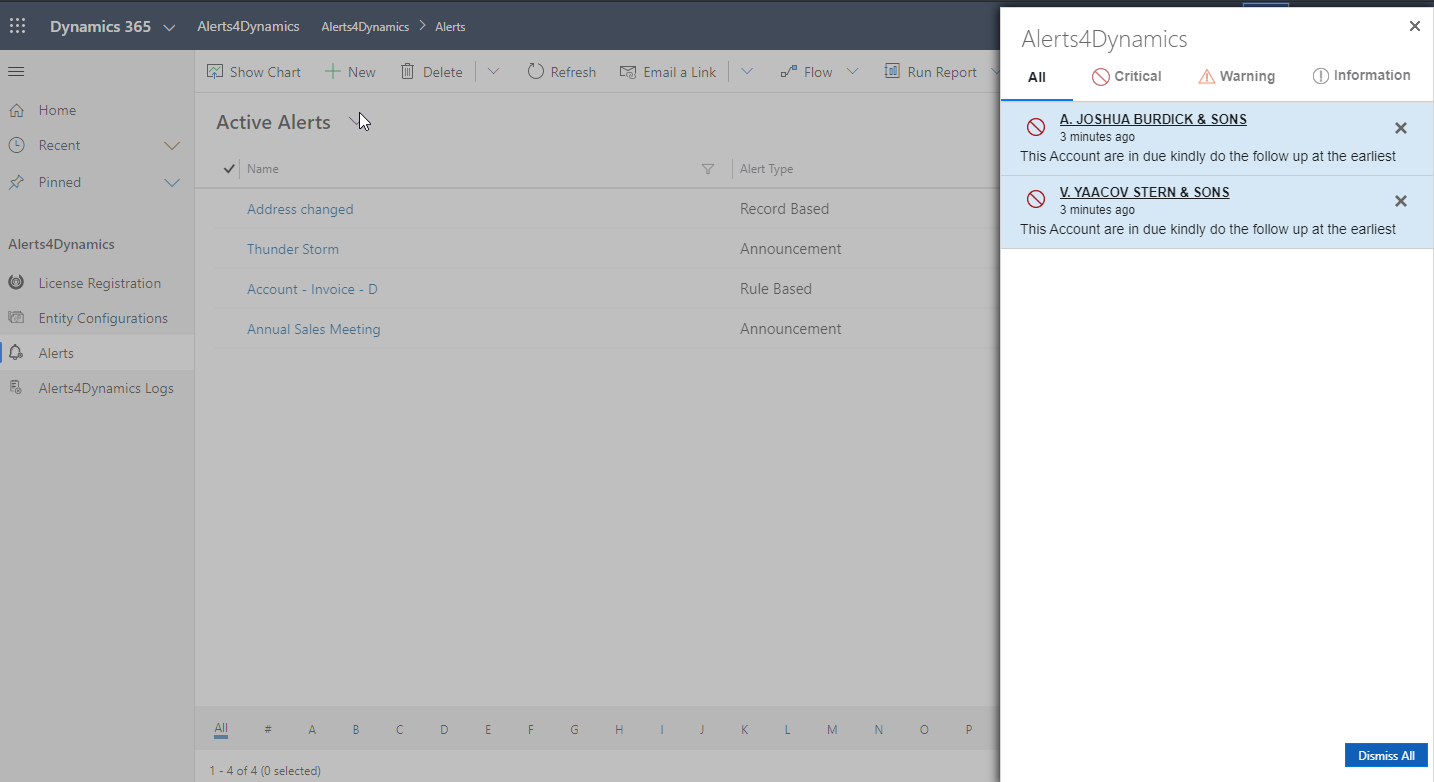 Thus, by using Alerts4Dynamics, Sam was able to meet his target by implementing right action at right time which increased his sales productivity with the help of creating and managing Dynamics 365 Alerts and notifications.
In this way, you can send Dynamics 365 Email Alerts, Pop-ups, and Form alerts using Alerts4Dynamics and improve the performance level of your sales team. You can also create complex Alerts for challenging situations to help the team to maintain their level of performance.
To know more, explore Alerts4Dynamics from our website or AppSource.