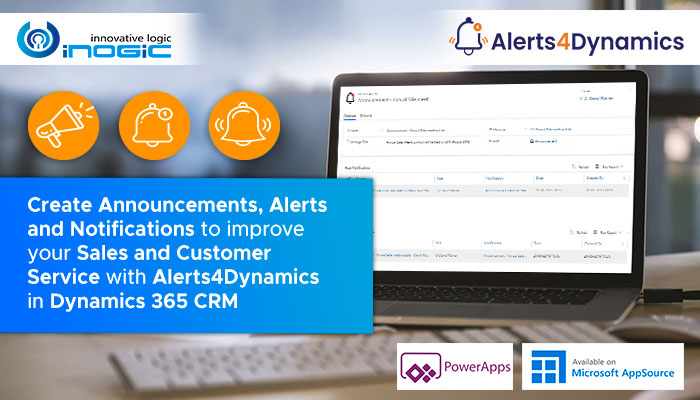 Ever since the launch of Alerts4Dynamics the number of downloads has been on the rise every day, but the best part is your astounding feedback. We are glad that with Alerts4Dynamics, we are able to serve the Dynamics community again and be a source of enriching experience. Recently we conducted a webinar for Alerts4Dynamics for its first look and received off the charts registrations. It was a successful session and many of you quoted it to be 'a groundbreaking app' for creating Alerts in Dynamics 365 CRM. In case you missed out on this amazing session, you can still view the webinar recording from here. To explore the app and assess how it can expedite your business, you can download it from our Website or Microsoft AppSource to try it for free.
To help you understand the product better we have already written few blogs on the app, and this blog is another use case demonstrating the functionality of the app. In this blog, we will learn how to create Alerts and generate Notifications for them.
Hesston Inc. is an android mobile manufacturing company looking to expand in Southwest US, Phoenix. Sam is the Customer Service Manager in Phoenix looking after the service requests in his area. His team uses Dynamics 365 for creating Cases or tickets for service requests. He notices that there were a large number of Open Service Requests due to festive season which needed to be resolved at the earliest. So, Sam decides to create an Alert for Active Cases opened in last 7 days using Alerts4Dynamics and chooses Customer Service Representatives as his target audience. This would create Notifications for all the Tickets that were pending and the customer service representatives can follow-up with the Service Team to plan their schedule accordingly for resolving high number of service requests.
Sam creates a Rule-Based Alert for Active Cases opened in last 7 days and chooses for the system to check for new Cases that fulfill this condition at an interval of 5 hours. If after 5 hours, new Cases are found, new Notifications are created for them.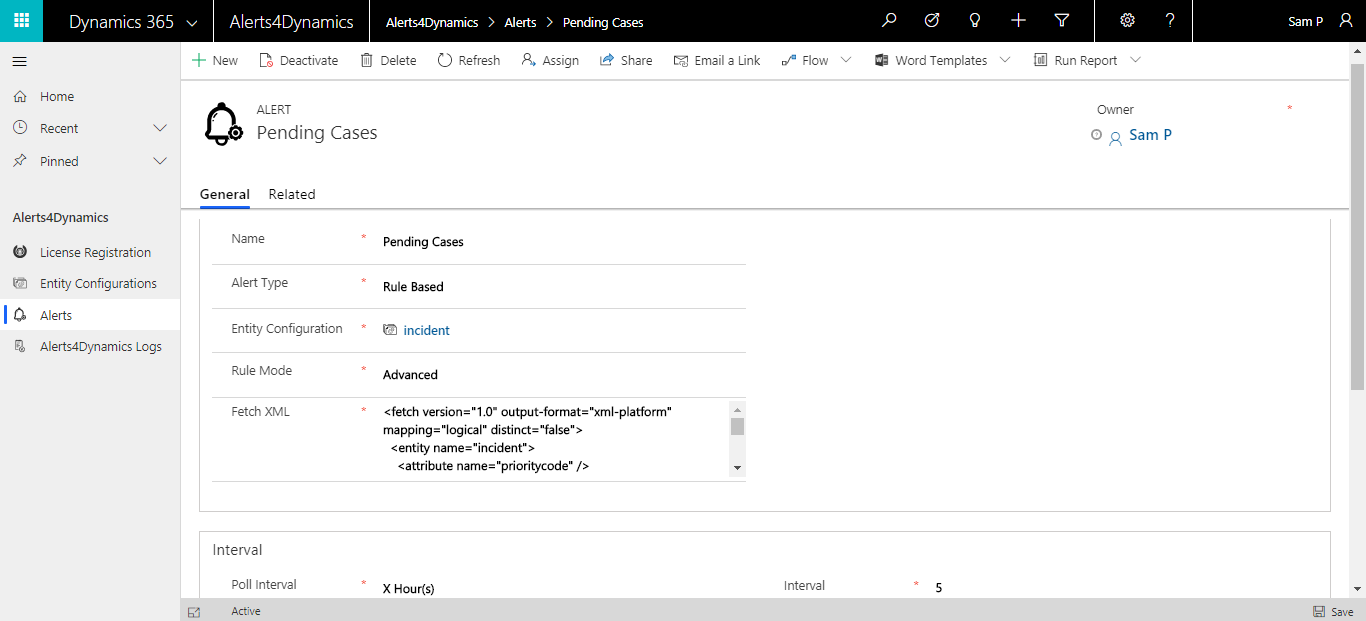 Now, Sam creates Notifications for these Alerts and adds information he wants his target users to see. He selects his target audience as Customer Service Representatives.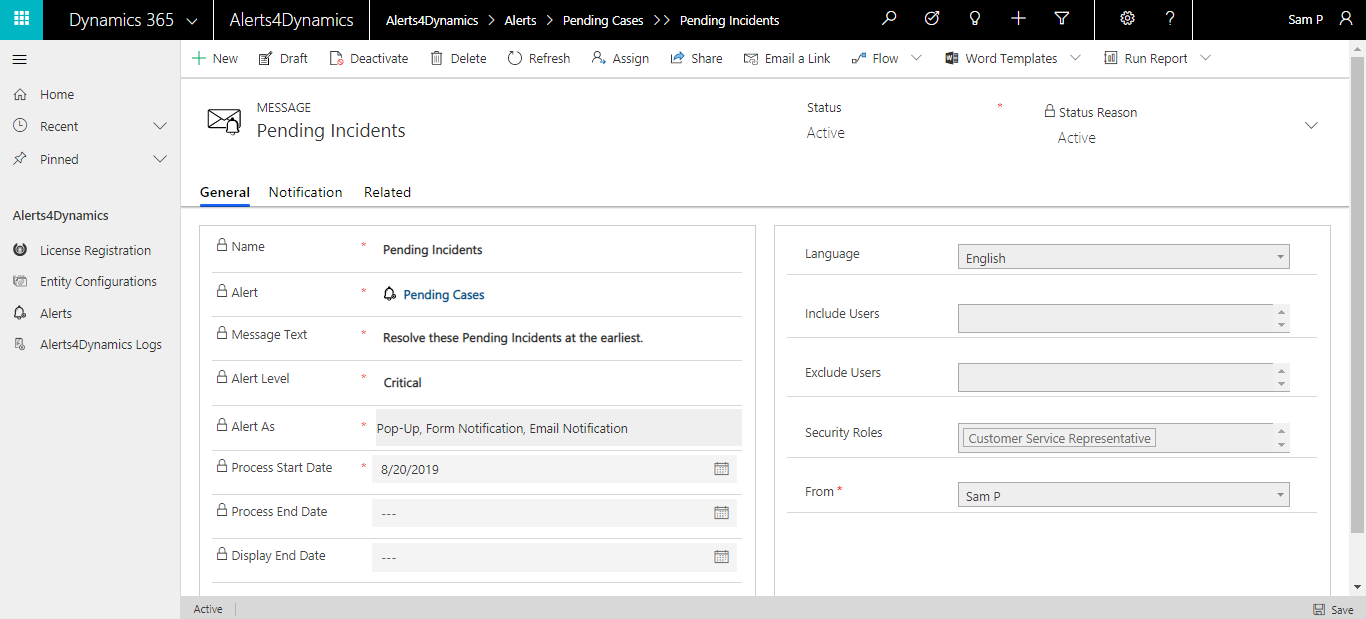 Customer Service Representatives in his organization get Notifications for Active Cases opened in last 7 days. These Notifications could be dismissed by the representatives once they were read. Sam could see this log of read/dismissed Notifications to ensure the message was received by Customer Service Representatives in his branch.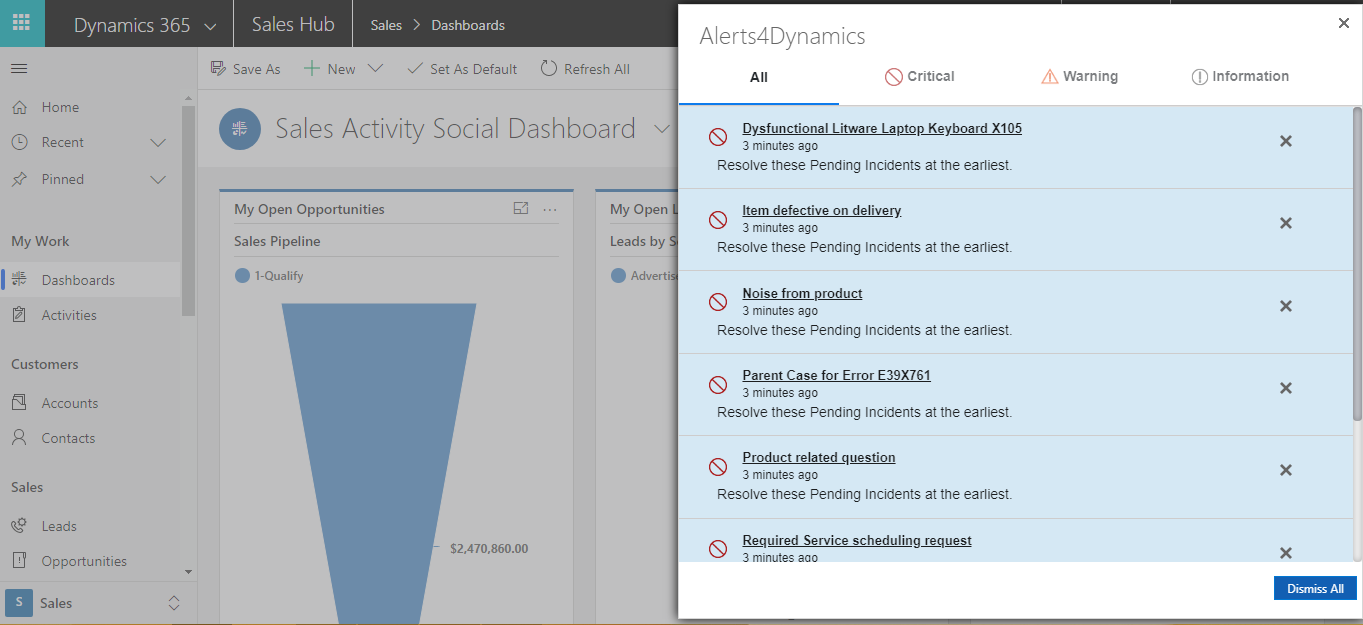 The resolution process is immediately initiated for these Cases and with the help of active follow up with team, Sam was able to wind up the large number of Pending Cases. Sam creates another Alert as an Announcement to notify the teams that all the Service Requests had been met and the Service team will be get a bonus of 5% of for their dedication and commitment even in the festive season to keep them motivated. A Notification is shown to all the members of his Dynamics 365 organization as an appreciation of Service team.
Thus, with the help of Alerts4Dynamics, Sam's team was able to meet the Service requests successfully and improve their business. It helped Sam frame his strategy and experience an evident spike up in the ROI with increased customer service reputation in the industry.
This was just a simple use-case of Alerts4Dynamics. You can create complex Alerts as well and notify your users for challenging situations to help them stay at top of their performance.
In case you need any assistance with Alerts4Dynamics, feel free to drop a mail at crm@inogic.com.