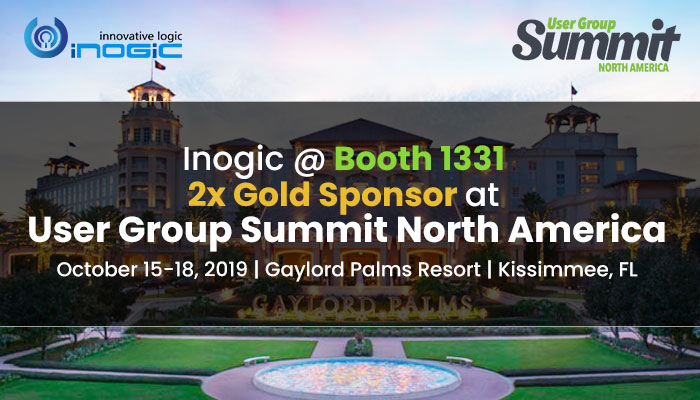 Yes, the most special time of the year for all us MS CRM aka Dynamics CRM aka Dynamics 365 CRM and now Power Apps friends is just another 6 weeks away. This year's CRMUG Summit would be held at Gaylord Palms Resort, Kissimmee, Florida during October 15-18, 2019.
Yes! We are more excited, as for the last few years we received a huge number of footfalls and traffic at our booth and we would not want to miss this time of not getting a chance to network with our peers. So this year we have a larger booth 2x Gold to accommodate all of you.
What's new at Inogic Booth this year! Well, that's a surprise to be unveiled only at our Booth # 1331!
Agenda at a Glance: See Summit 2019 Agenda at a Glance
Sessions at a Glance: Review the 2019 sessions and begin planning your conference experience.
Save on Registration: Register by September 5, 2019 and save on Advanced Pricing. As an added bonus, save an additional 10% on your already discounted registration by using the PRPInogic coupon code, exclusive to Inogic customers.
With larger booth and enough space to conduct one-on-one sessions, we will be happy to schedule a dedicated time to discuss how our innovative solutions and high quality, low-cost offshore development services on Dynamics 365 CRM, PowerApps, Flow & Microsoft Portal can help you to squeeze every last bit of functionality and get you the ROI you want.
Also, we would be presenting the following Partner Solutions Showcase session:-
Maps for CRM: Geo-Analytics, Routes, Locational Marketing & Territory Management
Presented by Maplytics™
Wednesday, October 16, 2019 │ Time: 3:15 – 4:15 PM
For adding this to your calendar, login & mark our session as favourite now!
Why Attend?
Your learning, your way | Customize your learning to your role with hundreds of hands-on expert-led sessions, demos, and an information-packed keynote.
Answers right from the source |Got questions? Get in-depth, unbiased answers from those in the know: Microsoft product experts, partners, and your Microsoft Business Applications peers.
Focus on today and what's ahead | Focus on the technology you're using right now and preview upcoming enhancements to get maximum value from your solution.
We look forward to meet you at this premier conference! Register today and join us at Booth #1331.