At first, a Big Thank You for all your wonderful feedback and suggestions that have helped us make 6 of our Dynamics 365 apps as Microsoft Preferred Solution(s). It's your enthusiasm to encourage new approaches that propel us to develop innovative solutions for you. So here we are, once again, happy and excited to introduce our new productivity app for Dynamics 365 CRM – Alerts4Dynamics.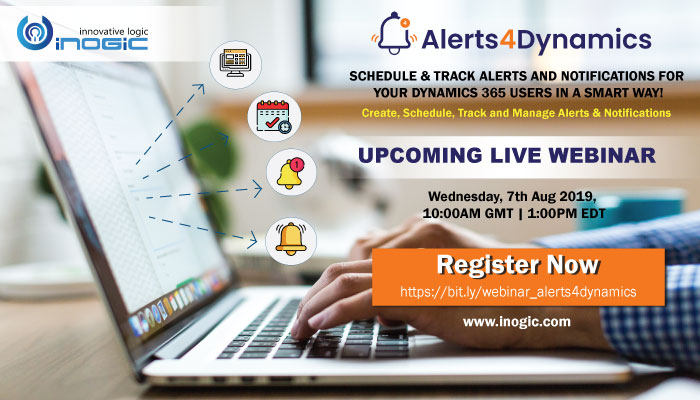 Alerts4Dynamics enables you to create, schedule and manage alerts in Dynamics 365 CRM. You want to notify users about the updates in CRM, warn them about Invoices that are due, remind them to send Quotes on time, inform them about upcoming holidays – No Problem! Alerts4Dynamics is here! You can also define target audience and send them priority based alerts and track which user has read the alert.

Wed, August 7, 2019, 10 AM GMT | 1 PM EDT
So, in this webinar we will be covering the following features of Alerts4Dynamics:
Create/Manage Alerts for OOB and Custom entities
Create/Manage Announcement, Rule-Based and Record-Based Alerts
Categorize Alert Levels – Information, Warning or Critical
Alert Via – Pop-Ups, Form Notifications and Email
Configure alert display as per security roles or particular set of users
Track the log of read/dismissed notifications.
Our experts will interact with you on one on one basis and ensure that you get a clear understanding of how these features can enhance your productivity and are in alignment with your business goals.
Feel free to bombard us with your queries and suggestions. So don't wait, Register Now!
If you want to get hands-on with Alerts4Dynamics, you can download a free trial from our Website.
But this doesn't end here.
See you soon at User Group Summit 2019 Booth # 1331 during October 15-18, 2019 to be held at Orlando, FL.
Alerts – It's time to make them smart!