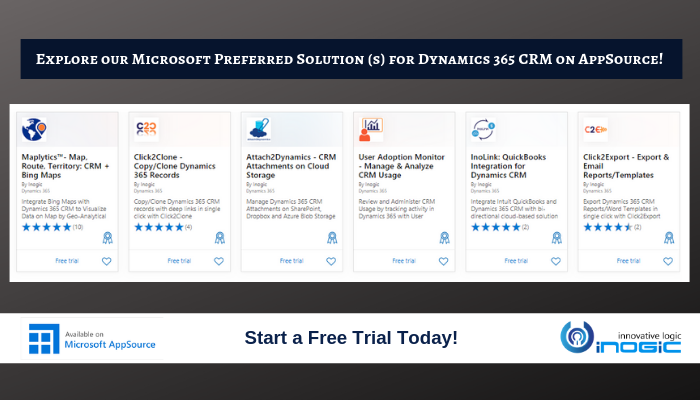 Thank You so very much – Well, that's how we would like to start with, for all the amazing feedback on our Dynamics 365 CRM / PowerApps apps and coming up with real complicated requirements for us each time and isn't that one of the reasons why we call these as Inogic Productivity Apps!!
We are glad that we have been able to build some robust solutions helping Dynamics 365 CRM users get into that excitement mode of loving what they are doing each day!
But what is preferred solution?
Quality, performance and level of customer satisfaction are the basis on which a cloud solution is selected as Microsoft preferred solution. These solutions are validated by a team of Microsoft experts. Only solutions from partners with specific proven competencies and capabilities are considered.
It is an honor to be listed as Preferred Solutions on Microsoft AppSource

Let's have a Quick Glance at our Dynamics 365 CRM / PowerApps apps:
Maplytics™- Map, Route, Territory: CRM + Bing Maps
Maplytics™ is a market leading certified (CfMD) geo-analytical mapping app. Maplytics empowers Dynamics 365 and PowerApps users with geographical data visualization, route optimization and along the route search with turn-by-turn directions, appointment planner, locational search by radius and shapes with drill-down filters and personalized-pushpins, heat maps, shape-layers & territory-management features. Take a free trial today from Microsoft AppSource.
Click2Clone – Copy/Clone Dynamics 365 Records
Click2Clone is 1-click productivity app to copy/clone Dynamics 365 records along with related child records. It reduces manual entry of duplicate records and automates the process of cloning with workflows. Click2Clone also helps in deep cloning of records for hierarchical relationships and configure prefix/suffix to create unique names. Take a free trial today from Microsoft AppSource.
Click2Export – Export & Email Reports/Templates
Click2Export is 1-Click productivity app to export Dynamics 365 Report/Word/Excel templates. Reports can be exported in PDF, Word, Excel, CSV, TIFF format. Word Templates in PDF or Word and Excel Templates only in Excel format. Exported Report/Word/Excel templates can be Auto-sent in email as attachment, attached as Note, uploaded to SharePoint, or downloaded for offline consumption. Take a free trial today from Microsoft AppSource.
Attach2Dynamics – CRM Attachments on Cloud Storage
Attach2Dynamics is cloud storage integration and file management solution for Dynamics 365 CRM. It allows for seamlessly using Dropbox, Azure Blob and Sharepoint for storing attachments with the ability to drag/drop, upload/download, search, email, delete, preview, rename files/folders, and auto-move notes/email/sales literature attachments to cloud storage to reduce D365 space utilization. Take a free trial today from Microsoft AppSource.
User Adoption Monitor – Manage & Analyze CRM Usage
User Adoption Monitor is a productivity app to track, monitor and manage most common actions performed by Dynamics 365 users. By tracking user activity, managers can review and administer CRM adoption. Data is stored in a format easy to report on by creating charts and leader dashboards for better visualization. Take a free trial today from Microsoft AppSource.
InoLink: QuickBooks Integration for Dynamics CRM
InoLink is a bi-directonal integration app for Dynamics 365 and Intuit QuickBooks. InoLink seamlessly provides 360 degrees view of customer accounting data that includes sales transaction history and aging details and the ability to promote customers and transactions from within Dynamics 365 improving analytics, productivity and clean data exchange. Take a free trial today from Microsoft AppSource.
Thank You once again for keeping us in mind for your Dynamics 365 CRM / Power Platform Development requirements.
Our next destination is User Group Summit 2019 Booth # 1331 during October 15-18, 2019 to be held at Orlando, FL.
Looking forward to see you there soon!