Introduction
We recently had business requirement to show account details (account number, Email) horizontally by "Account Name" in Power BI Report. When we selected table to display data in our Power BI report, by default it display data vertically, as you can see in our below screenshot:

We explored more and figure out that we can't format table to show values horizontally. So for workaround by using matrix we can format table to display data horizontally.
Please follow below steps to show data horizontally in table:
1. At first we need to select Matrix to display data instead of table, as you can see in below screenshot: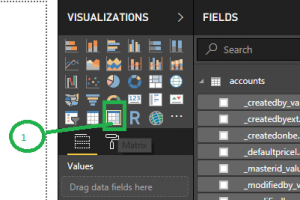 2. Now you need to select fields that you want to show in table, here in our case we are showing Account name (name) as a Column, Account Number (account number) and Email (emailaddress1) as a Values. Please check in our below screenshot:
3. In final steps you need to turn on "Shows on rows" property under Values in Format tab. Please follow our below screenshots: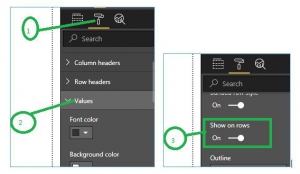 4. Now as you can see in our below screenshot our table data Account Number and Email are formatted horizontally and showing by Account Name.

Conclusions
By using Matrix feature of Power BI, we can aligned values in table horizontally.