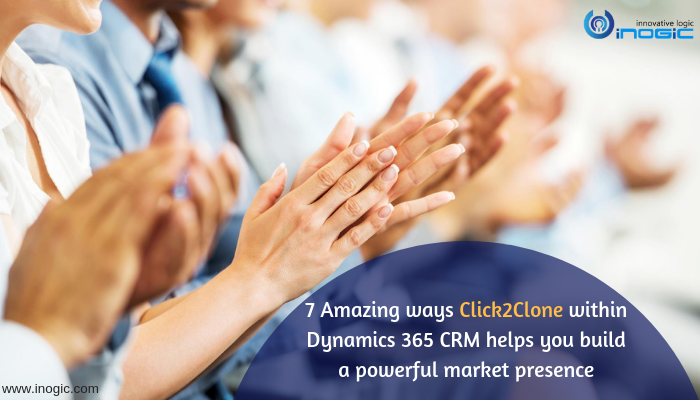 The productivity of an organization depends prominently on the efficiency of its employees. They form a crucial part of the business process by handling customer data and delivering services. For the employees to act promptly, they need to put lesser manual effort in data entry and find methods to handle their repetitive tasks effectively and efficiently. This aligns the business closely with its objectives.
Inogic suite of Dynamics 365 CRM Productivity pack includes one such app which enables users to avail the benefits of copying/cloning Dynamics 365 CRM records in just 1 Click.
Yes, say bye to extra manual effort while dealing with duplicate data!
Click2Clone is a productivity tool developed for Microsoft Dynamics 365 Customer Engagement. It not just facilitates cloning, but takes cloning to a whole new level. Let's see how:
Easy to access and implement:
Click2Clone allows cloning multiple Dynamics 365 records in just one click. It is easy to configure and can select fields that are to be carried over while cloning. It also enables users to clone relationships. This feature can be configured at the time of creating templates for entities and their hierarchies. Click2Clone copies/clones CRM records of both OOB and custom entities.
Automates cloning using Workflows in Dynamics CRM:
For large data, cloning may become tedious by iterating the same process in batches. It exhausts time and effort. To counteract this we use workflow. Workflow is an automated method with a set of customized steps that clones bulk of data upon initiation in Dynamic 365. This leverages the productivity and makes data cloning even simpler within Dynamics CRM by optimizing the process.
Can transmit records forward with 1:N or N:N relationships:
Click2Clone takes forward the entity relationships while cloning. This feature works for hierarchies and clones child records simultaneously. It saves effort which can be used for other priority tasks. This is a simple process but with multiple functionalities.
Works on various deployment models:
This solution supports various deployment models viz. On-Premise, Online and Partner Hosted. Copying bulk volume of repetitive data on Dynamic CRM has now become effortless with Click2Clone – cloning duplicate data within Dynamic 365 CRM. It is easy to configure and even simpler to access.
Caters to the accuracy norms:
As Click2Clone is an automated productivity tool for Microsoft Dynamics 365 Customer Engagement, it leaves no room for error. There is no redundant data that measures the productivity down. The consistency of cloned records in Dynamics CRM/365 allows organizations to provide consistent and dependable processes to customers thereby maintaining a competitive advantage.
Enhances the business by increased ROI:
It reduces the manual effort considerably thereby augmenting the result. One can clone 100s of records in one click by using this solution. This leads to better outcome and elevates the entire business process. This enables users to waste no time in data entry and utilize it in maintaining customer relationship thus increasing the ROI.
Time, effort and cost-effective:
Our Dynamics 365 add-on Click2Clone is time and cost effective. It saves unnecessary effort and costs and becomes a strategic enabler of business control and agility. This enables cloning entities like Invoice, Quote, Order, Opportunity, Lead, Account, Contact, etc., thus boosting the business process within Dynamics 365.
These were few pointers that defined how Click2Clone makes day-to-day task of cloning duplicate data easier.
Experience it –
Try it for free for Dynamics CRM 2013 and above. It works for all deployment models viz. On-Premises, Online, and Partner-hosted. For free trial click here!
In our next post we will cover one more of our Productivity App Click2Export which allows you to export your reports in just one click. We have given more power to Click2Export users by allowing them to create CRM Word Template and execute Workflow to automate the process.
Stay tuned!
We would like to take a moment to introduce our new product Alerts4Dynamics to you. Alerts4Dynamics lets you schedule and manage alerts in Dynamics 365 CRM to notify users about the updates in CRM, due invoices, reminder to send quotes, etc. You can define target audience and send them priority based alerts via pop-ups, form notifications and emails. You can also view the log of read/dismissed alerts by users and also create alerts for multiple records by defining rules.