Territory Management has always been an important part of every business not just to improve sales and revenue potential but also to get a strong hold of customer and market segments. In Dynamics 365 we always had the option of creating territories since inception. Our aim has always been to extend the existing Dynamics 365 CRM Territory option native to the product and build upon it. Territory Management feature in Maplytics has helped users to significantly improve sales and customer satisfaction.
Adding Geographies to the Sales Territories makes it possible to define the territories geographically and facilitate Territory management.  Maplytics has gone a step ahead in Territory management. Let's see how Maplytics in Dynamics 365 CRM can help you to manage territories in a better way from within Dynamics 365 CRM on Maps.
Territory Management feature in Maplytics helps users to add geographical boundaries (be it shape or a region) on a map of the sales territories defined in Dynamics 365. With Maplytics Jan 2017 release, we have taken this functionality further by adding editable Geographies feature. Now, users can edit the existing defined geographies on a map within Dynamics 365, making the process of defining territories effortless!
The process of sales territory management does not end with just creating territories for analysis. The Sales Manager would want to take some actions like reassigning sales territories, adding tasks for the Salesperson to follow up with particular customers in that specific territory and changing ownership of CRM records. In this blog, we have discussed the next steps and actions Sales Managers can perform with Maplytics and efficiently balance & distribute sales territories to transform their business with geo-analytics.
Through Maplytics you can now define the geographic regions that are being covered under a territory. You can define the geographies either by providing a list of zip codes that the territory covers or it might just be a city or a state that you categorize a territory as. If you have a bespoke region and would prefer to just draw that on the map to define it, we have a tool to help you do just that!
Maplytics radically simplifies the process of sales territory management in Dynamics 365 CRM by allowing users to associate geographical boundaries to sales territories, efficiently perform important activities like reassigning sales territories. In the last release of Maplytics, we have tried to add another small but important feature in Territory Management to make it's management a bit easier. Earlier users were able to edit the existing defined geographies on a map within Dynamics 365, now users also have the option to upload multiple geographies through an Excel file supported by CRM using the Bulk Geographies feature in Maplytics.
After creating geographies into territories, users can run the Territory assignment workflow which assigns territories to all the records that fall under the regions defined in the respective territories on basis of the latitude and Longitude present in the record. Also, user can assign territory using Mass actions – Execute workflow on Detail map as shown in below screenshots.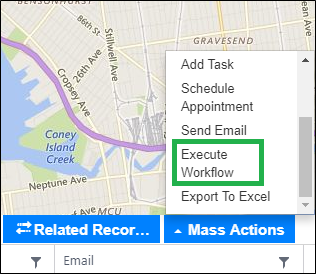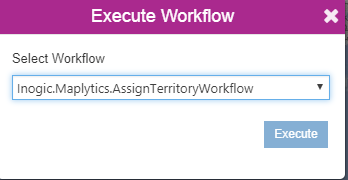 With the upcoming Maplytics October 2018 release, we are again moving one more step ahead where users can now create territories right on the map screen. They can upload a shape file or an excel file to create territories. Users can also search by region on the basis of City, State, Country, etc. or by drawing a shape on the map using the fully custom drawing tool.  Now users can plot their existing territories and perform the alignment.
That's not it, the new release will allow you to move or copy which means the user can select a geography of the existing territories and move or copy the same into other territories. This makes it really easy to align the territories on the basis of factors like a number of records existing in the territories, the load on sales people etc.
These are some great ways to effectively manage and grow your Sales Territories in Dynamics CRM using Maplytics. Get your free TRIAL today from our Website or Microsoft AppSource!
Maplytics™ is one of the leading geo-analytical mapping apps that provides powerful routing capabilities within Microsoft Dynamics 365. Maplytics is one of the first multi-language mapping apps to be Certified for Microsoft Dynamics 365 (CfMD). Apart from Route Planning and Optimization capabilities, Maplytics offers powerful features like Appointment Planning, Radius Search, Territory Management, Heat Maps and more to take your MS Dynamics 365 CRM visualization to an entirely new level! Maplytics supports English, French, German, Portuguese, Spanish and Turkish.
Happy Mapping!